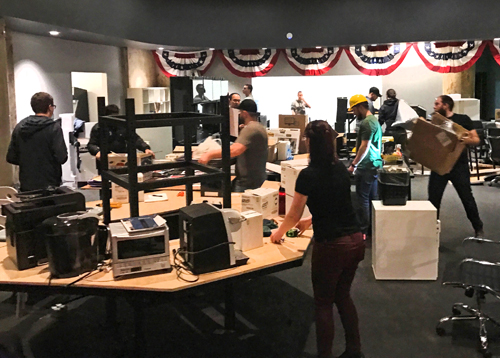 Rook Security LLC, a privately held firm that offers cyber-security software and services, has relocated to Carmel from downtown Indianapolis, CEO JJ Thompson told IBJ Monday.
The company, which is made IBJ's Fast 25 list in 2016, had been operating in about 6,000 square feet in the 61-year-old, 14-story Burton Building at 120 E. Market Street, just a short walk from Monument Circle. Earlier this month, the roughly 50-employee company moved into about 10,000 square feet in an office building at 11350 N. Meridian St.
The company was founded in San Jose, California in 2008 and moved to Indiana in 2009. It has been in the Burton Building since 2012.
The Carmel digs are temporary, Thompson said—it's subleasing the space from another company for a year. It ultimately wants to be in Fishers, he said, and had been looking for space there for several months to no avail.
"We wanted to move to Fishers, but there was no capacity," Thompson said.
Thompson said there were several factors behind the decision to leave downtown. For one, the company anticipates the need for more than 15,000 square feet of space in the coming years and there wasn't much room to grow at its previous location. Beyond that, employees said they weren't satisfied with their downtown experience.
"An employee survey showed people didn't feel safe and they wanted a shorter commute," Thompson said, noting that his business is effectively staffed 24/7. "It was parking, safety and a shorter commute."
Thompson said many of his employees wanted to be outside the Interstate 465 beltway, and Fishers has a record of attracting tech companies.
"Fishers is a city that gets tech, entrepreneurs and visionaries," he said. "They do everything they can to help." 
Matt Waggoner, senior vice president of real estate brokerage firm JLL, helped Rook find its Carmel space, Thompson said.
Rook generated $8.6 million in revenue in 2015, a 115 percent increase from its roughly $4 million showing in 2013. That made it the 17th fastest-growing Indiana company over that span.
Please enable JavaScript to view this content.