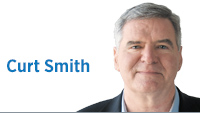 Indiana's outsized role in American politics continues with a crowded, potentially heated Republican U.S. Senate primary getting underway that will be a bellwether of the national 2018 elections.
After Donald Trump locked up the nomination in Indiana last May, then found his pitch-perfect running mate in former Gov. Mike Pence, pundits are watching this May 2018 race as a barometer on the Trump insurrection and whether the GOP retains majorities in Congress.
That's because of the curious composition of the current field. To date, it includes only attorneys with extensive public careers (a profile that also describes incumbent Sen. Joe Donnelly, D-South Bend), with but one exception. That exception is businessman Terry Henderson of Atlanta, Indiana, a newcomer to politics.
Political news outlets, including The National Journal and The Howey Political Report, have written about parallels in Henderson's campaign to that of President Donald Trump. Clearly, there are parallels. But other Hoosier pols compare Henderson to former Gov. Mitch Daniels, citing both the business background in government affairs (Henderson worked for Dow AgroSciences at the same time Daniels worked for Eli Lilly and Co.) and the low-key, yet laser-focused style.
What we know a year out from this primary Election Day is that incumbent Donnelly is running hard, trying to hold onto a Democratic seat in a red state that gave the Trump-Pence ticket a 19-point victory margin. He'll need to navigate issues and votes such as the confirmation of Supreme Court nominee Neil Gorsuch and reforming the U.S. Environmental Protection Agency in a way that holds his base and left-leaning donors while not offending too many Hoosier voters. Just ask Evan Bayh and John Gregg how that tightrope walk works in Indiana.
On the Republican side, four additional names beyond Henderson frequently surface. Mark Hurt, a former colleague from U.S. Sen. Dan Coats' staff, is running. He is an attorney from Kokomo who has also served as a deputy prosecutor. U.S. Reps. Luke Messer and Todd Rokita are also testing the waters. They send campaign aides to political events, foreshadowing the same dance former U.S. Reps. Marlin Stutzman and Todd Young undertook in the 2016 U.S. Senate primary. Young, of course, prevailed in that two-person primary and vanquished Bayh in the general election.
Also said to be considering a run, although most Statehouse hands do not see him giving up his current seat to run in a crowded primary, is former congressional aide and current state Sen. Mike Delph.
Henderson's wry observation is that Donnelly, as well as his four possible GOP opponents, all have virtually the same backgrounds—serving most, if not all, of their careers in elected office, government or politics following law school.
Henderson left Dow 20 years ago to start a small business. Building on his legislative and regulatory expertise at Dow, his company also educates workers to safely and correctly use ag and specialty products and technologies. As such, he has pioneered and refined a valuable capacity using social media and internet education in new and creative ways. That is a capacity helpful to any campaign. (Full disclosure—I do a limited amount of government-affairs work for Henderson's firm, Achieva Inc.)
If Henderson decides to run, expect him to favorably contrast himself as a Trump-like candidate (Trump on decaf, as one wit said) relative to the field. But his political role model will be Daniels. How this race develops will attract national attention as observers watch Indiana to see if fresh outsiders continue to beat veteran insiders in the increasingly bellwether Hoosier state.•
__________
Smith is president of the Indiana Family Institute and author of "Deicide: Why Eliminating The Deity is Destroying America." Send comments [email protected]
Please enable JavaScript to view this content.