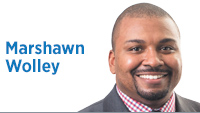 Due to the national conversation on immigration and its impact locally, it is more important than ever to affirm our values as a city and actively demonstrate how we are a city that welcomes all. It is not just a civic issue; it is also a business problem.
Major Indiana companies are working with our perennially award-winning and world-class airport to increase international flights. Why? Partly because the search for talent has been global for decades now: 40 percent of Fortune 500 company CEOs are either immigrants or the children of immigrants. Immigrants started 28 percent of all U.S. companies in 2011.
Lest we think Indiana is immune to the forces of globalization, the New American Economy report on highly skilled immigrants offers some sobering statistics about our STEM sector. From 2009 to 2011, Indiana had 2.4 STEM job openings for every unemployed STEM worker. The STEM business challenge is only accelerating: By 2020, Indiana companies will need to fill an additional 115,000 STEM jobs. In Indiana, nearly 50 percent of students obtaining master's or doctorate degrees in STEM at our research universities are immigrants.
The national discourse on immigration is affecting not only our immigrant neighbors but also U.S. citizens here.
In our city, a 21-year-old recent college graduate is the executor of the family's "emergency immigration plan" in the event that her relatives, who are all U.S. citizens, are detained under the suspicion they are undocumented. Another community leader, a banker, ensures that her children—again, U.S. citizens—"have their papers" at all times.
Juxtapose this apartheid-esque existence against the economic vitality immigrant communities bring to the metro area, and it is hard to ignore the reality that some of our neighbors don't feel welcome. This can have both economic and civic consequences.
Growth in the immigrant population from 2000 to 2014 increased total housing value in the metro area by $6.6 billion, at the same time we have property owners charging exorbitant rent for run-down properties exploiting immigrants.
We live in a city where immigrants contribute millions to Social Security and Medicare, with immigrant-owned businesses generating $136 million in business income in 2014, but some tax-paying immigrant parents fear advocating for their child at school for fear of detention and/or deportation.
These contradictions are happening while immigrants are helping to make our Midwestern city more cosmopolitan.
We have 120 nationalities in the city, including the largest Burmese population outside of Burma. Indy residents speak 90 languages, with one in 10 residents not speaking English at home.
The International Marketplace in the Lafayette Square area features dozens of immigrant-owned restaurants and markets, adding to our cultural fabric.
Welcoming someone is not passive; it encompasses thoughtfulness in actions.
We might not drive the national discourse on immigration. Nevertheless, we have an obligation to engage on this issue, as the social and economic fabric of our community—even our reputation as a welcoming city—is at risk.
The Immigrant Welcome Center offers helpful tips on 20 ways to welcome immigrants, ranging from engagement with the political process to learning about and educating people on their rights, to creating spaces for people to come together to speak to the issue.
Indy must affirm that we are no mean city—and get to the business of welcoming all.•
__________
Wolley is a lecturer at the School of Public and Environmental Affairs at IUPUI.Send comments to [email protected]
Please enable JavaScript to view this content.