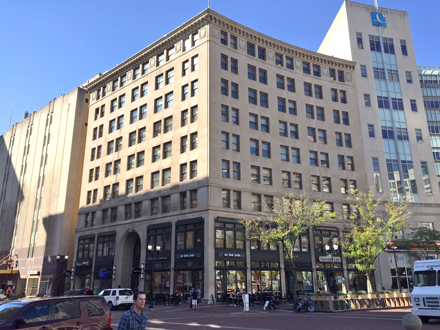 Some former ExactTarget execs are essentially moving home.
A New York-based marketing tech company led by ExactTarget alums will move in September into the Guaranty Building on Monument Circle—the place ExactTarget was headquartered before Salesforce acquired it four years ago—taking about 7,500 square feet of space for its Indianapolis operations.
Cheetah Digital—which spun off from Ireland-based Experian in June—will invest $620,000 in the space, with plans to fill 50 new, high-skilled positions by 2019. The company currently has seven full-time employees in Indiana, part of a much larger team of more than 1,600 people in 20 offices worldwide.
Former ExactTarget senior executive Sameer Kazi, is CEO of the company, which has roots as an ExactTarget competitor. Cheetah Digital helps marketers build better customer relationships and boost brands through cross-channel marketing solutions and services. The company has more than 3,000 clients, which are primarily in the retail, travel and hospitality, and finance industries.
Its chief administrations officer, Todd Richardson, another ExactTarget alum, will be based in Indianapolis. He said in a statement that the city is "home to some of the brightest minds in enterprise marketing tech today."
"Creating a footprint for our business here will help us attract those individuals and create a true nexus for talented digital marketers who want to shape the future of this industry," Richardson said.
Other Indianapolis-based Cheetah officials include Ed Federici, chief technology officer; D. Wayne Pool, executive vice president of global sales strategy and operations; Brent Mosby, senior vice president and general counsel; and Matt Compton, chief of staff.
The Indiana Economic Development Corp. offered Cheetah Digital up to $1.05 million in conditional tax credits and up to $100,000 in training grants based on the company's job creation plans. The incentives are performance based, which means the company can't claim them until the jobs are created.
"The early leaders of Indiana's tech movement are continuing to make big moves in our state and in the global tech community," Indiana Secretary of Commerce Jim Schellinger said in a news release from the state.
"As Cheetah Digital is branching off from Experian, it could have picked anywhere in the world for a new office," Schellinger said. "But with the legacy we saw spearheaded in the days of ExactTarget and kept alive by the many Hoosier tech entrepreneurs across our state, Indiana has grown into the ideal place for growing tech firms like Cheetah Digital to locate and expand."
The company is currently hiring sales and lead generation professionals, customer support managers, software engineers and other technical staff.
Please enable JavaScript to view this content.