Over the past 20 years, while the price of a gallon of milk climbed 23 percent and the sticker on a Dodge Caravan minivan rose 21 percent, the list price of the insulin Humalog, made by Eli Lilly and Co., shot up 1,157 percent.

Other Lilly insulins saw hefty price increases, too, including Humulin, on the market since 1982. It has seen price increases totaling nearly 800 percent over the last two decades.

The soaring prices at Indianapolis-based Lilly—and two other insulin makers, whose prices are climbing at similar rates—are sending sticker shock through the diabetes community. In recent months, patients have filed lawsuits and called for congressional investigations, and now they're planning a demonstration next month in front of Lilly's headquarters on South Delaware Street.

The actions are casting a bright glare on Lilly's oldest and perhaps most famous franchise. The company was the first to mass produce insulin in the 1920s, a move that allowed it to attract scientists and make other breakthroughs in fields from cancer to depression.

It's a critical time for Lilly, as it tries to increase its dominance in the $10 billion diabetes-drug market against chief rivals Sanofi of France and Novo Nordisk of Denmark.

Lilly CEO David Ricks continues to point to diabetes as a key area for investment and growth, but the company's ability to keep patients and physicians satisfied could depend on how well it addresses their concerns over prices.

Already, some physicians say high insulin prices across the industry are causing financially strapped patients to ration or discontinue their medicines, which could lead to serious medical problems.

"It's an everyday thing," said Dr. Michael Hancock, an endocrinologist with Franciscan Health. "It comes up in at least 15 to 20 percent of office visits, patients saying they can't afford insulin."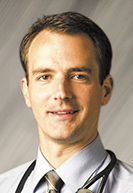 Hancock
Sometimes, he said, patients don't bother telling him until much later, when their blood-sugar levels get out of control.

If left untreated, diabetes can lead to heart disease, kidney disease, foot ulcers and eye damage. About 30.3 million Americans, or 9.4 percent of the population, have diabetes, up from 29.1 million in 2014.

Lilly launched Humalog in 1996 with a list price of $21 a vial—about a month's supply for many patients. Over the next two decades, the company increased the list price more than 30 times, including an 8 percent price bump this spring. The vial now has a list price of $274.70.

Those figures were compiled by Truven Health Analytics, a market research firm. The firm said it did not know whether the price of insulin was rising faster than for other classes of drugs.

Lilly acknowledged the price of Humalog and other insulins has increased sharply, but said few people pay the sticker price. Instead, the company said, they pay lower amounts as a result of rebates and discounts arranged with pharmacy-benefit managers—companies that negotiate drug prices for insurers.

"So you really have to look at the net prices that insurance companies pay," said Mike Mason, vice president of Lilly's U.S. diabetes business. "Net prices have gone down since 2009."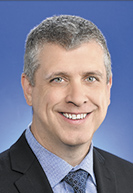 Mason
Lilly's U.S. revenue for Humalog fell 5 percent last year, to $1.68 billion, driven by "lower realized prices," according to the company's annual report.

However, Lilly declined to disclose net prices for its insulins, calling it proprietary information in a highly competitive industry.

"Our lawyers don't allow us to talk about net prices or rebates," Mason said. He pointed out that Lilly has patient-assistance programs that reduce the cost or in some cases make it free.

Patient pushback

Last year, Lilly counted on diabetes drugs for nearly 25 percent of its $21.2 billion in revenue. The company declined to say how profitable insulin drugs are compared with other classes of medicine.

But experts say drugmakers have become increasingly aggressive about using insulin to boost the bottom line. The average price more than tripled—from $231 to $736 a year for a typical patient—from 2002 to 2013, according to a study in the Journal of the American Medical Association.

During the same period, general inflation went up 32 percent, according to the U.S. Bureau of Labor Statistics.

Michael Schwarb, 57, who lives in Fountain Square, said he spends about $300 a month to treat his Type 1 diabetes, a condition in which the body does not produce its own insulin.
He's been on insulins since 1974, and these days he takes five daily shots of Lilly's fast-acting Humalog and one shot of intermediate-acting Levemir, made by Novo Nordisk.

His monthly tab actually is low by diabetic standards because Schwab watches his diet and exercises for hours each week as an endurance cyclist.

Even so, it's putting him in a pinch. He said he dropped his high-deductible insurance plan because it wouldn't pay for his insulins until he paid $6,000 a year out of pocket. So now he goes without insurance in order to afford the medicines.

He works as a customer service representative for a graphics company, and to make ends meet, he sometimes uses expired insulin or has friends donate their insulin to him.

"I don't really see a reason for the price increases," Schwab said. "A lot of these insulins have been on the market for years. It seems kind of criminal for them to charge that much to keep me alive."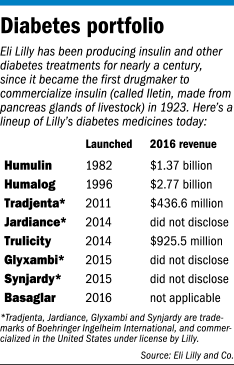 Legal challenge

The trend toward high-deductible insurance plans means more patients are feeling the bite of drug costs, including insulins.

Earlier this year, a group of patients filed a lawsuit in federal court in Massachusetts, accusing the three major insulin makers of violating federal racketeering laws by systemically increasing the prices.

The lawsuit claimed that the drugmakers have been increasing prices, nearly in lockstep, in order to expand discounts and rebates to pharmacy-benefits managers. The practical effect, according to the lawsuit, was to saddle patients with "crushing out-of-pocket expenses."

Lilly and the other drugmakers say the suit is without merit and plan to fight it.

Physicians say patients most vulnerable to price increases are those without insurance, those with high-deductible plans, and those on Medicare, who have a coverage gap known as a "doughnut hole."

The doughnut hole refers to the limit on what Medicare will cover for drugs. The gap begins after a patient has spent a certain amount on drugs, then has to pay out of pocket.

One option is to buy an off-brand Novo Nordisk insulin sold by Walmart for about $25 a vial, several physicians said.

"I think it's unfortunate we're seeing these price increases," said Dr. Paris Roach, an endocrinologist at Indiana University Health. "It's just crazy. … We find ourselves having to change to less expensive insulins, which we can do, but if somebody is stable on one medication, change is always disruptive."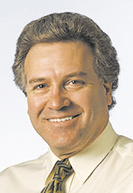 Roach
Another challenge is that doctors often don't know what insurance plans patients have, said Dr. Clark Perry, an endocrinologist with Community Health Network.

"But I can tell you it's not at all an infrequent process when a patient we're seeing comes back and tells us they need something less expensive."

Pursuing innovation

For Lilly, coming up with the next breakthrough in insulin is an ongoing project.

In recent years, the company has launched several new diabetes drugs, including Jardiance, heralded for its weight-loss benefits, and Trulicity, a once-a-week drug.

The company points to diabetes as one of its five core disease areas, with big promise for the future. Lilly has seven experimental diabetes drugs in its pipeline. In March, the company said it would spend $85 million to expand a manufacturing operation at the Lilly Technology Center southwest of downtown that assembles Trulicity injection pens.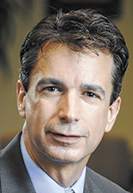 Perry
In the meantime, Lilly—and its competitors—must deal with a rising tide of anger. The American Diabetes Association is circulating a petition calling for more transparency, affordability and access to insulin.

It is also asking Congress to hold hearings with all the players in the insulin supply chain—including drugmakers, insurers, pharmacy-benefit managers and pharmacy chains—"to ensure that all people who use insulin have affordable access" to the life-saving medicine. So far, more than 225,000 people have signed the petition.

Last year, Sen. Bernie Sanders asked the Department of Justice and the Federal Trade Commission to investigate insulin makers for possible price collusion. In a letter to the agencies, he pointed to 13 instances in which the prices of Lilly, Sanofi and Novo Nordisk insulin brands rose in lockstep, a practice known as shadow pricing.

"The original insulin patent expired 75 years ago," Sanders' letter said. "Instead of falling prices, as one might expect after decades of competition, three drugmakers who make different versions of insulin have continuously raised prices on this life-saving medication."

Next month, critics will take their complaint to Lilly's doorstep. From 1 p.m. to 3 p.m. on Sept. 9, two patient groups plan to demonstrate at the company's headquarters. Their goal: to "stop price-gouging" of people with diabetes, according to a flier circulating on the internet.

The main organizer is Elizabeth Rowley, who was diagnosed with Type 1 diabetes at age 4. She grew up in Illinois but now lives in England.

In an email exchange with IBJ, she said she could not move back to the United States for fear that the cost of diabetes would bankrupt her or force her to make "incredibly dangerous choices."

"The insulin makers like to point to the 'complex system' to avoid blame for the insulin pricing crisis," she wrote. "While the system is certainly broken, at the end of the day, these companies are the ones who set the prices."•