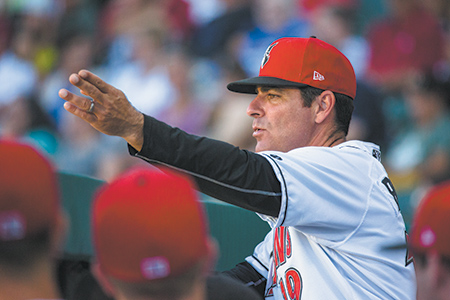 These are anxious days for the professional sports teams of Indianapolis. The Colts are waiting on Andrew Luck in Lucas Oil Stadium; the Pacers are wondering how to replace Paul George in Bankers Life Fieldhouse. And were the Fever really behind in a game 59-9?
But the sun is out at Victory Field. The International League West Division is in the bag for the Indians, and the playoffs are coming to town Sept. 8, against the Durham Bulls. To mark the occasion, we should explore this team, but it's hard to decide where to begin.
The season MVP, who was once taken in the 44th round of the draft?
The 10-game winner in the rotation, who was high school valedictorian?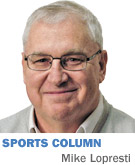 The catcher, whose roots go back to Purdue basketball?
The infielder and reliever, who both spent time with the Pittsburgh Pirates, making them the first African and Lithuanian players to ever appear in the major leagues?
Or maybe the first-year manager, who gets some of his lineups from his eighth-grade son?
And if you think all that's unusual, get a load of the journey they've taken. "Just look," MVP Christopher Bostick was saying "where we've come from."
By the end of the first week of the season, the Indians had dropped five consecutive home games.
After 16 days, they had been shut out four times at home, three by 1-0.
By the end of April, they had the worst record in the league at 7-15. By May 4, they had turned losing close games into an art form, going 1-9 in one-run decisions. The hot dogs were all that were warm at Victory Field.
But by Aug. 29, with the division title clinched, none of that mattered.
"Even when we were struggling, the chemistry was good," catcher Jacob Stallings said. "I think that's what allowed us to turn so suddenly. We never got down; we never lost belief in ourselves."
And so, nine things to know about the Indians, one for each position.
1. The U-turn. It was a late April night in Scranton, Pennsylvania, when Manager Andy Barkett and Hitting Coach Butch Wynegar had a heart-to-heart with the hitters about the need for getting more aggressive at the plate.
"He was just brutally honest and got some things out there," Stallings said of Barkett. "I think guys respected Andy, and they really heard it."
Said Wynegar: "The basics behind it was, 'Why are we taking so many fastballs out over the plate? Why are we being so passive? I want you ready to hit the first pitch. If it means two outs on two pitches, I don't give a flying flip. I want us aggressive."
In 28 days, the Indians went from five games behind to six games in front. They were moving faster in May than Takuma Sato at the Speedway.
"It just seemed," Wynegar said, "like that was the lightbulb moment."
2. The manager. Barkett's had a fun first season in Indianapolis, and so has son Isaiah, who isn't shy about sending his father suggested lineup cards.
"I get one every day between second and third period," said Barkett, who's even used some of them. His son's record? "Pretty darn good."
3. The MVP. In June 2011, Bostick had to wait for 1,335 players to be chosen ahead of him, before Oakland said yes. The 44th round is so late it doesn't even exist in the draft anymore. Now look at him. He led the Indians in hits, while batting in seven of the nine slots and playing five different positions in the field.
"Baseball players, we kind of tend to forget how far we've come because we're worried so much about where we're going," he said. "Getting an award like that helps me remember I was once a 44th-round pick who no one really felt was anything."
4. The catcher. Stallings has had a solid season, occasionally witnessed in person by his father. You remember Kevin Stallings: Purdue basketball product and current Pittsburgh coach.
So in the stands, is he a coach or a father? "Probably a combination of both, which is a little dangerous for the people sitting around him," Jacob said. "I think he gets pretty into it, from what I hear."
5. The valedictorian. Recently, four of the top nine earned-run-averages in the league belonged to the Indianapolis rotation. That included Steven Brault, whose 1.94 ERA put him on the verge of becoming the first Indians pitcher since 1916 to lead the league with a sub-2.00 ERA, and earned him the International League's most valuable pitcher award. Also Clay Holmes, who said, "We feed off each other. There's that energy; you want to take the ball and pass the baton."
With Brault gone to the Pirates, Holmes leads the current roster in victories, not to mention high school grade point average. He was all-A's back at Slocumb High School in Alabama, though it was dicey once with a physics class. But about that valedictorian speech at commencement. "Probably the most nervous I've ever been in my life," he said. "I found out what cottonmouth was. I'm a lot more comfortable on the mound."
6. The fireballing cyclist. Sent down from Pittsburgh to regain his form, Tyler Glasnow has struck out 131 batters since June 15, more than anyone else in minor-league baseball.
"I can't wait to see him get back to the big leagues and see how it all turns out," Pitching Coach Stan Kyles said. "I think he's going to be great."
You can tell if Glasnow is in Victory Field by whether his bike is parked outside the clubhouse. He rides to work every day.
7. The next men up. Fifteen Indians have been called up by the Pirates for various stays, so replacements have been needed. Edwin Espinal, Jordan Luplow and Kevin Newman were reinforcements from Double-A who all became major offensive contributors.
In four weeks, Luplow went from Double-A to a stint with the Pirates. It might be only 98 miles from Altoona to Pittsburgh on a map, but much farther in baseball. "I would never have thought I'd be where I am," said Luplow, who gets asked even more about his college days back at Fresno State. His teammate was Aaron Judge.
8. The trailblazers. Both Lithuanian reliever Dovydas Neverauskas and South African infielder Gift Ngoepe had dreams answered in April when the Pirates called. Both eventually returned, but Neverauskas carried the torch for his country, Ngoepe for an entire continent. Africa has 1.2 billion people and one major-leaguer.
9. The playoffs. The good news is that a lot of Indians have played well enough to be called up to the Pirates. The bad news is, they won't be here for the playoffs—the best-of-five series starts Sept. 6 in Durham. So it goes in Triple-A.
"As much as you want to win the championship, at the end of the day them going to the big leagues in September, it's a win for all of us," Barkett said. "We're just going to really rejoice in the fact these guys get called up and have had a heck of a year to get us to this point."
And now his guys play for a championship. Not a lot of Indianapolis sports leaders can say that at the moment.•
__________
Lopresti is a lifelong resident of Richmond and a graduate of Ball State University. He was a columnist for USA Today and Gannett newspapers for 31 years; he covered 34 Final Fours, 30 Super Bowls, 32 World Series and 16 Olympics. His column appears weekly. He can be reached at [email protected]
Please enable JavaScript to view this content.