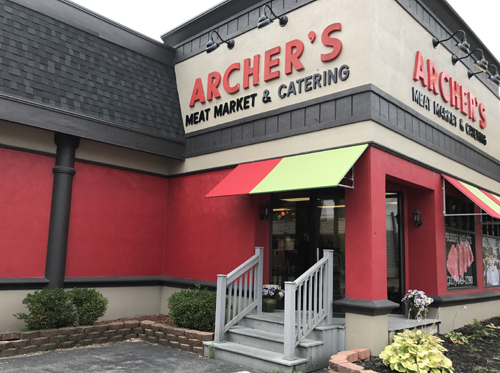 One of Fishers' oldest businesses is closing Saturday.
Archer's Meats and Catering announced on its Facebook page Thursday night that it will close at 4 p.m. Saturday because the owners—Ron and Michelle Archer—are retiring.
The meat shop has been open for 51 years—three years in Zionsville and then 48 years in Fishers. The family also has a store in Greenwood that will remain open.
"A big thank you to all our customers," the Facebook post read. "We also wanted to give a special thanks to Mayor [Scott] Fadness for all his support. We truly support the wonderful job he has been doing for Fishers."
The store is located at 8655 E. 116th St. in the heart of downtown Fishers. It's known as the first business to open in the suburb's downtown. When it opened in 1969, the then-town of Fishers had a population of fewer than 700 people.
Michelle Archer said they decided to retire and close the Fishers store because of her husband's health.
"It's very sad. We love the community and we love all our customers, but it's time," Archer said. "It's been a long road."
She said they plan to sell the land to developer Corby Thompson of Fishers-based Boomerang Development LLC, which has developed residential projects in the northern suburbs. Thompson wasn't immediately available for comment.
"We are very positive with the development of downtown Fishers," Archer said. "It's been great for the families, and it's been great for the community, and we want to see it continue."
Please enable JavaScript to view this content.