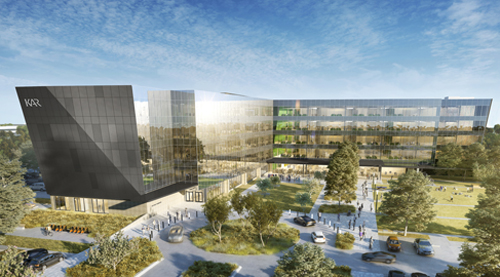 KAR Auction Services Inc. on Tuesday announced plans for an $80 million corporate campus in Carmel that will allow it to add 400 jobs.
KAR officials said they will move their existing headquarters in Carmel from 13085 Hamilton Crossing (near West Main Street and North Illinois Street) about two miles south, to a 13-acre site at the northeast corner of North Illinois and West 111th streets. (Click image below for larger view of site plan.)
Ground is expected to be broken early next year on a 250,000-square-foot building at the site featuring an open floorplan and collaborative workspaces. The headquarters is expected to open by the end of 2019.
KAR, a used and salvaged vehicle auction service company, employs 17,400 employees in the United States, Mexico, Canada and the United Kingdom, including 1,600 in Indiana. About 900 of those employees are based at the Carmel headquarters.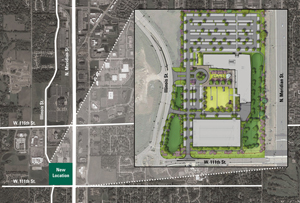 "We want to give our employees a workplace that reflects our entrepreneurial culture and inspires them to create and innovate the moment they walk through the door," Jim Hallett, chairman and CEO of KAR, said in written comments. "The new campus will give us the additional space necessary to increase our workforce as we expand our global footprint.
The new jobs will be technology, innovation and data-science positions that are expected to pay about 50 percent more than the state's average annual wage of roughly $43,000—or about $64,500 per year.
The Indiana Economic Development Corp. expects to offer KAR up to $6.45 million in conditional tax credits and up to $500,000 based on the job-creation plans. The incentive plan, which still requires approval from the IEDC's board of directors, also would provide Hamilton County with as much as $1 million in infrastructure assistance from the state's Industrial Development Grant Fund.
The city of Carmel is is expected to use up $10 million in tax-increment financing revenue generated from the project to pay for construction of a parking garage, road access and stormwater detention.
KAR Auction Services has become a colossus in the used-car auction business, with more than $3 billion in annual revenue. It is one of three major car remarketers in North America—the other two are Copart Inc. and Manheim. They all provide marketplaces and ancillary services for buyers and sellers of used cars, including off-lease vehicles and trade-ins.
KAR's three core business units are Adesa, which runs used-car auctions; Insurance Auto Auctions, which runs salvaged-vehicle auctions; and Automotive Finance Corp., which offers inventory financing to used-car dealers.
Those units were previously independent companies, but KAR Holdings—formed in 2006 by a group of private equity firms—scooped them up in 2007. KAR went public in December 2009, and its stock price has grown since then from about $12 a share to about $45.
The company has 10 auction and office locations in Carmel, Fort Wayne, Indianapolis, Plainfield, and South Bend. Over the past five years, the company has expanded worldwide operations to more than 300 locations and added more than 5,000 jobs, including 700 in Indiana.
It is currently headquartered in a five-story, 180,000-square-foot building that it leases from Duke Realty Corp. The lease expires in 2019.
KAR said it is receiving real estate, development, design, legal and relocation assistance from CBRE Group LLC, Ginovus LLC, Ice Miller, Pure Development, Ratio Architects, Shiel Sexton and US Realty.
Please enable JavaScript to view this content.