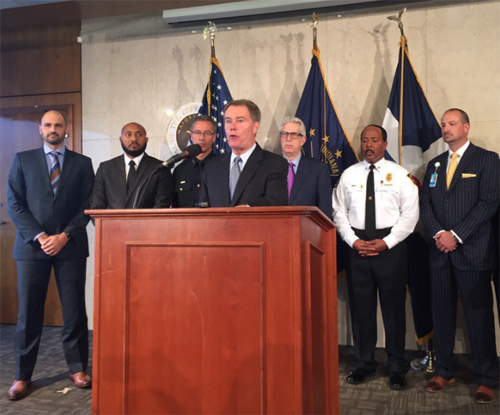 The city of Indianapolis is preparing to take legal action against the makers and distributors of opioids, Mayor Joe Hogsett announced Thursday morning at a press conference.
The city has hired the law firm of Cohen & Malad LLP, which plans to file a "robust lawsuit" in the coming weeks, city officials said.
Likely defendants include Purdue Pharma, which makes OxyContin, as well as Endo Health, Teva Pharmaceutical, Cardinal Health, McKesson and AmerisourceBergen, Cohen & Malad managing partner Irwin Levin said.
Officials didn't specify an amount the city would seek in damages.
Hogsett said opioid addiction took the lives of 345 Marion County residents last year, more than four times the number of traffic-related deaths. In 2014, Indiana ranked 15th in the nation for the number of deaths due to drug overdose, and Marion County led the state with the highest number of deaths due to drug overdose as well as non-fatal emergency department visits, the city said.
As of Oct. 2, Indianapolis Emergency Medical Services had administered overdose medication naloxone 1,670 times in 2017, on pace to surpass last year's record-high number of administrations, according to city figures.
Hogsett pointed a finger directly at opioid makers and distributors, saying they were seeking "profits over people."
"Opioids are killing Americans," Hogsett said. "Opioids are killing Hoosiers. Opioids are killing our neighbors here through the city of Indianapolis."
In many cases, he said, victims were seeking relief from pain, as promised by opioid makers, following medical procedures. "They were instead administered addiction," he said.
Levin said his office has already spent "many hundreds of hours" analyzing information on how much the city spends on police, social services and other efforts to treat victims and prosecute drug lawbreakers. "The impact is tremendous," he said.
Indianapolis is joining a recent landslide of government entities filing similar lawsuits.
More than two dozen states, cities and counties—including Ohio, Mississippi, Orange County in California, and the Washington cities of Seattle, Everett and Tacoma—have sued the pharmaceutical companies.
Most other states have recently broadened a joint effort to investigate the companies' actions.
The governments hope to recoup costs of responding to drug addiction, including money spent on emergencies, criminal justice and social services.
The U.S. Centers for Disease Control and Prevention found that in 2015, drug overdoses killed more than 52,000 Americans. Most involved prescription opioids such as OxyContin or Vicodin or related illicit drugs such as heroin and fentanyl. People with addictions often switch among the drugs.
John Parker, senior vice president of the Healthcare Distribution Alliance, said the lawsuit is misguided. The alliance is a national trade association representing distributors, including McKesson, Cardinal and AmerisourceBergen.
"As distributors, we understand the tragic impact the opioid epidemic has on communities across the country," Parker said in a written statement. "We are deeply engaged in the issue and are taking our own steps to be part of the solution—but we aren't willing to be scapegoats.
"Distributors are logistics companies that arrange for the safe and secure storage, transport, and delivery of medicines from manufacturers to pharmacies, hospitals, long-term care facilities, and others based on prescriptions from licensed physicians. We don't make medicines, market medicines, prescribe medicines, or dispense them to consumers."
Please enable JavaScript to view this content.