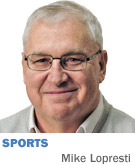 Want to take a ride? With the IHSAA football tournament beginning Oct. 20, let's jump in the car and drive past every large-school state champion since 2001. Don't worry, we won't be gone long.
Start with Warren Central, on your right … now up Interstate 465, and there's Lawrence Central … north to Fishers … then west to Carmel, where the ground sinks from all the trophies … move farther west to Ben Davis … then south to Center Grove.
OK, we're done. Notice something? Nearly an entire generation of state champions, and we can hit all six of them inside of 90 minutes, if the traffic is right. Sixteen years in a row, and every 6A trophy—or before 2013's class expansion, 5A—rests in cases somewhere within a reasonable drive from Monument Circle.
Yeah, that's a trend, all right. No, it's a dynasty. The Indianapolis ring of behemoths owns big-school football in this state—lock, stock and Lucas Oil Stadium. Wonder how the top programs in the rest of Indiana feel about that?
Kurt Tippmann was on the line.
He's the coach of Fort Wayne Snider, where good football is as perennial in the fall as pumpkins. He's been around the program for decades and is 94-20 in his nine years as head coach. Going into the last weekend of the regular season, his Panthers were 8-0 and ranked second in the state in 6A. Then again, Ben Davis was ahead of them and Warren Central and Lawrence Central were right behind them. How's that cliche go … the more things change, the more they stay the same?
Since 2000, Snider has lost to six eventual state champions in the tournament—every one of them from the Indianapolis area. The Panthers were state champions themselves in 2015, but that's when they stayed behind a spell in smaller-school 5A, after 6A was created. Now they're back up with all the T-Rexes.
It's a challenge, and Tippmann's an expert.
"In every one of those cases, the team that we were playing was extremely well-coached," he began. "Everybody says, 'Oh, man. They have this amount of talent, this amount of talent, this amount of talent.' People talk about the size of the schools. But what was evident when we played those teams is how well prepared they were. Those schools have attracted and hired great coaches. I don't know if the public perception or the fans' perceptions are as in tune to that as what it really is."
And Snider?
"We're a school with 1,900 kids, so playing the Carmels and Ben Davises and all those schools that are 4,000 and above, that's a big difference in the number of student-athletes they pull from. If you just look at all that stuff on paper, they should win. There's no reason why they shouldn't."
And they do. Snider and Penn and Valparaiso are traditional powerhouses, but they know where the road eventually leads. Sooner or later, Carmel is waiting. Or Ben Davis. Or someone. Last season, this season, next season. Must be frustrating.
"I don't think it's frustrating at all. I think it speaks about the highest level of competition," Tippmann said. "If your goal is to win a state championship every year, and that's the goal in our program, it doesn't matter who you play. It doesn't matter if they're from Indianapolis or Timbuktu. The frustration isn't because it's always a team from Indianapolis; that doesn't even cross our minds. When we got to whatever level we lost, that team was better than us. That's the frustrating part."
Whether it's good for the sport that a handful of ZIP codes are so dominant depends on perspective. It's probably hunky-dory with Marion and Hamilton counties. The outlands wouldn't mind if the streak were broken one of these decades.
"I don't think any of those teams from the north—whether it be a Penn or a Valpo or a Snider—says, 'We have no chance.' I don't think that's ever the case," Tippmann said. "But you have to have a special team to be able to combat playing against a Carmel or a Warren Central or a Ben Davis that's very talented and well-coached. The enrollments aren't even, so I think the level of play is not even as well."
It hasn't always been this way. Eight of the nine big-school titles before 2001 went to the likes of Castle and Bloomington South in the south, Penn and Snider in the north. Then, kaboom. Makes you wonder if the Peyton Manning Effect is stronger the closer you get to his new statue.
"I think there's been nothing in the history of Indiana high school football that has added to the level of play more than the Indianapolis Colts and Peyton Manning," Tippmann said.
Manning's popularity led to a football surge throughout Indiana at large, but fact is fact. Indianapolis' chokehold on 5A and 6A football came along when he did. Manning is now in bronze outside Lucas Oil Stadium. The mountain he might have inadvertently helped build for the Fort Wayne Sniders of the world is still inside. Taller than ever.• 
__________
Lopresti is a lifelong resident of Richmond and a graduate of Ball State University. He was a columnist for USA Today and Gannett newspapers for 31 years; he covered 34 Final Fours, 30 Super Bowls, 32 World Series and 16 Olympics. His column appears weekly. He can be reached at [email protected]
 
Please enable JavaScript to view this content.