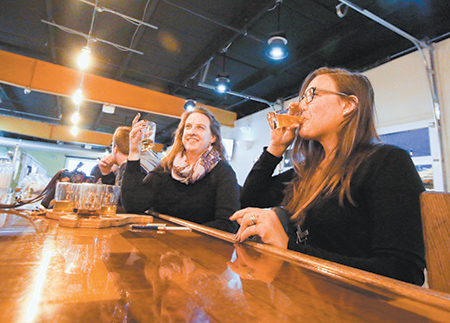 The explosive growth in craft breweries is starting to slow in Indiana, and a smattering of players have gone out of business.
Yet industry observers remain bullish on the market, and big players like Sun King Brewing Co. are still enjoying frothy sales, even if they've leveled off lately.
Robinson
"The days and years of explosive growth like mine, and craft beer companies in general, are not fully behind us, but kind of," Sun King co-owner Clay Robinson lamented.
Indiana boasts about 130 microbreweries serving signature India Pale Ales, ambers and lagers—more than double the number in 2012. But the rate of growth last year slowed to 10 percent from 44 percent in 2015, statistics from the Boulder, Colorado-based Brewers Association show.
It's a shift that's playing out not only in Indiana but across the country.
"It's a maturation of the market," said Bart Watson, staff economist at the Brewers Association. "There's still growth out there, but in tighter market niches, you have to differentiate yourselves more."
Indiana still is outperforming the national market, Watson said, because it's a relative newcomer to the craft beer scene and sales probably haven't peaked.
The craft beer market remains formidable—last year accounting for $23.5 billion of the $107.6 billion U.S. beer market. And while overall beer sales were flat in 2016, sales of craft beer rose 6.2 percent. But that's the first time sales hadn't grown at a double-digit rate in more than a decade.
This year is trending worse. Through June, craft beer sales were up only 5 percent, according to the Brewers Association.
The increased competition is starting to put more pressure on some breweries and leading to more closures.
In July, Three Pints Brewing Co. in Martinsville shut its doors after a five-year run, citing competition as a factor in its decision to tap out.
And Fishers' first brewery, Heady Hollow Brewing Co., closed on Oct. 29, due to "unexpected circumstances," owners said in a Facebook post. The space at 11069 Allisonville Road south of East 116th Street won't be vacant for long, though. Another local brewer, MashCraft Brewing, is expected to take over operations in the next few months, the Facebook post said.
Another, Flat 12 Bierwerks in the Holy Cross neighborhood east of downtown, is back on its feet after original shareholders late last year lost their entire investment and a new investor recapitalized the business, court records show.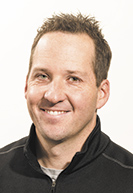 O'Connor
"Things are going really well now," said Sean O'Connor, Flat 12's founder and CEO. "The tap sales are up and we're feeling pretty positive."
Sun King's Robinson, a craft beer pioneer, isn't surprised by the slowing of the market.
"If you look at craft beer as a percentage of beer sold, there's only a certain percentage of consumers that are into craft beer," he said. "The low-hanging fruit has been picked and the real hard work begins now."
Sun King opened in 2009 downtown as the state's 32nd brewery. Its beer is available throughout Indiana and now in Louisville and Chicago, as part of a summer expansion.
Even so, Sun King expects to produce the same number of barrels this year—36,000—as it did in 2016. A barrel is 31 gallons.
"That's a good sign of the slowing, or steadying, of the market," Robinson said.
To diversify, Sun King is branching into distilling and plans to open its first location in Carmel in the spring. The company in September 2016 announced plans for the $5 million craft distillery and taproom in Carmel's Midtown development, which is between City Center and the Arts & Design District.
The craft beer slowdown isn't dampening the enthusiasm of new entrants.
Noblesville resident Gabriel Soukup, 43, expects to open Happy Brewing Co. in the Butler-Tarkington neighborhood yet this month.
He moved brewing operations from Daleville to Indianapolis and set up shop at 3902 N. Illinois St. in the 8,500-square-foot building last occupied by a Double 8 grocery store. It closed in July 2015, when the locally based grocery chain shuttered its last four stores in the city.
Soukup has spent $300,000 building out his seven-barrel system, taproom and kitchen and said he has the support of the neighborhood. The average cost to open a brewpub is about $750,000, according to the Brewers Association.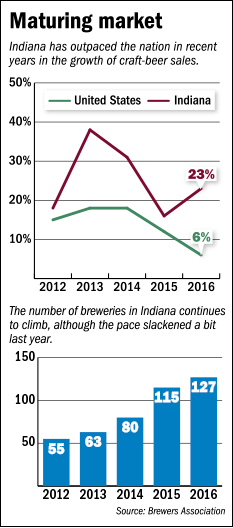 "The Double 8 needed a lot of work to get it up to standards," he said. "But it's the location that we were after."
Soukup is buying the building on a lease-to-own arrangement and eventually hopes to produce enough beer to stock restaurants, bars and grocery store shelves.
"I expect to have lots of fun," he said. "We want to build up our name and brand, and produce as much as we can."
Meanwhile, the owners of the Broad Ripple Brewpub are branching out after more than 25 years in the village and opening a second restaurant, on East 10th Street near downtown.
Called Mayfair Taproom, it will serve beer from Broad Ripple Brewpub, as well as varieties from other Indiana breweries.
Owners John and Nancy Hill bought the vacant, two-story building at the northwest corner of East 10th Street and North Hamilton Avenue and are busy renovating it with a goal of opening by early spring.
The Hills' son, Alec Hill, and his girlfriend, Hilary Powers, will operate The Mayfair.
Constructed in the 1880s, the building needs a lot of work.
"It's taking twice as long as we want," Nancy Hill said. "Every time we turn a corner, we discover more and more that needs to be done to bring it back to full strength. We're truly doing a complete renovation in a really, really old building."
The Hills opened Broad Ripple Brewpub in 1990—the first brewery of its kind in the state—and a couple of decades before the microbrewery craze took off in Indianapolis.
Nancy Hill thinks there's still room for growth, however, despite the increased competition.
"Absolutely, I think it's holding up, and I still think there's a huge, huge market," she said.
Indiana's overall beer market took a big hit this year when America's oldest brewery, Pottsville, Pennsylvania-based Yuengling, began distributing throughout the state.
Yuengling quickly grabbed 10 percent of the market and sold more beer in three months than Sun King will the entire year, Robinson said.
"We held our ground pretty well," he said, "but it was definitely a disruptor to our beer market in Indiana."•
Please enable JavaScript to view this content.