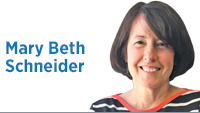 It has become almost a daily occurrence.
Another day, another man accused of inappropriate sexual contact with colleagues.
In recent weeks, such allegations have shifted from being occasionally part of the news cycle—such as Bill Clinton in the 1990s or Roger Ailes and Bill O'Reilly in the past couple of years—to becoming nearly daily breaking news.
For whatever reason, once the evidence that Harvey Weinstein was a serial sexual abuser became public in October—only two months ago, though it seems a lifetime—the dam was broken.
Actor Kevin Spacey. Billboard magazine executive Stephen Blackwell. New Republic publisher Hamilton Fish. Senate candidate Roy Moore. Minnesota Sen. Al Franken. Michigan congressman John Conyers. Reporter Mark Halperin. NPR chief Michael Oreskes. Amazon executive Roy Price. CBS anchor Charlie Rose. NBC anchor Matt Lauer. Public TV icon Garrison Keillor.
That's just a partial list, and by the time this is published, I expect more names will have been added to the shameful litany.
We shouldn't be surprised, I guess. Nearly every woman I know has her "Me Too" story, some merely distasteful, some criminal abuse.
There's been a stark double standard when it comes to consequences for this long-delayed reckoning.
While stars like O'Reilly got corporate protection in the past, there is now zero tolerance. If the man is in the news, entertainment or other business, he is fired. Halperin, Lauer, Rose—all out within hours after women finally went public.
The wheels of politics are stuck in neutral. Some, like Franken, apologize but resist resignation. Some, like Moore, simply call the women liars. And for days, weeks, perhaps through the next election, they keep their offices or nominations.
The tribalism that has become the chief characteristic of American politics today has excused the lack of consequences.
Donald Trump got elected president despite multiple credible allegations of disgusting unwanted sexual contact. Democrats are appalled; Republicans point to Clinton and ask, where was Democrat outrage when he was president?
In Congress, Democratic leaders pushed Conyers out of his committee chairmanship, but balked at first at saying he should be out of office. Pressed by reporters as to why there are consequences in private businesses but not in public office, Rep. James Clyburn—a civil rights hero I deeply admire—asks of the news figures who lost their jobs, "Who elected them?"
Now, even that line of defense has withered. On Nov. 30, Clyburn joined Democratic leader Nancy Pelosi in calling for Conyers to step down, with pressure also increasing on Franken.
What took so long?
Businesses look first to protect their bottom lines, excising embarrassing employees for fear that keeping them hurts their reputations and profits. Politics has cared most about preserving a seat. Their bottom line is whether Mr. Flawed Candidate is a vote for their tribe.
This My-Guy-Right-Or-Wrong disease has spread to many voters, and not just in Alabama where some GOP voters seem to say a child molester is a better fit for the Senate than any Democrat. So much for family values. Polls show people in both parties believe sexual harassment is a serious problem, yet they elect people despite knowing the allegations.
Maybe, finally, this is changing. Politics, as they say, ain't beanbag. But it shouldn't be a preservation society for serial abusers, either.
Democrats, awakening to the fact that they were hurting their brand, took a big step toward saying no to their own embarrassments when they no longer defended Conyers. Better late than never. Republicans need to hold their members to account as well.
Political parties must just say no.•
Click here for more Forefront columns.
__________
Schneider covered Indiana government and politics for The Indianapolis Star for more than 20 years. Send comments to [email protected]
Please enable JavaScript to view this content.