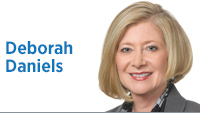 I had the honor recently of attending a unique event in the life of the city of Indianapolis.

Mayor Joe Hogsett held a ceremony last month honoring former Mayor and U.S. Sen. Richard Lugar and announcing that the City-County Building plaza, currently under renovation, will be named for Lugar.

The occasion calls to mind the tremendous impact Lugar has had on our city, as well as the nation and the world, and of which some of our citizens might not be fully aware.

Lugar was elected mayor at the age of 35. He quickly saw that Indianapolis risked the fate of other cities that had seen wealth flee to suburban areas as the core of the city withered and died. He acted quickly, in his first two years in office, to solve the problem. Unigov, or "unified government," was created to streamline city and county services and merge the city and county into one political subdivision. We quickly became the 11th-largest U.S. city, but the impact was far deeper: Unigov was the foundation of our city's ability not only to survive, but to thrive, in the face of the forces that continue to challenge cities across the country.

On hand to help celebrate the occasion were the other three living former Indianapolis mayors: Steve Goldsmith, Bart Peterson and Greg Ballard. Sadly missing was former Mayor Bill Hudnut, who passed away last December and who built on Lugar's foundation through the 1980s.

Each of the mayors present discussed what this great man has meant to them. Steve Goldsmith recounted that Lugar was the reason he entered public service: When he was elected student council president at Broad Ripple High School in the 1960s, he received a letter from the chairman of the Indianapolis Public Schools board, Richard Lugar, encouraging him to consider entering public service after getting his education.

Bart Peterson recounted his frequent visits with then-Sen. Lugar during Peterson's tenure as mayor, when he would visit Washington, D.C., on business. He was always astounded that the senator knew as much about what was going on in Indianapolis as he did, and sometimes had even more knowledge of potential trouble spots in the far reaches of the city. Mayor Hogsett recounted similar stories of his visits with the now-former senator since Hogsett's own election as mayor.

Greg Ballard, a retired Marine, focused on Lugar's vast contributions to peace in the post-Soviet era, when Lugar and then-Sen. Sam Nunn did more than anyone else in the world to identify and cause the destruction of thousands of nuclear missiles that otherwise would likely have fallen into the hands of terrorists and rogue nations.

Others present, in private conversations, discussed Lugar's focus on hunger, in Indianapolis and throughout the world. One of the first members of the Senate Hunger Caucus, he focused for years after his service as mayor on hunger in Indianapolis, contributing his name and reputation to the support of Gleaners Food Bank. Jim Morris, a longtime colleague of Lugar's and former head of the United Nations World Food Programme, was present at the event to honor Lugar as well.

The recognition bestowed on Dick Lugar for all his contributions to the success of our city and the well-being of its residents, throughout his public service career and even today through his work with the Lugar Center in Washington, is well-deserved and overdue. We are all better off because Dick Lugar has spent his entire adult life serving his fellow citizens.•
Click here for more Forefront columns.
__________

Daniels, managing partner of Krieg DeVault LLP, is a former U.S. attorney, assistant U.S. attorney general, and president of the Sagamore Institute. Send comments to ibjedit@ibj.com.