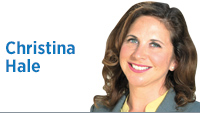 Dear first-time candidates:
First, let me say how proud I am of you. Standing for public office is a significant commitment, and extremely difficult, particularly in today's world of bully bloggers and politicized partisans.
You likely don't know it yet, but this experience offers you an amazing opportunity—and not the most obvious one.
If you keep an open mind and resilient attitude, this has the potential to change you and your life for the better, no matter the outcome. If you do it right, you'll be stronger. You'll be better prepared, your perspective will be broader, and you'll have a much wider circle of friends.
Strangers will bring you cheer and support in unexpectedly wonderful ways and become lifelong friends. Some people you assumed were in your corner will reveal themselves as being better off more distant.
Your feelings will get painfully hurt. The moment you see your competitor's yard sign in a friend's yard is like a little knife to the heart. But it makes you stronger. My advice: Please don't write them off. Just channel gratitude for the people in your life you have discovered are truly in your corner and give it time. Politics can be both personal and very impersonal.
Partisanship is weird, and your friendships must become elastic enough to handle it. I once asked a dear friend for his vote, a friend who knew me well and knew my abilities and my character. He would not even consider it. It stung, but our friendship endures.
You are no longer an anonymous shopper at your local grocery store. Sorry, but for the next few months, you probably can't run in to pick up your almond milk without changing out of yoga pants and sweaty ponytail into jacket and lipstick. If you win, you might not be able to do that for a long while. You might relax your dress code, but be prepared to talk to strangers, friends and foes about curbs, sewers or North Korea. Whatever office you are seeking, if you win, you will now be government to people. Strap in.
Men, you might have it a little bit easier, but suddenly, awareness that every citizen might have a camera on you, ready to post something unflattering or mean, becomes all too real, regardless of gender.
What if you win? Sometimes people get addicted to feeling important; trust me, it is all too easy to do. You might find yourself called "Honorable" and the recipient of hundreds of invitations. People in power are exposed to temptation by powerful forces. You might be, too. Be prepared to stay true.
The personal stakes are high. You might lose. That doesn't feel great. It can be embarrassing at best, and heartbreaking at worst, particularly when you feel you have let down your dearest supporters.
If you do lose, I am going to ask you to saddle back up. Some of our nation's best have lost, too. President Lincoln lost more elections than he won. Dust off and get to work on Plan B. You have a good heart? You have a good mind? You are in it for the right reasons? Um, yeah, pretty certain we need some more of that.
If you are elected, remember not just who helped you win your race, but more important, why you ran in the first place. Stay true to that. Always, always stay true to that. And finally, thank you for trying. It's important.•
Click here for more Forefront columns.
__________
Hale is a former member of the Indiana House and ran for lieutenant governor in 2016 on the Democratic ticket. Send comments to [email protected]
Please enable JavaScript to view this content.