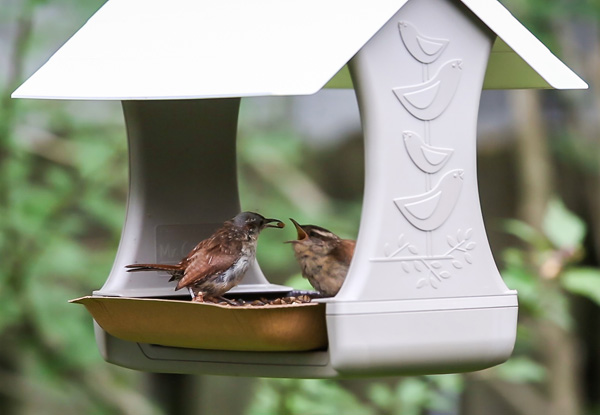 Carmel-based Mr. Canary Co. is preparing to debut a new type of bird feeder on the Home Shopping Network after securing a patent for the Bird Buffet System, the company announced this week. 
The product is expected to be a game-changer for the company, which has been selling its bird feeders through major retailers since 1995.
The new Bird Buffet System is touted as a maintenance-free way for people to enjoy backyard birds.
Jan Long, president of Mr. Canary, describes the new system as TV dinners for birds. It features premium bird seed that is sealed in single-use, eco-friendly trays that slide into a permanent bird feeder.
Users no longer have to worry about hauling bags of bird seed to the backyard, and cleanup is easy, the company said.
Long will launch sales of the Bird Buffet System on May 8 on the Home Shopping Network. She'll appear live on three separate airings: The first airs at midnight, the second at 8 a.m. and the third at 9 p.m.
Company leaders hope the Bird Buffet System has a big impact on sales. Before the new product, the highest retail price for one of Mr. Canary's feeders was $9.99. The new system retails between $34.99 and $39.99, said Mr. Canary Chief Operating Officer Nathaniel O'Dell.
In the future, the company also hopes to offer seed trays featuring a variety of seed blends, he said.
"We fully expect the success of the 'Bird Buffet System' to propel us past $10 million in revenue in the next 3 (to) 5 years," he said in written comments.
Last year, the company brought in more than $1 million in revenue, O'Dell told IBJ.
Sisters Jan Long and Chris Mowery bought the Mr. Canary brand in 1995 from the wholesale seed company that purchased it after their father retired. They started the company selling the Original Mr. Canary Finch Feeder made of recycled products.
By 2013, Mr. Canary products were being sold in Kmart, WalMart and Kroger stores across the nation. Ace Hardware signed on to start selling the products in its stores in 2014.
The company, which has just two employees, partners with The Arc of Greater Boone County to handle manufacturing, providing work to 60 Hoosiers with disabilities.
Please enable JavaScript to view this content.