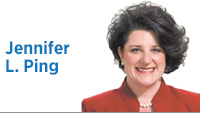 I'm choosing to be a Girl Scout, again. I ended my first time as a Girl Scout in fifth grade, which seems to be the time many girls decide to drop scouting. School, sports and other demands took me away from my Girl Scout troop. I was not encouraged to stay in Girl Scouts, and recently I've been reflecting on the real value of what I learned while a Girl Scout.
I was not one to sell lots of cookies or (if you know me) to enjoy camping. However, I enjoyed the educational projects, making friends and the lessons of leadership.
Boy Scouts of America announced recently it will include girls in Boy Scouts and will change the organization's name to Scouts BSA. Including females in Boy Scout troops is not a new concept. In fact, Cub Scouts have permitted dens to be made up of only girls for a few years now. Additionally, older Boy Scout groups—those whose members must be 18 or older—have included females for years. This is a natural progression for the Boy Scouts, but it does not mean I believe girls should not choose to be a Girl Scout.
Weeks before the Boy Scout announcement, I eagerly agreed to join the Girl Scouts of Central Indiana board. I joined to support the education of girls and to truly believe in the Power of every G.I.R.L. (Go-Getter, Innovator, Risk-Taker, Leader) as envisioned by the Girl Scouts of today.
Many articles have been written about the need for more women to be involved in the political arena. And I agree: More women need to run for office as well as be leaders in our communities and in our businesses. And let's start planning our future leaders now while they are girls. I am looking forward to working with the Girl Scouts of Central Indiana to be the place girls want to be.
My son is about to earn his Eagle Scout rank, the highest rank in Boy Scouts. Many successful men—from elected officials to business owners and every profession in between—hold the rank of Eagle Scout. In fact, during college visits this year, most admissions counselors mentioned my son's plan to reach Eagle and provided encouragement for him to complete it. Earning the Eagle ranking was encouraged as much as good grades and community service.
Now, I am not raising a daughter. And so maybe the colleges also encouraged the female applicants to complete the Girl Scout Gold Award, but I'm guessing not. Not because the counselors look at the Eagle as a greater achievement, but because, just like me, so many girls leave scouting early and never reach the equivalent of Eagle Scout rank, the Gold Award.
As a society, we have not placed a high enough value on what Girl Scouts provides for girls the way we have for Boy Scouts for boys.
This is why I am choosing to be a Girl Scout, again.•
Click here for more Forefront columns.
__________
Ping is a principal at Bose Public Affairs Group and former chairwoman of the Marion County Republican Party. Send comments to [email protected]
Please enable JavaScript to view this content.