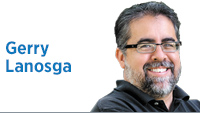 Writing in The Washington Post on Aug. 13, former Gov. Mitch Daniels unleashed an astonishing broadside against an "obsession with transparency" that he claims is making government less nimble, talented and effective.
Daniels, now president of Purdue University, offers a cursory acknowledgment of the benefits of openness and says he is not calling for a major rollback of transparency reforms. Otherwise, the article is a veritable bill of particulars about the ill effects of open government. According to Daniels:
◗ Officials are forced to have "furtive hallway conversations" to steer clear of open-meeting requirements. "Honest people are now compelled to become scofflaws in the good-faith pursuit of their duties," he writes.
◗ Treating email as a public record similarly hampers officials in their work. "Every emailer knows that, perhaps apart from attachments, [emails] are conversations," Daniels asserts.
◗ "Excessive background checks and disclosure demands" discourage "countless talented people" from serving in government.
◗ "The openness obsession" hinders the spirit of compromise, which Daniels says was modeled by the private meetings of the Constitutional Convention of 1787.
For these expansive assertions, Daniels provides little concrete evidence, save for this striking declaration: "I'm rarely on a conference call with other public university presidents that doesn't include someone reminding the group: 'No emails!'"
That's an amazing sentence considering the many important disclosures that have come from the public's ability to obtain official emails, including most recently from Michigan State University in connection with the USA Gymnastics sex abuse scandal.
Emails, in fact, are not mere fleeting conversations. Rather, they are recorded communications, and there is no question that such are public records, regardless of whether they are paper memos in a file cabinet or digital messages in an electronic folder.
Courts have recognized this as a critical point given society's digital transformation. Technological changes in record-keeping do not change the underlying principles of government accountability.
More broadly, it seems Daniels is arguing that too much openness is the enemy of government efficiency. That shouldn't come as a surprise from the former head of the U.S. Office of Management and Budget. And it's a seductive argument, because who doesn't want government to be efficient?
Daniels hints that giving public officials greater latitude to have private conversations will allow frank discussions that lead to better public policy, but it is at least as likely to lead to questionable deals and corrupt activities.
Further, while government inefficiency is a problem, we must remember that sometimes government can be cruelly efficient at enforcing bad policy, and greater transparency protects against that as well.
So, do we live in an era of government openness run amok, as Daniels suggests? His dystopian portrayal has officials shrinking from their computer keyboards while others are deterred from public service because of the background checks.
"Transparency," he writes, "has risen to sacred status."
To the contrary, having spent 30 years studying and teaching about open government, it's clear to me that, despite all the gains and reforms, secrecy still wins the day.
Sleek and well-promoted online transparency portals, for instance, too often obscure the scope of the records and data not being disclosed. And legislatures across the country are adding new exceptions to public disclosure laws with regularity.
Daniels says it's time to consider expanding confidential communications, but he's late to the party. It's already happening. Every. Single. Year.•
Click here for more Forefront columns.
__________
Lanosga, a former reporter, is a journalism professor at Indiana University and president of the Indiana Debate Commission. Send comments to [email protected]
Please enable JavaScript to view this content.