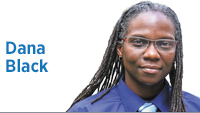 By now, many in the Indianapolis area have heard of the trials of Shelly Fitzgerald, the 15-year guidance counselor at Roncalli High School. According to legal experts, Roncalli might be within its legal rights to terminate Fitzgerald for being married to her same-sex partner. As upsetting as it seems, this is the reality we are living in and fighting against.
The uproar in the community has been loud; Students, parents and alumni are questioning why it is acceptable to terminate someone because of whom they love. And personally, as president of the Indiana Stonewall Democrats, the LGBTQ+ wing of our state Democratic Party, I am appalled at the blatant discrimination being shown toward a member of the community we fight to represent on a daily basis. Here is the school's response via a Facebook post from Aug. 12 that explains the board's position:
"Catholic schools are ministries of the Catholic Church, and teachers, school guidance counselors and administrators are vital ministers in sharing the mission of the church. They are expected to be role models and are expressly charged with leading students toward Christian maturity and with teaching the word of God. As role models for students, the personal conduct of every teacher, guidance counselor and administrator and staff member, both at school and away from school, must convey and be supportive of the teachings of the Catholic Church."
Sounds clear enough, but all over America we know Catholic Church leaders don't always fire people for not being good role models. Rather, they move them from parish to parish, keeping their indiscretions a secret from the public and the police. But that is another discussion for another day.
Also, this policy doesn't seem to acknowledge from whom the school receives funding. Roncalli is a private religious school but it also receives state funding through Indiana's school-choice voucher program. As reported by the Indiana Department of Education, the school received more than $1.5 million in taxpayer money in 2017 and more than $6.5 million over the last five years.
I wonder if Roncalli leaders know there is a whole lot of gay money in that $6.5 million they received? Gay money that paid to keep the lights on and the water running. Gay money that purchased books, rosaries and other supplies. And there is a whole lot of gay money that paid the salaries of those who pass judgment on Fitzgerald and asked for her resignation.
How is it acceptable for this organization to dismiss an employee who has obviously created great value in the school because of whom she loves but continue to take public gay tax dollars? It seems it has been as easy for Roncalli and the archdiocese to turn a blind eye to the gay money they receive as it has been to turn a blind eye to decades of child abuse.
The state is great at creating complex formulas to determine funding for various areas of need, but lawmakers have yet to devise a formula that removes gay tax money from the school-voucher program. Gay money is flowing through the halls of Roncalli like holy water sprinkled on a newly christened baby.
If Roncalli and other religious schools want to take the moral high ground when it comes to homosexuality, then don't take our money. Otherwise, what you teach and what you do are not aligned. Your actions suggest discrimination against gay folk is cool to the point of getting paid with our money.•
Click here for more Forefront columns.
__________
Black is deputy chairwoman for engagement for the Indiana Democratic Party and a former candidate for the Indiana House. Send comments to [email protected]
Please enable JavaScript to view this content.