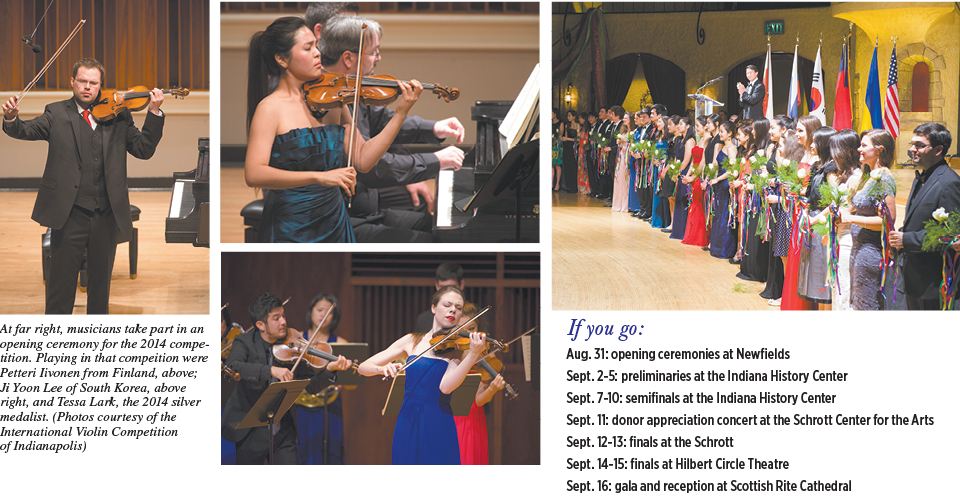 Like the Olympics, the International Violin Competition of Indianapolis is held every four years. And also like the Olympics, its organizers don't take a three-year vacation in between signature events. Far from it.
Rather than just handing over prize money and planning for the next competition, the competition—now in its 10th go-round—spends four years managing the musicians it celebrates.
That means coaching in how to handle interviews and work with the press. It means developing a website and introducing the winners to managers and record labels. It means arranging more than 100 concerts with symphonies around the globe—including securing a Carnegie Hall debut—and taking care of the requisite flights and hotels and rental cars.
"We do all the travel logistics," said Glen Kwok, the organization's executive director. "All they have to do is show up and play great."
In short, it means handling all aspects of a young musician's career in a very competitive arena.
But that's all after winning. First, the 40 players from 12 countries (including, this year, one from first-timer Kazakhstan) must play for Indianapolis audiences in a variety of situations and formats.
Audiences here—whether classical-music buffs or curious newcomers—can experience the competition in a variety of ways.
While it might seem intuitive to simply go to the finals—and Kwok is ready to sell you a ticket if you take that option—he also recommends checking out one of the earlier rounds at the Indiana History Center, where tickets are just $15.
"Some of the most interesting rounds are the preliminaries, especially if you don't go to concerts regularly," he said. "You get to hear three or four different violinists and there's so much virtuosity. It's a nice way to hear more players in a short amount of time."
The semifinals—with 16 players—have a twist this year. Traditionally, this round features a newly commissioned work. This year, the composer is Pulitzer Prize- and Grammy-winner William Bolcom, whose compositions include the opera "A View from the Bridge." For the competition, he's created a jazz-influenced piece that demands improvisation skills.
"He literally gives you the opening of each movement and says, 'Finish it,'" Kwok observed. "It's a fascinating approach." And one likely to starkly contrast the players' differences.
Next come two sets of finals—at two venues. Unfortunately, you can't see all six finalists in one evening.
At the Schrott Center for the Arts at Butler University, two programs will each feature three of the finalists playing with the East Coast Chamber Orchestra. The same goes for a pair of performances at Hilbert Circle Theatre, where finalists will play with the Indianapolis Symphony Orchestra.
On the last night, while waiting for results from the judges, the audience will also get to hear the outcome of a separate competition—the search for two violins for the International Violin Competition to acquire for its laureates to play during their tenures.
The group already owns a 1683 Stradivarius bordering on priceless. And one of the perks of winning is the chance to play it. But Kwok and company are convinced that contemporary instrument makers rival the masters—at a fraction of the cost. So they decided to shop for the best by putting out a call for submissions of instruments made since 2001 (up to $70,000 in cost).
Forty-five makers came through and a committee will winnow those down to 12, which will be judged in blind testing. The winner will be announced at the finals while the judges are deliberating over who proved the best player.
As if those opportunities aren't enough, there will also be a donor appreciation concert at the Schrott, a gala and reception at the Scottish Rite Cathedral, an exhibition at the Indiana State Museum, and a new book, "Going for Gold: 10 Quadrennials of the Indianapolis" by Donna L. Reynolds, and a CD featuring 2014 gold medalist Jinjoo Cho playing all of the competition's commissions from 1982-2014.
Beyond Indianapolis, the competition will reach tens of thousands in more than 100 countries through live-streaming, and on-demand presentations.
"You have reviewers, critics, managers, other violinists—everybody watching you," Kwok said. "That's extraordinary exposure."•
___________________
Full schedule at www.violin.org.
Please enable JavaScript to view this content.