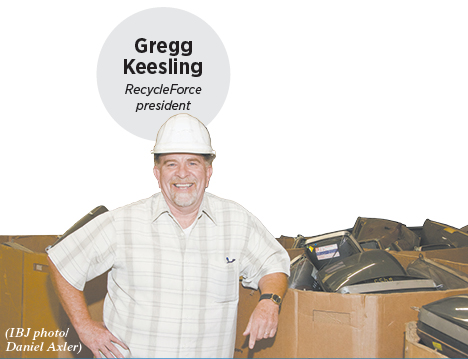 Gregg Keesling—the man behind Indianapolis social enterprise RecycleForce, which provides transitional jobs to formerly incarcerated people in its electronics recycling operation—always believed his program worked.
Now he has proof. RecycleForce was one of seven programs nationwide participating in a U.S. Department of Labor study to measure the impact of transitional jobs programs on participants and the community.
In a random-control trial, participants in the RecycleForce program were 8.6 percentage points less likely to be incarcerated than a control group that didn't receive the intervention. The participants earned $5,804 in earnings and other benefits more than the control group over a 30-month period. They also paid $490 more in child support payments over that time frame.
Overall, the program generated a positive return on investment, with benefits to the community outweighing the costs of the program by about $2,200 per participant.
What do you believe are the most important takeaways from the study?
Our clients made 5,800 more dollars than the control group. They had 48 fewer days in jail. They paid a high percentage more in child support. We knocked this out of the park.
I don't want to say it's earth-shattering. It's still far from where people need to be. It's far from perfect. But it's better than doing nothing.
Among liberals, the idea of a universal jobs guarantee is gaining steam. But among conservatives, many are skeptical about the idea of subsidized employment. Do you believe it can be effective?
I'm old enough to remember [Richard] Nixon and [Jimmy] Carter with the Comprehensive Employment and Training Act program. It had this terrible backlash. It was too large. My father was a superintendent of schools at the time. I can remember my dad going, "How many times can I have these people mop the gym floor?" It became pretty much a giant boondoggle.
Subsidized employment became this bad term. These big subsidized employment programs get crazy. It's too hard to manage who gets the subsidies.
But we can learn from past mistakes. For targeted populations, that are at risk of committing crimes, if we can do subsidized employment in this way, it could be powerful. That's my prayer, that we're able to rally enough understanding and support.
How do you think states or localities should expand on this work?
There should be a transitional employment fund. Even the state of Indiana can find a pot of money to set aside for this. There are other social enterprises that could be involved. We could study it rigorously. We will learn from what is working and what is not working. There's enough money to go into targeted areas and say, "We want to grow this idea."
We've got the space. We can grow. But even if RecycleForce tripled, we wouldn't even be touching the real need that's out there.
How could the transitional jobs model be improved?
We're still refining this. The criminal justice system is not our true partner.
We had a contract to remove graffiti. Our guys go out with two Indianapolis Metropolitan Police Department officers. Parole rolls up and arrests [one of the men, who was one day late on taking a drug test]. He's in jail again. We have accomplished nothing.
All through the study, these things continued to happen. We could do this in a coordinated way, where we could say to parole, "There's no need to arrest this guy."
If they can begin to become more of a true partner, then this could have a huge impact, on saving dollars, but also helping people find a spot in civil society.•
Please enable JavaScript to view this content.