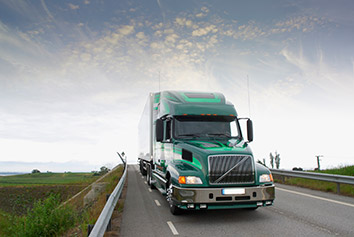 Indiana Gov. Eric Holcomb plans to pursue more than $1 billion in infrastructure projects that will be funded by a 35 percent increase in toll road fees for heavy vehicles.
The projects, announced Tuesday, are part of Holcomb's Next Level Connections initiative that's expected to expand broadband access, add more biking and hiking trails, improve roadways, attract more direct international flights and accelerate construction on the last leg of the Interstate 69 project.
Most of the projects would be funded by an increase in toll road fees for Class 3 vehicles and above, which includes most large trucks, trucks with trailers and semitrailers. Passenger vehicles will not be affected by the increase.
A majority of the funding—$600 million—would go toward speeding up work on the last portion of the Interstate 69 project. Section 6 of the project, which runs from Martinsville to Indianapolis, would be completed three years earlier than expected, from 2027 to 2024.
Another $190 million would be spent on improvements to U.S. 20, U.S. 30 and U.S. 31. The interchange projects along U.S. 31 would reduce the number of stoplights to two along the roadway from Indianapolis to South Bend.
The infrastructure initiative also includes creating two new grant programs—$100 million will establish a broadband grant program to help bring high-speed fiber optic broadband access to under-served parts of the state and $90 million will establish a grant program to expand hiking, biking and riding trails throughout the state.
The toll road proceeds would also provide $20 million to help attract more additional nonstop international flights to the Indianapolis International Airport.
The Indiana Finance Authority is expected to amend its agreement with the Indiana Toll Road Concession Co. at its meeting on Sept. 20 to allow for the increase, which would go into effect Oct. 1.
The plan does not require legislative approval.
For Class 3 vehicles, which include larger trucks such as dump trucks, tolls would increase from $16.33 to $22.04 for the entire length of the seven-county roadway. For Class 4 vehicles, which include trucks with an attached trailer, the fee would rise from $34.04 to $45.96. For Class 5 vehicles, which includes many semitrailers, fees would increase from $44.46 to $60.02. The Class 6 hike would be from $52.11 to $70.35 and the Class 7 increase would be from $96.90 to $130.80.
The new rates would still be among the lowest toll road fees in the country on a per-mile basis.
"Making this adjustment puts us more in line with our neighbors," Holcomb said.
The amended agreement would require the Indiana Toll Road Concession Co. to make three payments to the state over the next three years—$400 million in early October this year, $300 million in October 2019 and $300 million in October 2020.
Also, as part of the amended agreement, the Indiana Toll Road Concession Co. would invest an additional $50 million in upgrades to the toll road, which would bring its total investment in the roadway to $500 million by 2025.
The state did not provide an estimate for how much the Indiana Toll Road Concession Co. could reap from the toll road hike. When asked how much the company could receive, Holcomb said, "we'll see, and they'll see."
"I was assured this was a good deal for the state of Indiana," Holcomb said.
Democrats were quick to criticize the plan, though.
State Rep. Patrick Bauer, D-South Bend, said the toll road hike will be passed on to companies and consumers by the trucking industry.
"Of the money raised by this new tax increase in the form of toll road hikes on commercial vehicles, $600 million will be used to complete the I-69 section of highway between Martinsville and Indianapolis, which is far from where the tax is going to be collected," Bauer said in a written statement. "Another chunk—around $20 million—will be used to establish additional international non-stop flights to and from Indianapolis, which largely benefit corporations based in central Indiana. It is time that Gov. Holcomb and his Republican majorities learn to live within their means and stop increasing taxes every year on Hoosiers and Indiana businesses, like those in the trucking industry and those who depend upon the trucking industry."
Bauer also accused Holcomb of "intentionally muddying the water" by not revealing how much the Indiana Toll Road Concession Co. could earn from the increase.
Several other projects included in the Next Level Connections announcement that are not expected to be funded through the toll road proceeds include increased spending on highway cleanup, pursuing a fourth water port in Lawrenceburg and expanding rail service in northwest Indiana.
Please enable JavaScript to view this content.