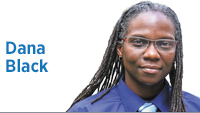 Allow me to continue to beat a dead horse and jump on the bandwagon with columnists Brian Howey and John Krull to call out Republican candidates who refuse to debate their opponents. The level of cowardice being shown by these candidates and elected officials is beyond belief.
The fact that hard-working Hoosiers are comfortable with this lack of engagement is astonishing. As voters and active participants in our citizen government, we all should be offended that these folks are literally treating the process as if it does not apply to them.
We will never mistake Larry Bucshon or Greg Pence for having the courage of a Harriet Tubman or a Cesar Chavez, two citizens willing to put their lives on the line for other people. What courage does it take to run on your little brother's name? Nope, we will never confuse Jim Banks and Trey Hollingsworth with Eugene Debs or Ida B. Wells, because these Americans stood strong for what they believed in even when they were sent to jail or asked to march in the back of the parade. Those heroes knew the efforts they were putting in were to improve the quality of life for the people they represent.
Does Tennessee Trey Hollingsworth even know any famous Hoosiers yet? And did you catch the homophobic response from Jim Banks about Courtney Tritch dancing with the queens in Fort Wayne? A debate would be fun, don't you think?
There is one thing these Republican legislators have in common: They appear to be comfortable in their positions and not worried about being held accountable for their lack of involvement. Ironically, these legislators are eager to impose work requirements on folks living below the poverty line receiving food assistance but aren't willing to work for your vote. Some of these legislators have voted multiple times to kill the Affordable Care Act while receiving quality health care for themselves and their families.
These are the legislators who will advise you to pull yourself up by your bootstraps and be self-reliant but aren't even willing to stand at a podium to discuss with voters why they should represent them.
But the bigger question is: Why is this acceptable to us as Hoosier voters? Why don't we demand better from those who want to lead us?
It takes a special kind of leader to be willing to stick his or her neck out knowing it could get chopped off at any time. One willing to take the criticism for decisions made, but also willing to work to justify his or her position. It is not hard to recognize those who want to represent the people because they will meet with the people, shake hands with the people and listen to the feedback of the people. It's not easy communicating with those who disagree with you, but you suck it up and you do it because it is the right thing to do and it's your job.
As someone who is a descendent of the survivors of the middle passage and the strong women of suffrage who had to fight tooth and nail just to solidify rights to vote, this process is very personal. Lives were lost in order that those who had been silenced would have a voice.
Therefore, hold town halls, show up to debates, meet with the citizens, because—as leaders—you recognize the sacrifice it took to create our democracy. Hoosiers are worth it. If you are afraid of your fellow citizens, maybe you shouldn't represent them.•
Click here for more Forefront columns.
__________
Black is deputy chairwoman for engagement for the Indiana Democratic Party and a former candidate for the Indiana House. Send comments to ibjedit@ibj.com.
Please enable JavaScript to view this content.