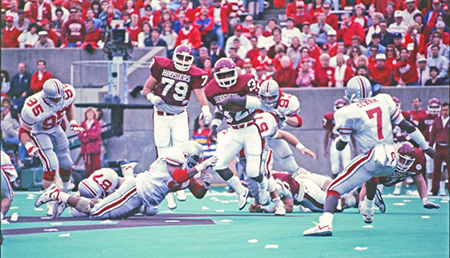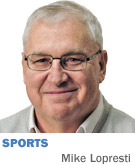 So, Indiana University fans, doing anything Monday for the big anniversary? What anniversary? We'll get to that in a second.
First, there we were in Paris last weekend, where the surest sign of home was either the Lime scooter going by Notre Dame, or the Five Guys on the Champs-Elysees. By the way, it had a longer line than any restaurant for blocks. But we digress.
Watching the U.S. golfers get waxed one more time by Europe in the Ryder Cup—25 years since the Yanks won over there—one phrase kept popping up: serie de defaites. Oops, sorry. In English, that's losing streak. Somehow, that seemed to be a timely phrase for a visitor from Indiana. Wonder why?
Oh, yeah. The Hoosiers are playing at Ohio State this weekend in football.
Which brings us back to that anniversary.
Oct. 8, 1988. The day the Earth stood still. Indiana beat Ohio State 41-7.
That's not a typo. It was 41-7. The Hoosiers mashed them. Anthony Thompson scored four touchdowns and rushed for 190 yards; the defense intercepted four passes. They did everything but dot the "i" in Script Ohio. And they weren't even that surprised.
"We thought," Coach Bill Mallory said that day, "we could pound on them."
Now there's a phrase you haven't heard often from Indiana coaches, when the subject was Ohio State football. It was John Cooper's first season leading the Buckeyes, by the way. You could tell where that year was going.
Did we mention that was the last time Indiana beat Ohio State? A long time ago, when you think about 1988.
The same day Indiana beat Ohio State, Maranatha Baptist was at home against Marquette and lost 32-13. Wearing No. 44 was freshman linebacker Tom Allen. Now he's the Hoosiers head coach.
One day after Indiana beat Ohio State, the Colts lost 24-23 at Buffalo, with the Bills holding Eric Dickerson to 66 yards rushing. It was the Colts' fifth season in Indianapolis, and they would finish second in the AFC East, tied with New England, and behind Buffalo. The Green Bay Packers, Dallas Cowboys and Pittsburgh Steelers the most hallowed names in the NFL—would all finish last in their divisions.
One week after Indiana beat Ohio State, Notre Dame outlasted Miami 31-30 in the game of the year in South Bend. It eventually led to a national championship for Lou Holtz in his third season in South Bend—just as Rockne, Leahy, Parseghian and Devine had all done in their third seasons.
Twenty-eight days after Indiana beat Ohio State, the Pacers opened their schedule with a 117-103 loss to Milwaukee in Market Square Arena. Reggie Miller, starting his second season for Indiana, scored nine points.
A month after Indiana beat Ohio State, a Hoosier was elected vice president of the United States. Nah, not Mike Pence. He was a 29-year-old in his first election, for Congress. He lost, so he went to work as a radio talk-show host in Rushville. No, this was Dan Quayle, on the ticket with George Bush, who defeated Michael Dukakis.
Eleven weeks after Indiana beat Ohio State, the Hoosiers buried South Carolina 34-10 in the Liberty Bowl, finishing at 8-3-1, the school's second-best winning percentage since World War II.
And three decades after Indiana beat Ohio State, here the Hoosiers are, showing some rambunctious signs at 4-1 as Allen keeps pushing to move the program along. How are they going to mark the anniversary weekend? By going into harm's way.
"The most talented Ohio State team I've seen since I've been here," Allen said. It's also the Buckeyes' Homecoming, which they've lost only 19 times in a century. As if Indiana didn't have enough history to fight.
There are streaks, and then there are things that can't be rationally explained. Can we all agree that Ohio State's football history has been more glorious than Indiana's by several light years? Sure. But still. Have you looked at some of these numbers? The sheer tonnage of them defies logic.
Indiana has beaten Ohio State one time in Bloomington … since 1904, the year after the Wright brothers got off the ground at Kitty Hawk. The one victory was 1988.
Indiana has managed a two-game streak against Ohio State once … since the Indianapolis streetcar strike of 1913 put the city under martial law. That was also 1988.
Indiana has beaten Ohio State only two times total … since the second year of the Korean War, back in the early 1950s. That was, yep, 1987 and 1988. See why this is a big 30th?
Since then, the Ohio State wins have come so quickly, the two schools can't even agree on how many. The IU media guide lists 23 losses in a row to the Buckeyes. The Ohio State game notes put it at 22. Whatever, they both agree the series record since 1951 is 53-2-2. So 1988 was an interruption in the normal universe.
Allen has vowed that it will be different one day, setting things such as Big Ten championships as his goal. Whenever Indiana plays Ohio State and the series history gets mentioned—now 74-12-5 in the Buckeyes' favor—it's always a reminder of the challenge of that goal. Like when President Kennedy wanted the United States to get to the moon.
For that matter, Ohio State and Indiana have been playing each other since 1901, and the number of men who have walked on the moon is the same as the number of IU teams that have beaten Ohio State.
So happy 30th, 1988 Hoosiers. Your feat was Indiana's Halley's Comet. Here one day, then gone for years and years.•
__________
Lopresti is a lifelong resident of Richmond and a graduate of Ball State University. He was a columnist for USA Today and Gannett newspapers for 31 years; he covered 34 Final Fours, 30 Super Bowls, 32 World Series and 16 Olympics. His column appears weekly. He can be reached at mjl5853@aol.com.
Please enable JavaScript to view this content.