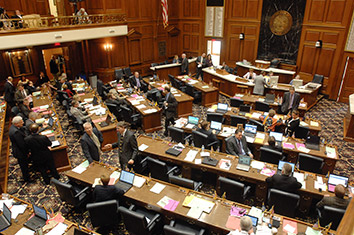 var win = null; function NewWindow(mypage,myname,w,h,scroll){ LeftPosition = (screen.width) ? (screen.width-w)/2 : 0; TopPosition = (screen.height) ? (screen.height-h)/2 : 0; settings = 'height='+h+',width='+w+',top='+TopPosition+',left='+LeftPosition+',scrollbars='+scroll+',resizable' win = window.open(mypage,myname,settings) }
(Editor's note: This story originally ran in the Dec. 17, 2018, issue of IBJ.)
Two days before Thanksgiving, House Speaker Brian Bosma welcomed new legislators at Organization Day and gave them a bit of homework.
"Ask somebody for an old rulebook, and over the holidays, read through it," Bosma said. "You will be well-served and you might honestly understand some of the things that we do here when we return."
When the Indiana General Assembly convenes for the 2019 session on Jan. 3, it will have 21 new faces—16 in the House and five in the Senate—a significant amount of turnover for a body of 150 lawmakers.
Plus, with Rep. Joe Taylor, D-South Bend, recently resigning, another new member will be elected in a caucus to replace him.
It could make the next four months more difficult than usual, as lawmakers are tasked with preparing and adopting the state's budget for the next two years.
"The more new people you have, the more of a challenge you have," former Republican state Rep. Mike Murphy said.
But Brian Bosma is a very experienced, very effective leader and legislator, and he's done a remarkable job of managing ambition and talent over the years."
Most of the changes were the result of a flurry of retirements from longtime lawmakers, but a few freshmen defeated incumbents.
The freshmen will bring diversity to the chambers. Nine of the newcomers are female, and nine are younger than 40 years old. Most of them have never served in a publicly elected office before, and they come from a variety of industries.
The turnover has had a ripple effect throughout the Statehouse.
Leadership in both chambers has seen changes, with Republican Senate President Pro Tem David Long retiring and Democrats in the House selecting a new minority leader.
Sen. Rodric Bray, R-Martinsville, was chosen last month to be president pro tem of the Senate, while House Democrats put Rep. Phil GiaQuinta, D-Fort Wayne, in charge of their minority caucus.
Several committee chairs, who control which bills receive hearings, have changed as well.
One of the most significant adjustments is in the House Ways and Means Committee, which will now be co-chaired by Rep. Tim Brown, R-Crawfordsville, and Rep. Todd Huston, R-Fishers. Brown has led the committee since 2012, but he is still recovering from a September motorcycle accident.
In the Senate, Appropriations Committee Chairman Ryan Mishler has one year in the leadership role under his belt, but this will be his first time shepherding a budget.
Mishler took over the committee after former chief budget writer Sen. Luke Kenley, R-Noblesville, retired in 2017.
Power over the budget has traditionally shifted back and forth between the chambers, depending on seniority, and Brown had been expected to be the key leader in 2019. But his accident and Huston's new role make the dynamic a little uncertain.
"Everything's kind of up in the air," said Ed Feigenbaum, publisher of the politics newsletter Indiana Legislative Insight. "So it's going to be very interesting to watch and see how it all unfolds."
Mishler said that, even though official roles have changed, the lawmakers responsible for the budget have been involved in the process for years.
"We're all used to working with each other," he said. "Even though maybe we're in charge for the first time. We do have a good working relationship already."
Mishler said he has already started working with the new members to help them understand how the budget works.
"It's my job and the job of those who have been there in leadership to work with the new members," he said.
Some key roles haven't changed, which could help things run smoothly. Bosma will remain speaker, and Sen. Tim Lanane, D-Anderson, will continue as minority leader in the Senate.
"You want to have your best people and your best team players in key positions," Murphy said. "You don't want rogues. You don't want people trying to make a name for themselves."
Political observers say the impact of all the changes will likely hinge on how the freshmen lawmakers act.
"They're a lot more willing to ask questions about, why are we doing things a certain way?" Feigenbaum said. "They do understand that that first session is essentially a learning session for them and that they're not major participants in the major bill, which is the budget bill."
And while a budget session can be tough for newcomers, it also gives them more time to get used to the process legislation follows.
In a short session, some committees might meet only once, which can make it difficult to get a bill heard.
"If you're asleep at the wheel, you lose out," Murphy said.
(see more story after the graphic)
The best freshmen, he said, are the ones who work quietly and try to learn the ropes instead of jumping out of their seats to speak on every issue.
"Freshmen think they've been sent there to personally save the world, and then they realize they're just one of 100 people," Murphy said. "When I was a freshman, I thought I knew everything."
He echoed Bosma's advice to the newcomers: Read the rules early.
"If you don't know the rules, you can't be effective," Murphy said.•
Please enable JavaScript to view this content.