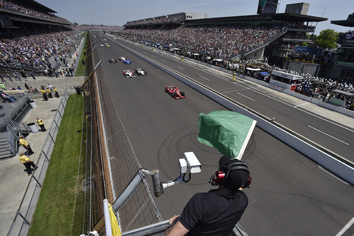 The IndyCar Series on Tuesday named Japanese infotech and communications firm NTT as its new title sponsor in a deal that the series said would also bring digital innovations to the fan experience.
The series will be called the NTT IndyCar Series.
The deal was announced during the North American International Auto Show in Detroit. As part of the multiyear agreement, NTT also would become the official technology partner of several IndyCar-related entities, such as the Indianapolis 500, Indianapolis Motor Speedway and the NASCAR Brickyard 400.
Mark Miles, chief executive officer of IndyCar parent Hulman & Co., told IBJ the deal enhances long-standing efforts by the racing series to satisfy fans' desires for more interactive technology during events.
"Motorsports and IndyCar, I believe more than any other sport, is data-driven," he said. "This is data that is vital to our teams and engineers. … I see all that data, also, as really rich content for fans."
He said NTT is working with IndyCar to develop technologies that are more "consumable, available and compelling" to racing fans.
It's not immediately clear what those technologies might look like, though Miles said the tech company is currently working on a new version of an IndyCar smartphone app that gave Verizon customers additional race-related data.
It was downloaded more than 500,000 times during the 2018 racing season, Miles said. The new application will be built from the ground up and is expected to be released prior to the Indianapolis 500. Miles said it would have new features, and would be available to those on all carriers across in the United States.
Miles declined to share financial terms of the deal, beyond that it was a multiyear agreement. He said the agreement is "comparable" to IndyCar's former title sponsorship deal with Verizon, which recently expired. According to experts and insiders, Verizon agreed in 2013 to a five-year deal worth $10 million annually for IndyCar, split evenly between cash and advertising and promotions.
The NTT deal might surprise some fans of IndyCar, which for its past two sponsorship cycles has paired with Verizon and Izod, two brands widely recognized by American audiences.
However, NTT is a well-known brand overseas, particularly in Japan. It got its start as a phone company and has since grown to become a $106 billion-per-year company. It's data-driven subsidiary, NTT Data, is based in Plano, Texas, and was mentioned in recent weeks as possibly being the title sponsor. NTT Data is also a sponsor for Team Ganassi.
Miles said the move to partner with the parent company over NTT Data was a result of NTT's efforts to grow into a more widely recognized global brand. It's currently No. 55 on the Fortune Global 500.
Jun Sawada, president and CEO of NTT, said in a written statement the company sees that "technological innovations have the potential to change the sport and fan experiences drastically."
"Based on our lengthy and successful experience, including work in mobile applications, analytics and user experience, we will help IndyCar create the next generation of fans globally who aspire to enjoy racing through a more digital experience," his statement said.
The sponsorship from NTT comes at a time when IndyCar is seeking to expand its audience, which has been mostly stagnant in recent years. The series appears to be making a play for a younger, more tech-adept audience.
Miles said he relishes the ability to better capitalize on more than 50 million data points collected during each race. The partnership with NTT also could help IndyCar expand its international presence, although it's not clear if that will mean races overseas. IndyCar has 17 races on its top professional circuit scheduled for the 2019, and all but one will take place in the United States (Toronto).
NBC, which this year has full rights to air IndyCar races, last week aired a spot for the Indy 500—the first time in recent memory the race has seen advertising so early in the year. The 500 was also included in a different NBC sports spot, showcasing all the championship events slated for the company's family of stations.
Later this month, IndyCar is expected to announce a new presenting sponsor for the Indianapolis 500. PennGrade Motor Oil became the first-ever presenting sponsor for the race in 2016, when it signed a three-year deal that has since expired.
Please enable JavaScript to view this content.