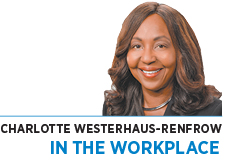 I recently Googled the term "advancing women." My search returned more than 550,000 results.
No doubt about it: Advancing women is a hot topic. But while interest in the topic might be high, the numbers are not.
In 2018, women made up 47 percent of the U.S. workforce but only 5 percent of Fortune 500 CEOs. Presently, only two dozen women lead some of the largest U.S. corporations. Plus, progress is stagnant; the number of women in senior leadership positions in businesses has been stuck at approximately 15 percent for the last decade.
Even among largely female enterprises, women are underrepresented in the highest ranks of leadership. For example, 76 percent of teachers are women, yet the AASA-School Superintendents Association reported in 2016 that fewer than a quarter of school superintendents are women.
Women's advancement is stuck. The needle isn't moving.
Male and female employees perceive women's advancement in the workplace quite differently. This is well articulated in Sylvia Ann Hewlett's research in which she surveyed 3,000 U.S. businessmen and businesswomen and found 56 percent of male leaders reported seeing "lots of women" present in their organization and believed their companies were doing "a good job" in promoting and advancing women. On other hand, only 39 percent of women leaders saw it that way. Hewlett also reported that 49 percent of women believe gender bias is alive and well. But only 28 percent of men agree.
Formal and informal mentoring programs are popular initiatives currently offering opportunities for female professionals to advance their careers by learning from mentors who have relevant professional experiences. Unfortunately, a 2010 Catalyst study revealed that, while more women than men were assigned mentors, 15 percent more men won promotions.
The study did find a significant silver lining: When women were paired with sponsors who advocated on their behalf within their organizations, more women were promoted.
The advocacy that sponsors provide is a more powerful tool than mentorship alone.
Mentors offer support and feedback on how to maximize opportunities when they come along, but they do not directly supervise their proteges' work or have a say in when or how far they can advance.
Sponsors give advice but also advocate and use their influence, platforms and reputation to advance their proteges' careers by directly getting them high-profile assignments and connecting them with influential people. Sponsors work at the same organization as their proteges and thus can strategically promote, protect, prepare and push them to advance.
Moreover, the benefit for the sponsor is more potent. As Holly Brittingham, senior vice president of global talent and organizational development with FCB Global, explains, "Sponsors open doors and provide access, while proteges support and drive a sponsor's vision."
Formal sponsorship programs can be very effective. IBM Europe has a sponsorship program that partners high-potential women with sponsors—all vice presidents or general managers. Sponsors raise the women's profiles with decision makers and find internal projects that will fill their proteges' skills gaps. Sponsors are accountable for these women's success, and failure to earn a promotion is viewed as a failure of the sponsor, not of the candidate.
To be clear, mentorship is also incredibly important and valuable. In 2017, the Association for Talent Development surveyed approximately 1,000 talent development professionals and found 29 percent had formal mentoring programs. Another 37 percent had informal programs. Organizations with formal mentoring programs benefit from higher employee engagement and retention, as well as knowledge retention. Particularly in the startup world, mentorship helps early-stage companies stick around longer and become more successful.
Unlike mentorship, sponsorship can be an advancement game-changer, especially for female professionals. A Harvard Business Review article titled, "Why Men Still Get More Promotions than Women" revealed 70 percent of men and 68 percent of women with a sponsor reported being satisfied with their career advancement. Women with sponsors were 27 percent more likely than their unsponsored female peers to ask for a raise and 22 percent more likely to ask for "stretch assignments" to build their reputations as leaders.
However, sponsorship programs must engage the right people in the right way. In the Harvard study, both men and women tended to undervalue or fail to nurture a network of professional sponsors, with women being 54 percent less likely than men to have a sponsor. While sponsorship can help women better position themselves in the workplace, they must be engaged in doing so.
It can be difficult for women to find a sponsor successfully without a formal program. Companies who fill this gap may significantly improve their efforts in advancing women into future leadership roles.•
__________
Charlotte Westerhaus-Renfrow is a clinical assistant professor of business law and management at the Indiana University Kelley School of Business at IUPUI.