Art Angotti, a decorated Vietnam veteran and multifaceted businessman who in the mid-1980s tried to bring a big league baseball team to Indianapolis, died on Wednesday after a 10-month battle with cancer. He was 74.

Born in Gary and a graduate of Indiana University, Angotti made his mark in Indianapolis in finance and broadcasting. But he's probably best known as a driving force behind an effort to bring a Major League Baseball expansion team to the city, to be dubbed the Indianapolis Arrows.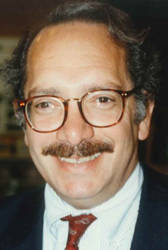 Art Angotti
Angotti was president of the Arrows organization, which went as far as to take reservations for season tickets at $50 a pop. At one point in 1985, Angotti said the Arrows had received more than 12,000 season ticket reservations.

The plan was for the team to play in the Hoosier Dome, which was built in the hopes of attracting a National Football League team. The Baltimore Colts moved to the city in 1984.

"The city dreamed about being in the National Basketball Association," Angotti said in 1985. "It dreamed about the Hoosier Dome. It dreamed about getting a National Football League team and it dreamed about being selected to host the Pan American Games. In the last 10 years, all of those dreams came true, and now we're dreaming about having Major League Baseball team in Indianapolis."

Bill Benner, executive director of the Pacers Foundation and formerly a longtime sports reporter and columnist for The Indianapolis Star, described Angotti as "a doer, a dreamer and just a wonderful guy to be around."

"It's a cliche, but he was one of those guys who lights up a room when they come in," Benner said. "I really enjoyed the times I shared with him."

The Arrows effort eventually stalled over concerns about the suitability of the Hoosier Dome for baseball. There also were concerns about Indianapolis' proximity to Chicago and Cincinnati, which between them hosted three MLB teams. The Arrows refunded the season ticket deposits by the end of 1985, according to The Star.

But Angotti still was very active in sports through broadcasting as founder, president and CEO of Artistic Media Partners. The firm's strategy keyed on owning and operating radio stations based in several Indiana college towns—which tended to be recession-resistant—and broadcasting college sports events. AMP still owns six stations in Bloomington and South Bend, according to its website.

Angotti was a champion athlete in high school as quarterback of the Gary Horace Mann High School football team and 1962 state track champion in the mile.

At IU, Angotti was president and treasurer of the Sigma Alpha Epsilon fraternity. While an undergraduate, he was a member of ROTC and was recognized with the Distinguished Military Student Award. He served as a first lieutenant in an armored cavalry unit in Vietnam, where he was wounded. Angotti was decorated with a Bronze Star for Valor, a Purple Heart and the Army Commendation Medal.

He began his business career in Philadelphia working for a venture capital firm. He moved to Indianapolis in 1972 to work for Indiana National Bank in mergers, acquisitions and financial services.

He left the bank to form Heritage Management Inc., a financial consulting firm. Later, he formed Heritage Venture Group and four venture capital funds, which provided start-up financing for tech companies and other businesses. In addition, Angotti was the founder and president of Indianapolis Cablevision Co., an executive vice president of Syndicate Glass and an associate professor of finance at Butler University.

Angotti is survived by his wife, Barbara; their two children; and four grandchildren.