Ambrose Property Group on Thursday announced a major partnership with multifamily housing powerhouse Gene B. Glick Co. and several changes to its leadership team as it gets closer to embarking on the $200 million first phase of its massive Waterside project at the former GM Stamping Plant west of downtown.
Ambrose said it would partner with Indianapolis-based Glick to build and manage apartments at Waterside. Glick, founded in 1947, is one of the largest real estate ownership, development and management firms in the country.
Aasif Bade, founder and president of Ambrose, said the $45 million housing project will include market-rate and workforce units," though he said specifics have not yet been finalized. Ambrose is expected to be the lead firm on the project.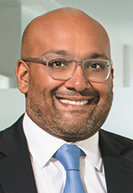 Bade
Indianapolis-based Ambrose anticipates a late-summer groundbreaking for the $1.4 billion Waterside development. The 103-acre project along the White River is expected to include 8 million square feet of residential, hotel, office, and retail development, parking garages, public art, green space and water features.
"We're really focused on building the Waterside ecosystem," Bade told IBJ. "With that focus on neighborhood-engagement efforts, we couldn't think of a better partner for this than Glick."
Glick is known for its philanthropic and charitable initiatives, the most well-known among them being the Glick Foundation. The company operates a not-for-profit foundation overseeing more than 6,000 apartment units throughout the United States. Glick historically has been selective when choosing partners for developments.
"We admire the fact that Ambrose looks at this not just as a real estate development project, but … as an opportunity to really transform an area that's integral to the growth of downtown Indianapolis," said Glick CEO David Barrett. "That holistic sense of development, it's a value that we share."
Barrett, who called Waterside a "once-in-a-generation" project, said his company has had ongoing conversations with Ambrose related to the project for several months, and said it opted to work with the company because of its "shared values" of community building, civic responsibility and philanthropy.
"The vision Ambrose has articulated for Waterside is very consistent with our values and our mission as an organization," he said. "This is a project I don't think we could have done on our own, though we certainly bring multifamily experience and civic and philanthropic experience to the (table)."
The first phase of the Waterside development includes infrastructure improvements to Oliver Avenue and South White River Parkway, and the creation of two new water channels. The complete development of Waterside is expected to last at least 15 years.
The first phase also will include an unspecified number of apartment units, expected to start construction by mid-2020. Bade said the multifamily component will likely be completed by late 2022 or early 2023.
The master planner for the overall Waterside development is Ratio, while the residential architect for the Ambrose-Glick project is Axis Architecture + Interiors.
Leadership team additions
In addition to the Glick partnership, Ambrose on Thursday announced multiple hires to its executive team. The company is bringing in Jason Sturman from Milhaus as chief investment officer, and Isaac Bamgbose, who has overseen the Bottleworks District project, as senior vice president of development.

Sturman
Sturman, 42, has been with Indianapolis-based apartment developer Milhaus since 2015, helping push new investment strategies in his four years with the company. Prior to Milhaus, he spent 12 years at locally based Duke Realty Corp., where he worked with Bade and helped open Duke's West Coast office.
In addition to working on Waterside, Sturman said his goal is to build Ambrose's portfolio of other investments, including industrial and health care properties.
"I think Aasif has the company poised for a period of rapid growth, specifically around the industrial platform and also certainly around Waterside," he said.

Bamgbose
Bamgbose comes to Ambrose—where he'll lead the Waterside project—after five years with Beloit, Wisconsin-based Hendricks Commercial Properties, most recently in charge of the $300 million Bottleworks development on Mass Ave.
The 28-year-old, a 2019 IBJ Forty Under 40 honoree, has been a key player in that project's development for the past three years, but said he is looking forward to taking on the challenges that come with Waterside.
"I feel I've really done what I was brought here to do, in getting Bottleworks off the ground," he said. "Obviously I wanted to take it to the finish line—you don't go into a project with an intention not to finish it—but the Ambrose opportunity came up and they painted a really transformational vision."
He said the projects are in two different phases and will attract different tenant types. He said Bottleworks is in good hands and the project is moving forward as planned.
Ambrose also announced several other personnel changes:
— Derek Naber joined Ambrose as a development manager in April, moving over from Holladay Properties, where he oversaw the company's Central State development on the near-west side of Indianapolis. He will be involved in a variety of projects, including Waterside.
— Grant Goldman, who has been with Ambrose since 2016 (and was an IBJ Forty Under 40 honoree in 2016), was promoted to executive vice president of development. In that role, he will be responsible for pursuing and carrying out development projects and building the company's market share.
— Michelle Bracket was promoted to executive operations director. She joined Ambrose in 2015 and is responsible for overseeing the company's day-to-day business.
— Mali Jeffers, who joined Ambrose in 2017 as the community outreach coordinator on the Waterside project (and was also an IBJ Forty Under 40 honoree in 2016), was named vice president of marketing and corporate responsibility.
Correction: The original version of this story included the incorrect investment for the housing portion of Waterside's first phase. The entire first phase is slated to cost $200 million, with about $45 million earmarked for the residential portion.
Please enable JavaScript to view this content.