As Indianapolis-based Elevate Ventures moves forward in its search for a new CEO, a local company that supports female entrepreneurs is publicly advocating that a woman be named the next leader of the startup-support organization.
Elevate Ventures is a not-for-profit organization that serves as a venture capital firm for the Indiana Economic Development Corp., the state's public-private job-creation agency. Elevate's current CEO, Chris LaMothe, is retiring at the end of March and the organization is actively searching for his successor.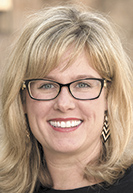 On Tuesday, The Startup Ladies LLC posted a letter on its LinkedIn page requesting that Elevate Ventures name a qualified woman as its next CEO. That request was one of 10 actions that The Startup Ladies said it wants Elevate Ventures to take in the name of better supporting female entrepreneurs.
The letter was signed by The Startup Ladies founder and CEO Kristen Cooper along with 59 other individuals identified as either members of The Startup Ladies or supportive of the organization's goals. (Editor's note: Cooper is an IBJ workplace columnist.)
"We would like to see a woman CEO because there are so many qualified women that also have the experience of what it's like being a woman and being overlooked, dismissed, treated unprofessionally," Cooper told IBJ. "We think that brings a certain type of experience and wisdom that their male counterparts just wouldn't have."
Elevate Ventures told IBJ that its application deadline for the CEO position was Friday. Interviews are happening this week and next, and the organization expects to notify applicants of its hiring decision by the end of March.
Elevate Ventures said it received more than 100 applications for the job. The organization did not respond to an IBJ query about how many of the applicants—or how many of those being interviewed—are women, noting that it did not request gender information from applicants.
The letter is addressed to Gov. Eric Holcomb, Indiana Secretary of Commerce Brad Chambers and the IEDC's board and staff. Holcomb serves as the chairman of the IEDC's board. Cooper told IBJ she emailed the letter to Holcomb and asked that the governor share it with the IEDC. Cooper said she also emailed the letter to some of the IEDC's board members—the ones whose email addresses she knew.
Last year, Elevate Ventures invested $16.5 million through 126 separate transactions. Of that amount, $15.8 million came from the IEDC.
The other nine points in The Startup Ladies' letter call for Elevate Ventures to make specific changes to better support female founders and woman-led startups. They include investing more money into women-led startups, investing more money in early-stage startups, and making sure that half of the organization's investment decision-makers, entrepreneurs in residence and advisors are diverse women.
Cooper said the letter came about after female founders shared with her stories about feeling marginalized or unsupported in their dealings with Elevate Ventures and its entrepreneurs in residence. Many of those women, Cooper said, were reluctant to approach Elevate Ventures with their concerns out of a fear of retaliation.
Currently, all of Elevate Ventures' eight entrepreneurs in residence are men, as are 20 of its 24 advisors. Elevate's advisors are businesspeople from around the state who work with entrepreneurs to help grow their companies.
In response to The Startup Ladies' letter, Elevate Ventures sent IBJ a statement that says, in part, "Elevate Ventures stands today as an organization and team that is proud of the record we have of serving a diverse group of high-growth, high-potential founders. … Our aspirational pursuit of excellence includes an ongoing priority of ensuring ALL entrepreneurs we engage with are treated fairly."
Elevate Ventures said that 15% of invested capital is in women-owned and women-led companies, as compared with a national average of 2%. That 15% includes $19 million in funding from Elevate and another $102 million from other investors.
Elevate said 36% of its total portfolio is made up of woman-owned and minority-owned startups. The organization also said that 42% of its executive leadership team members are women.
Speaking on behalf of the IEDC, the organization's vice president of communications, Erin Sweitzer, told IBJ in an email that "the IEDC and state of Indiana encourages leaders, innovators and entrepreneurs from all backgrounds with relevant expertise who possess the proven track record to lead this important enterprise into the future."
The Governor's Office referred IBJ to the IEDC's response, declining to offer a response of its own.
Please enable JavaScript to view this content.