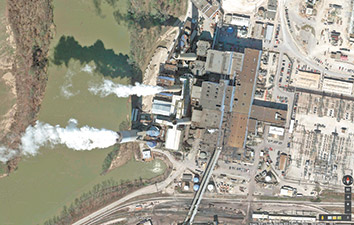 The parent of electric utility AES Indiana announced Friday morning it plans to give up coal as a fuel source by 2025, a move likely to lead to the early shutdown of coal-fired units at its massive Petersburg Generating Station.
"To continue to accelerate the future of energy, today we are announcing our intent to exit coal generation by the end of 2025," said AES Corp., based in Arlington, Virginia.
The company had previously said it expected to reduce coal to below 10% as a source of fuel by the end of 2025. It made the announcement as part of its 2021 earnings statement.
The utility's Petersburg power plant, about 120 miles southwest of Indianapolis, has been called a "super polluter" by environmental groups and even by the Indianapolis City-County Council, which passed a resolution in 2017 calling for AES to cut back on burning coal.
The plant, the largest in AES Indiana's fleet, has racked up dozens of environmental violations for emitting excess sulfur dioxide, nitrous oxide particulate matter and sulfuric mist. The coal-fired units have been active since the 1960s.
However, officials at AES Indiana, formerly called Indianapolis Power & Light Co., stopped short on Friday of saying the company would shut down the Petersburg plant's coal-fired units or convert to a cleaner fuel source, such as natural gas.
That's because the utility is in the middle of a highly regulated process to update its 20-year plan for how it intends to generate electricity.
In Indiana, all utilities are legally required to engage with the community every three years to develop an Integrated Resource Plan, also known as an IRP, involving public hearings, before they update their generating plans.
"AES takes this responsibility seriously and will meet all obligations in this IRP process, which is currently under way for 2022," the Indiana utility said in a short statement.
The Sierra Club, an environmental group that has long pushed for utilities to stop burning fossil fuels, said that if AES is exiting coal by 2025, "one assumes its subsidiary will follow suit, and that its Petersburg Super Polluter coal plant will be retired by 2025."
"Petersburg is one of the dirtiest coal plants in the country, has continually violated its water and air permits, and broke down repeatedly in the last year, driving up costs to customers when AES had to buy power to fill the gap when its gas plant also failed," Wendy Bredhold, senior representative for the Sierra Club's Beyond Coal campaign in Indiana, said in an email to IBJ.
Petersburg has a generating capacity of 1,700 megawatts–enough to light up factories, homes and shopping centers across central Indiana.
In recent years, the company has begun retiring the coal-fired units at Petersburg. In 2019, it announced it would retire two of the four units by 2023, but leave the remaining two active until at least 2042.
It was the latest move by AES Indiana to reduce its coal footprint. In the past seven years, the Indianapolis-based utility stopped using coal at its two other generating stations—Harding Street in Indianapolis and Eagle Valley in Martinsville—in favor of natural gas.
The Indiana unit said Friday that, since 2015, it has achieved a 67% decrease in key emissions at its power plants, by diversifying into natural gas, wind, solar and oil.
It noted that its 2019 generating plan "showed that the cost of operating some coal-generating plants exceeded the value customers receive compared to alternative resources."
"Our more than 100-year-old electric system is rapidly transforming to meet changing customer needs, advances in technologies and growing energy demands," the Indiana unit said in its statement. "AES Indiana is committed to accelerating the future of energy for our customers while ensuring we meet their needs of reliability, affordability and sustainability."
Public officials also have been pushing for AES to cut back on coal.  In 2017, the City-County Council passed a resolution that called for a reduction in carbon emissions, increased energy-efficiency and renewable-energy use. City officials later created a plan for the city to be powered by 100% renewable energy by 2050.
Mayor Joe Hogsett sent a letter to AES in 2019, asking it to use more renewable energy. "The city requests that IPL accelerate its overall renewable energy deployment goals to be better aligned with those of the city," he wrote.
Some environmental and citizens groups applauded AES for the decision to shut down its coal generation.
"This is great news," said Kerwin Olson, executive director of Citizens Action Coalition of Indiana. "We are hopeful this announcement leads to significant investments in distributed energy, energy efficiency and affordable renewable energy, rather than a path toward costly, dirty and unreliable fossil gas plants and even more expensive and dangerous small modular nuclear reactors."
The Indiana General Assembly passed legislation this month that would allow utilities to build small modular reactors for the first time, including installation at closed coal-fired plants. The bill is awaiting approval from Gov. Eric Holcomb, who has not indicated whether he would sign it.
AES Indiana has not said whether it plans to install a modular reactor at Petersburg or any other location, although it told IBJ earlier this month it is keeping a close eye on the modular technology.
The utility serves about 510,000 households and businesses in the Indianapolis area.
Please enable JavaScript to view this content.