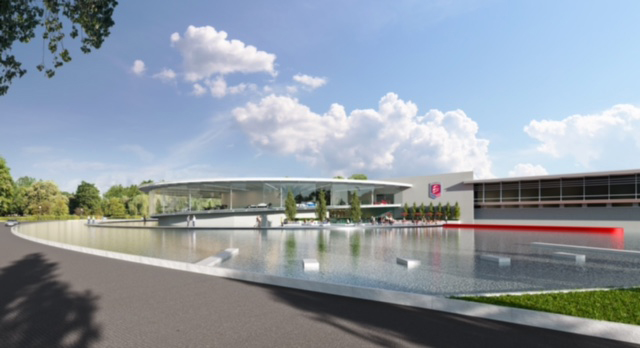 Andretti Global, the parent company of Andretti Autosport, plans to establish its global motorsports headquarters in Fishers, investing $200 million in the project and creating up to 500 jobs by the end of 2026.
The autosports giant envisions a 575,000-square-foot facility on 90 acres on the southeast quadrant of the Indianapolis Metropolitan Airport property near East 96th Street and Hague Road, according to Fishers spokesperson Ashley Elrod. The land is near the Nickel Plate Trail and Ritchey Woods Nature Preserve.
It will serve as the headquarters of Andretti's global commercial functions and the base of operations for the team's current NTT IndyCar Series, Indy Lights and IMSA programs, as well as other future racing initiatives, according to a release Monday morning from the Indiana Economic Development Corp.
In addition to housing day-to-day operations, the building will be home to the advanced research and development efforts of Andretti Technologies.
Planning of the new headquarters is underway, with construction expected to begin in the fall and the facility expected to be operational by 2025.
"Indiana holds an important place in the history of racing, and in my career as a driver and an owner. I'm happy to confirm that the Racing Capital of the World will continue to be the home of our global racing efforts for a long time to come," said Michael Andretti, CEO of Andretti Autosport, in a media release.
"Over the past 20 years, I've worked to expand our operations, and I'm proud of our steps to create a diverse racing portfolio," Andretti said. "For us, it's about more than just having somewhere to work on the cars. It's about having a global motorsport home and sharing that with our people, our fans, and our sponsors to advance the sport and leave a lasting legacy."
Andretti operates in seven racing championships worldwide and across eight types of motorsports with 17 full-time drivers. It has nearly 200 employees.
Andretti Autosport is currently headquartered at 7615 Zionsville Road in Indianapolis, home base for all operations except the company's Formula E team, which is based in England.
The Indianapolis Airport Authority has worked with Fishers since 2015 to market roughly 211 acres of undeveloped land around the Indianapolis Metropolitan Airport for research, development and light industrial development at what was then branded as Fishers Metro Park.
Last year, Patch Development announced plans purchase 24 acres near the airport to build about 143,000 square feet of flex space and move its headquarters into Fishers.
Indianapolis-based Scannell Properties filed plans in December 2020 to purchase 38 acres in Metro Park for $4.2 million to pave the way for a new distribution facility.
Pending approval of its board of directors, the IEDC will pledge up to $19 million in conditional tax credits and up to $125,000 in training grants for the project, based on the company's plans to invest in its Indiana operations.
The city of Fishers said it plans to support the project with tax-increment financing and with permitting and impact-fee waivers, specifically road-impact waivers in exchange for an agreement from Andretti to complete build-out of internal road networks in the office park. The Fishers City Council is expected to vote on the incentive package at its September meeting.
Mark Miles, president and CEO of Penske Entertainment Corp, owner of Indianapolis Motor Speedway, praised Andretti's decision to stay in the Indianapolis area.
"The Andretti name is synonymous with motorsports excellence, and Andretti Autosport continues to be a critical and celebrated member of our IndyCar and Indianapolis Motor Speedway racing families," he said in written comments. "We are pleased that they have decided to build their global headquarters in central Indiana, bringing additional employment and tourism opportunities to our state and further elevating our reputation and prestige on the global motorsports scale."
The Andretti facility will be the second major motorsports team headquarters to be built this decade in central Indiana.
Rahal Letterman Lanigan Racing, owned by IndyCar legend Bobby Rahal, is building a $20 million, 115,000-square-foot headquarters at Zionsville's Creekside Corporate Park at East 106th Street and Creek Way. The facility is expected to open this fall.
Please enable JavaScript to view this content.