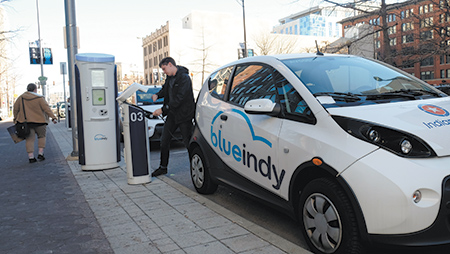 Blue Indy, the electric-car-sharing service that launched in September 2015, is pulling the plug on its Indianapolis fleet.
"We regret to announce that Blue Indy will end its collaboration with the City of Indianapolis, effective May 21st, 2020," the company said in a letter sent to customers Friday morning. "This difficult decision to end the service has been made because we did not reach the level of activity required to be economically viable."
As of August, Blue Indy had 3,000 active members—a fifth of the total it had projected that it needed for profitability. It had 92 stations and 200 cars—80 fewer cars circulating than two years ago.
When the Paris-based company backed by French logistics company Bollore and billionaire Vincent Bollore launched in Indianapolis, it predicted that it would be operating profitably by 2020, with at least 15,000 members, 200 stations and 500 cars.
This isn't the only place Bollore has struggled with car-sharing.
Autolib, which Bollore launched in Paris in 2011, closed seven years later after city officials refused to contribute money to offset a revenue shortfall.
On the other hand, Bollore's 2017 launch of BlueLA in Los Angeles has gone well, James Delgado, managing director for Blue Indy and vice president of business development for Bollore's Blue Systems, told IBJ in August.
Los Angeles Mayor Eric Garcetti praised the service last spring, saying it has brought "new transportation options to neighborhoods on the front lines of climate change."
Indianapolis spent $6 million to help launch Blue Indy and wasn't expected to recoup the investment until the service turned profitable.
The controversial deal came at the end of former Republican Mayor Greg Ballard's administration, and spurred a lawsuit from the Marion County auditor, a Democrat, that was eventually dismissed.
In return for the $6 million, Blue Indy promised to share profits with the city—once its own investment was recouped and Indianapolis Power & Light recovered 125% of the more than $3 million in ratepayer hikes that made the charging stations possible. IPL initially filed a $12.3 million cost-recovery request to pay for installations but the request was denied by the Indiana Utility Regulatory Commission.
Blue Indy, which has said it invested more than $40 million of its own money to launch the service, did not disclose its annual revenue or what performance it would need to achieve to turn a profit.
The company said it would remain in operation locally until May 21 but gradually reduce the number of cars it has operating over that time. It said it would stop charging monthly membership fees on March 21 and terminate the memberships.
The company did not say what would happen to the charging stations, which can be found all over Indianapolis and are heavily clustered in and around downtown.
In an August interview, Delgado told IBJ the company did not expect to be profitable in the next 12 months, but he said there were signs of progress. The company saw a 12% increase in rentals from 2017 to 2018, from about 46,000 to 51,600. Rentals were on track this year to eclipse the 2018 total, even though several Blue Indy stations were effectively shut down because of IndyGo Red Line rapid-transit bus line construction.
The company also was bringing in more revenue than projected by selling advertising on its vehicles.
Indianapolis Deputy Chief of Staff Taylor Schaffer said the city would explore whether the Blue Indy charging stations can still be used.
"For many years, Indianapolis residents and community leaders have been engaged in thoughtful conversations around transportation and personal mobility," she said in an email to IBJ. "Blue Indy has been an instrumental part of that conversation, helping to provide an innovative car sharing option for Indianapolis residents with an eye toward sustainability and equity.
"Over the coming months, we will work with neighbors, corporate partners, and personal mobility advocates to explore whether financially-sustainable options exist to put the electric charging infrastructure to use. While today's announcement is unfortunate for those who have embraced Blue Indy as a transportation option, we remain steadfast in our commitment to access and equity in transportation and improved connectivity for all Marion County residents."
According to its website, Blue Indy has 20 stations at Indianapolis International Airport.
"With the recent Blue Indy news to cease operations in Indianapolis on May 21, 2010, we're currently having internal discussions on the future use of the electrical infrastructure at the Indianapolis International Airport," airport spokeswoman Stephanie McFarland said in an email to IBJ. "Nothing has been decided at this time, and we will continue to discover the best possible solution to serve the traveling public."
In a letter sent Friday afternoon, Delgado said Blue Indy signed up 11,000 members who took 180,000 rides over the past four years, but residents failed to embrace the service enough to keep it in business.
"Indianapolis drivers have been slow to adopt alternative transportation options and car ownership remains extremely high," he said.
He said the city can still benefit from the infrastructure Blue Indy leaves behind.
"If the city decides to maintain the current charging infrastructure already in place, it will have a network of 455 charging points strategically set up across the city including locations at all major universities, the airport, and popular destinations in downtown Indianapolis and the surrounding areas."
Please enable JavaScript to view this content.