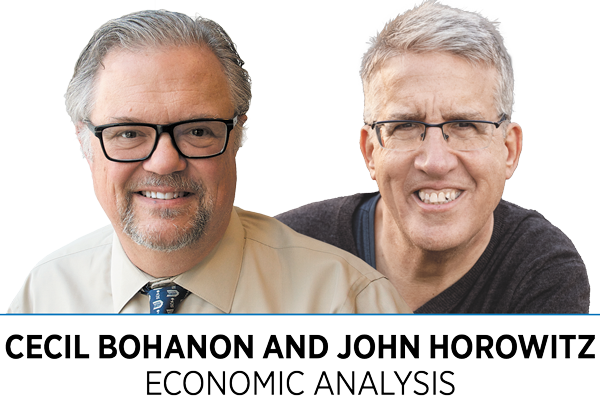 With much fanfare, President Biden announced a debt-relief program for those holding student loans. The program will cost more than $500 billion, effectively wiping out all the deficit reductions from the Inflation Reduction Act. The $500 billion in forgone revenue must lead to other spending reduction, increases in other taxes or an expansion of future public borrowing. In a very real sense, this is not debt relief so much as it is a debt transfer from former college matriculants to federal taxpayers.
The nonpartisan Committee for a Responsible Federal Budget projects that, within five years, outstanding student debt will return to where it was before the recently enacted debt relief. If outstanding student debt is a systemic problem, the recent action does not remedy the problem. Instead, it is a textbook example of politicians kicking the can down the road.
Why has student debt increased? Traditionally, state appropriations to state colleges and universities kept out-of-pocket tuition rates low for both rich and poor households. Over the last 30 years, states have decreased their spending on higher education and increased spending on Medicaid and other priorities. At the same time, the federal government has increased needs-based scholarships, and state colleges and universities have increased tuition rates. Students are taking out loans to pay for the increased tuition
and other expenses.
However, most college graduates' lifetime earnings are more than those of high school graduates. The Social Security Administration estimates that men with bachelor's degrees earn $655,000 more in median lifetime earnings than high school graduates, and women with bachelor's degrees earn $450,000 more in median lifetime earnings than high school graduates. College graduates' higher incomes should provide the means to repay those loans.
However, these loans are a significant reason tuition is increasing. Loans help students afford higher tuition, and schools can charge more. Higher education costs have also increased. Three reasons are campus buildings, amenities and more administration. Campus buildings and amenities have improved to compete with other schools to attract the best and brightest students. If schools don't compete on price, they compete on non-price margins, such as better buildings, dorms and food. The number of administrators has increased to comply with increasing government regulations and to provide more services to students, such as counselors, student success specialists,
and bureaucracy.
The recently enacted policy is, at best, a Band-Aid for the complex underlying problems of financing higher education.•
__________
Bohanon and Horowitz are professors of economics at Ball State University. Send comments to ibjedit@ibj.com.
Please enable JavaScript to view this content.