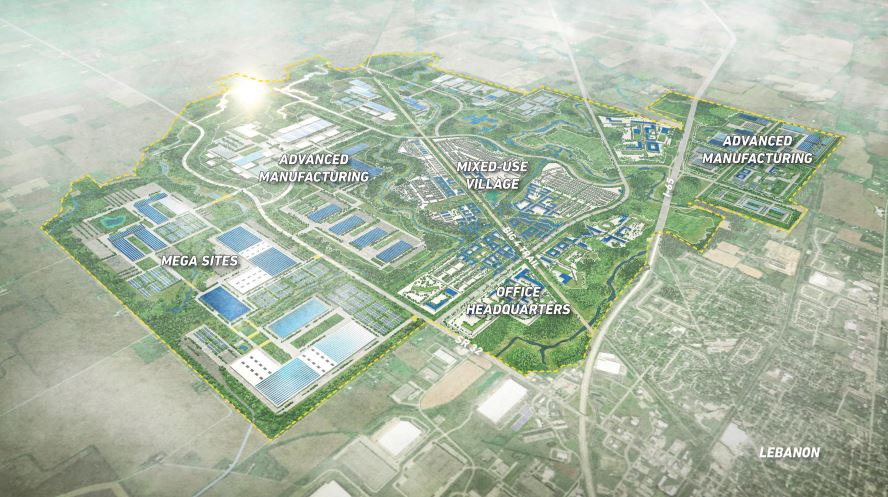 A group of Boone County residents filed legal action Tuesday against the city of Lebanon, accusing the municipality of violating state and local zoning law when it annexed 5,200 acres of land and created a new zoning district for a manufacturing and tech hub.
The eleven property owners filed a complaint for judicial relief asking a Boone County Circuit Court judge to throw out two city ordinances.
In December, the Lebanon City Council approved the creation of the LEAP zoning district and a request for voluntary annexation from 43 landowners in Boone County and the Indiana Economic Development Corp. LEAP is short for Limitless Exploration/Advanced Pace.
In their written complaint, the Boone County residents said the zoning district violates state law because the annexed land was not included in the city's comprehensive plan, which was passed in 2020.
They also accused the city of not following its own zoning ordinance that requires petitions for annexation to include a concept plan if the land is to be zoned as anything other than single-family residential.
"In fact, thousands of acres were classified into the new LEAP (LP) District without even the most basic requirements," the complaint reads.
The plaintiffs are all interested parties who received notices for public hearings regarding the proposed zoning classification and annexation, their attorney said.
The IEDC began working with a third-party company as early as November 2021 to purchase land for a planned 11,000-acre innovation district in Boone County, a project state officials have likened to The Research Triangle in North Carolina. In May, Eli Lilly and Co. committed $2 billion to construct two manufacturing plants on 600 acres east of Interstate 65, a project expected to bring 500 jobs, the company said.
The project has faced backlash from longtime residents concerned with the loss of farmland, the project's impact on water resources and a perceived lack of transparency from the state's job-creation agency.
Lebanon Mayor Matt Gentry said he is confident the city will prevail in a court of law.
"We did everything by the book," Lebanon Mayor Matt Gentry told IBJ. "I think it's a situation where residents are trying to use every avenue available to them to stop this."
The residents are being represented by Michael Andreoli, an attorney in Zionsville.
Please enable JavaScript to view this content.