A familiar name in Carmel's bar and restaurant scene is planning another project in the city.
Kevin Paul, who owns Brockway Public House and Danny Boy Beer Works, is seeking approval to open Boneyard Bar & Restaurant at 904 W. Main St., east of the roundabout at Old Meridian Street.
Paul also owns The GOAT, or Greatest of All Taverns, which the city forced him to close in 2021 following neighbors' complaints about noise and public indecency.
Plans call for Boneyard Bar & Restaurant to occupy about 2,100 square feet on the east side of the two-tenant building. Paul is seeking approval from the city for exterior building modifications and site improvements to remodel the existing space into the new bar and restaurant with outdoor seating.
The site was previously occupied by Scott Pools and Bergman Automotive. A new mixed-use development called The Signature is under construction and expected to open next year near the north and west sides of the site, while a second development called Icon on Main is planned southwest of the site.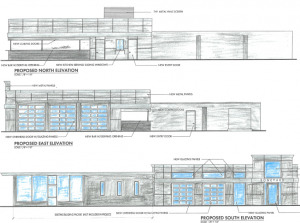 Paul told the Carmel Plan Commission's Commercial Committee last week that Boneyard would have interior and exterior seating with a "California or Austin-style open-air setup."
He also told the committee that he does not anticipate issues at Boneyard that plagued The GOAT.
"The biggest difference between this and The GOAT is, I think, we'll all do a better job of managing the kids," Paul said, referring to the younger crowd that frequented the establishment.
He added that he envisions the bar and restaurant will be similar to a German sports bar where people will gather to watch soccer and Formula 1 auto racing.
"Quite frankly, this is what I wanted The GOAT to be back when there was nothing along the Monon," Paul said.
Boneyard's exterior area would have firepits and courts for bocce ball and shuffleboard. Paul said he plans to occasionally have live music and operate Boneyard as a venue that caters to adults. He hopes it would be a place where people stop while they're walking their dog or riding their bike.
"There are very few adult places in Carmel, and we're dying for them," Paul told the committee. "A lot of adults are asking for it."
Members of the Commercial Committee primarily expressed concerns about the amount of parking that would be available at Boneyard. Discussion about plans for Boneyard are scheduled to continue at the Commercial Committee's next meeting on Oct. 3.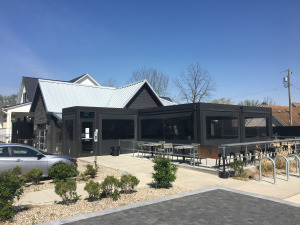 In 2001, Paul co-founded Carmel-based supply-chain management firm Blue Horseshoe Solutions Inc. Blue Horseshoe employed nearly 350 workers by the time the company was purchased in 2021 by Dublin, Ireland-based Accenture.
Paul and his late wife, Lainie Paul, opened Brockway Public House in 2008 at 15525 Old Meridian St. in Carmel. Six years later, in 2014, the Pauls and a friend, Prescott Sanders, opened Danny Boy Beer Works at 12702 Meeting House Road in the Village of West Clay.
Paul and his wife, Megan Paul, opened The GOAT in August 2020 at 220 2nd St. SW at the former site of Bub's Cafe, which had long catered to breakfast and lunch crowds.
Within months, the city began receiving complaints about noise, public intoxication and other issues outside the bar. The Carmel Board of Zoning Appeals effectively forced The GOAT to close in April 2021 when it denied Paul an updated-use ordinance that would have allowed for the continued operation of the bar.
Last year, the Carmel City Council approved a request to rezone the property from residential to business to allow The GOAT to reopen. The GOAT is expected to reopen later this year following an expansion.
Please enable JavaScript to view this content.