City officials plan to pour at least $10 million into structural and aesthetic improvements to five CSX railroad overpasses and the sidewalks and roads that run beneath them on the south side of downtown.
The project is intended to make the overpasses an extensive southern gateway into the Mile Square, while also changing perceptions about the corridors beneath, which have historically been seen as unclean and unsafe.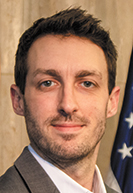 "We're really excited about this project, because it aims to change the streetscapes to really start thinking about these [overpass] structures as, instead of places you want to avoid, places you actively want to be," said Rusty Carr, interim director of the Department of Metropolitan Development, which is partnering with the Department of Public Works on the project.
The first phase of the project is set to kick off next year, starting with the three railroad overpasses nearest Union Station—over Meridian Street, Illinois Street and Capitol Avenue—before pivoting attention to the Delaware and Pennsylvania streets overpasses. Each structure is near major landmarks that dot the southern half of downtown, including the Indiana Convention Center and Lucas Oil Stadium, Gainbridge Fieldhouse, and various restaurants, bars and hotels.
That means thousands of fans, visitors, workers and others regularly walk along the sidewalks under the overpasses on their way to sports events, conventions, entertainment, parking and offices.
Also, in a separate but related project, the city plans to update a Union Station deck over Meridian Street, which is now used for outdoor seating for some events and nearby restaurants. An improved plaza could be able to accommodate hundreds of people, food vendors and entertainment, the city says.
But Carr noted that officials are still early in the planning stages for that project, including what it will ultimately look like and how the spaces might be used.
Carr said the effort on the streets and sidewalks below the overpasses will include improved lighting, a fresh coat of paint and fixing structural and aesthetic problems.
"What we want to do is turn these areas into assets that people want to visit, instead of places that they might actively avoid right now," he said. Down the road, the underpasses might include dedicated spaces for public art, markets, pop-up food trucks or even small musical performances.
City officials, he said, envision the areas as having lighting that could be programmed based on what is happening in Indianapolis—whether it's a Colts game or a Pacers game or a convention that's in town.
Brandon Farley, an architect with Indianapolis firm American Structurepoint, said leaning into new lighting, art installations and small community events could be a good way for some of the underpasses to be used more effectively, particularly because they are designed in a way that already offers some physical separation between vehicles and walkways.
"There should be an opportunity to do something thoughtful with it—something you wouldn't normally be able to do elsewhere. But along with it comes combating" negative attitudes about the spaces, he said. "You need to make it a place that makes people feel not only welcome to walk through but excites them as well. It needs to have the markings that say that it's a place made for people, not just vehicles."
While a total project cost has not been finalized, officials say it is tentatively expected to be in the low eight figures—putting the all-in total at more than $10 million.
The project would restore many of the historic facades on the overpasses and make structural improvements to the bridges, while also adding a protected bicycle lane to most of the roadways beneath.
Each road would also undergo redesigns, extending from the underpass areas, to cut down on vehicle parking and increase pedestrian access, while also paying homage to various historical and cultural milestones in the city's history.
The city would also install a raised brick paver design at many nearby intersections to reduce traffic speeds, much as it has done with some intersections along College Avenue near the Bottleworks District in Mass Ave. Additionally, a mural is planned for the south side of the Illinois Street overpass.
Michael Burayidi, a professor of architecture at Ball State University, said in an email the proposed overpass changes "would significantly improve the customer, visitor and residents' experience" downtown, particularly in light of planned developments.
However, he cautioned that the city shouldn't lean too heavily into bringing programming into the underpass areas.
"Public spaces ideally should be activated through design that makes users comfortable in the spaces and so they visit and use them. Public spaces should not require programming to activate them," he said. "If this approach is used or expected to activate the public spaces, they are likely to remain underutilized and dead spaces most of the time. This invites anti-social and criminal activities."
Making connections
The effort to rejuvenate the overpasses/underpasses began in 2018, when the city assessed them to determine what would be required to incorporate them into a larger downtown mobility plan. The city owns most of the bridge structures but is coordinating with CSX on various aspects of the project.
In addition to being near Union Station and other prominent landmarks, the overpasses are also near newer apartment complexes like CityWay and major hotels.
A handful of redevelopment projects are in planning stages close to the overpasses, including the massive apartment and hotel project proposed by Herb Simon at the former CSX building at Georgia and Pennsylvania streets and the soon-to-break-ground Pan Am Plaza hotel and convention center expansion on Capitol Avenue.
The overpasses are also within a stone's throw of Circle Centre Mall, which is expected to undergo extensive changes over the next several years.
The city has hired Indianapolis urban architecture firm Rundell Ernstberger Associates to spearhead the overpass designs, which will require approval from the Indianapolis Historic Preservation Commission.
During a preliminary hearing on Jan. 4, IHPC members expressed general enthusiasm about the project. The city plans to return to the IHPC in March with a formal request.
"Especially with Circle Centre changing as it has, just to have this capacity, to have the city continuing to do the sporting events—the things the Pacers are doing … to have these opportunities for people movement, especially with lighting under the bridge, is going to make a huge difference," board member Anne Lear told city and Rundell Ernstberger officials during the meeting.
"The city as a whole and how we take care of old things will be very much appreciated, so I think it's really great," Lear said.

Finding a balance
Dave Steiner, vice president of operations for local engineering firm CMID, said the city will need to strike a balance between accommodating vehicular traffic and enhancing the spaces for pedestrians—something he acknowledged their designs consider.
"If you're changing the use [of an underpass], you need to be pretty careful … to make sure that pedestrians can safely travel through there," Steiner said. "People are still going to have to be careful, because ultimately the structure is there to support the railroads and what they're doing."
He said city and railroad partnerships can be tricky, particularly when it comes to making any prominent structural changes to overpasses. The city plans to fix certain cracks and gaps in some of the support columns, but it isn't making significant investments in structural work because officials say that's not needed.
Farley said the effort to rethink the overpasses and turn the space beneath them into something more pedestrian-friendly is a smart move. He said overpasses are typically viewed as a barrier to the growth of neighborhoods and even downtown areas, but the city's effort is an opportunity to turn that concept on its head.
"I'm really impressed by the concept, because they've done a nice job not just thinking about big-picture issues but getting deeper into the cultural significance of this area," he said. "In some ways … overpasses are [a unique chance] to encourage some more pedestrian connectivity for something that is generally separating parts of the city."
DMD's Carr said city leaders are still working on the project's design, timeline and cost, along with how to best use the spaces. The choices will vary with each underpass.
"If you look at Capitol Avenue, that's a very visitor-oriented area, meaning there could be a lot of big entertainment-focused opportunities along the Cultural Trail, but when you think about Meridian Street … the users and experience is going to be very different," he said.
"People are going to have to walk under these overpasses regardless, and I think once the improvements are done, it will be night and day in terms of how folks think about that experience. We view this as a once-in-a-generation opportunity."•
Please enable JavaScript to view this content.