Tony Dzwonar had just wrapped up three consecutive terms on the Washington Township school board—serving from 2008 to late 2020—and was looking for a way to spend his extra free time. He remembered that the district—like most school corporations—needed bus drivers.
"This struck me as something that I could help with," the 58-year-old Dzwonar said. "And there was my dream as a 5-year-old. My maternal grandfather was a truck driver, and I always wanted to be a truck driver like him."
Dzwonar received the required training and a commercial driver's license before becoming one of about 100 district bus drivers in fall 2021. He worked daily, running two or three routes in the southeastern portion of the district that included elementary children, middle-schoolers and high school students.
He plans to return in the fall and touts the $26-per-hour wage as a reason for other semi-retirees to investigate driving for the township.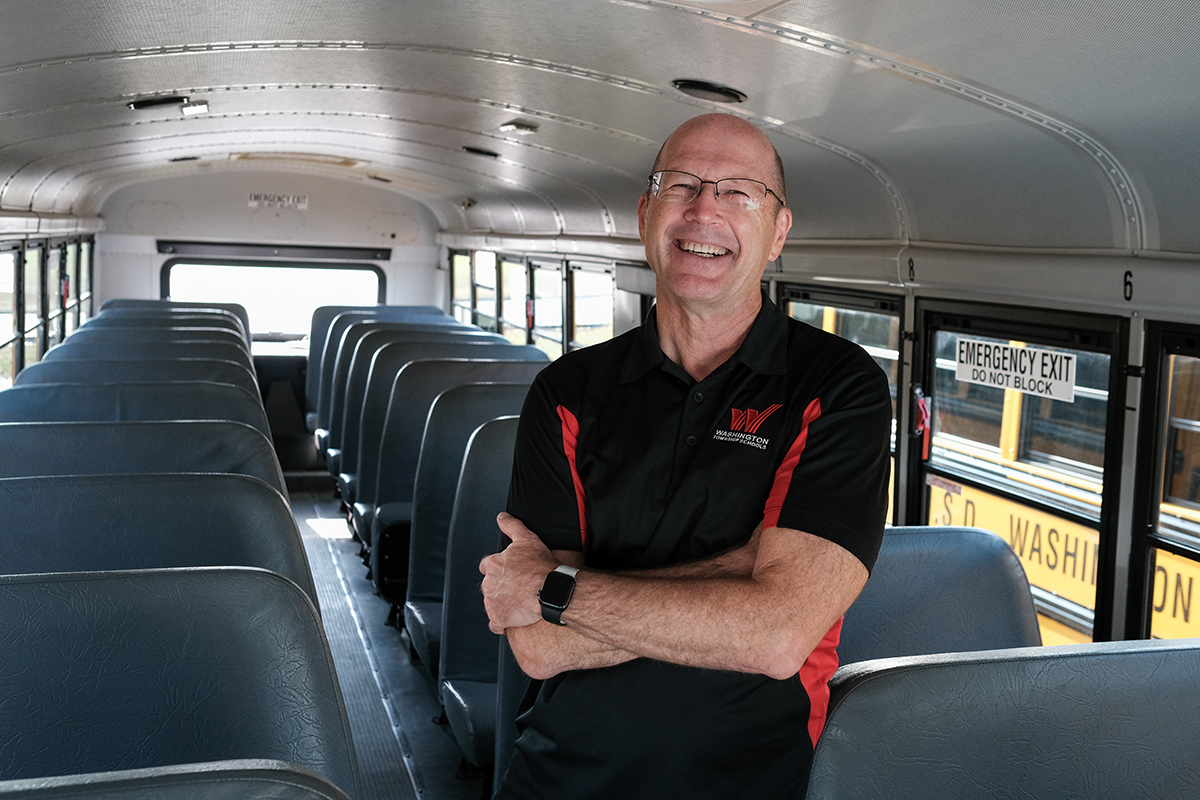 When did you have to wake up and how many hours did you work per day?
I woke up at 5 a.m. It's not my preferred time, but thankfully my wife is a morning person and so she helped me keep to that schedule. The hardest thing to do is to get to bed between 9 p.m. and 10 p.m. That's not my preferred time to close down the day, but during the school year that was the best thing for maintaining good sleep hygiene.
Originally, I was hoping this was going to be a five-hour-a-day job, but due to the unavailability of a driver who had a medical condition that required extended time off, I ended up working about seven hours a day.
Were you ever reprimanded for poor performance?
Not poor performance, but I did have two issues this year backing up the bus where I, unfortunately, ran into a stationary object. So I did engage in some additional safety training and practice driving to learn how to better recognize that situation and where the rear end of that bus is located.
What else did you find challenging?
I had wonderful high school kids and wonderful middle school kids, but I had a busload of 54 elementary kids who were still learning self-control. When there are 54 of them on a bus, there's all sorts of opportunities for them to get into each other's business and maybe talk too loudly and make fun of someone.
So there were opportunities for me to make sure that the students follow the rules on the bus and were treating each other well and maintaining a volume level that allowed me to drive the bus safely.
Did you ever have to threaten to pull the bus over?
Yeah. [laughter] I had to pull the bus over a couple of times, absolutely.
One of the things I'm very proud of: We as a school board and our community here in Washington Township did approve a referendum for additional dollars to hire more social support staff to help students. So students with behavior challenges can have additional dedicated support staff who can take time with them.
And it was very remarkable to watch several students—a couple of students in particular—who had that extra resource at school over several months, and to watch the improvement in their behavior on the bus as a result of that additional time and relationship-building [with] that staff member. … It was very powerful to see those extra resources at work in these kids.•
Please enable JavaScript to view this content.