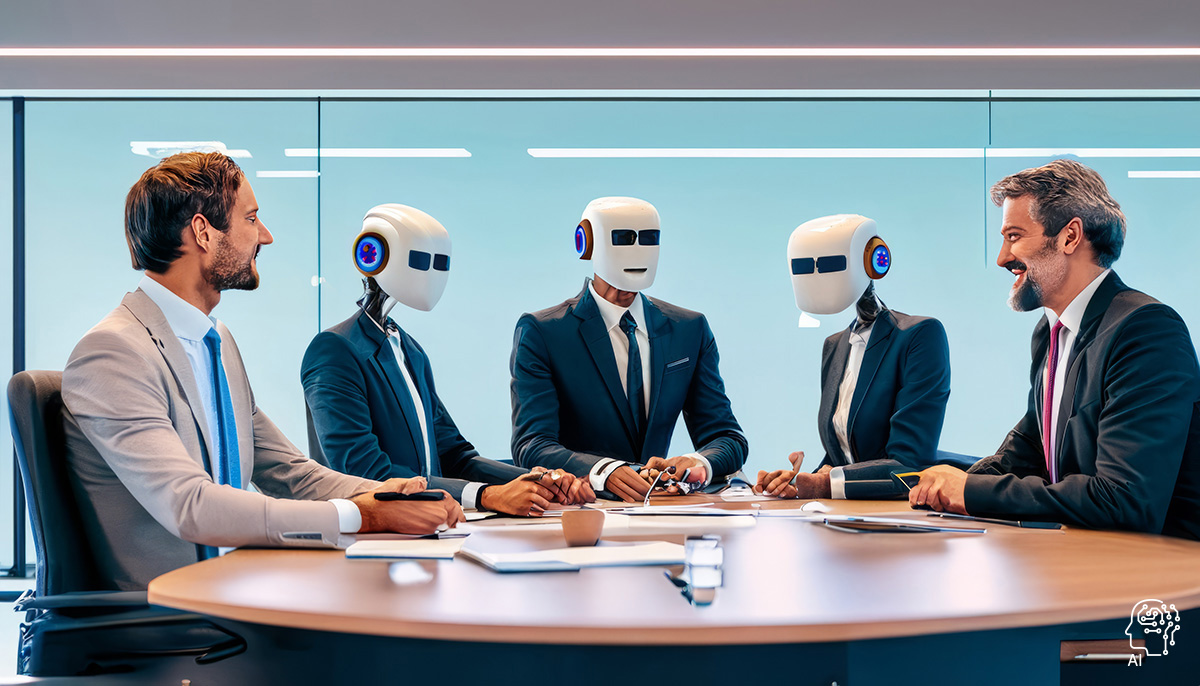 Advances in technology traditionally have had the biggest impact on the economy's more physical jobs—think of robots taking over tasks at a manufacturing plant or automated vehicles that can move items around a large warehouse.
That's not necessarily the case with artificial intelligence—especially the generative AI tools that can write marketing copy, create computer code and do any number of other tasks that have until now required brains, not brawn.
"I think there is no doubt that the technologies are going to redefine most jobs, and especially white-collar jobs this time," said Dennis Trinkle, senior vice president of talent, strategy and partnerships at Indianapolis-based TechPoint.
Trinkle, and others, say AI's impact on the workforce is likely to be profound and complex, though at this point it's difficult to know exactly what those impacts will be.
"It will create jobs, it will destroy jobs, and it will change jobs. It really is all three, but it is monumental; it is significant what is [happening] and will happen," said longtime local tech executive and entrepreneur Scott McCorkle. "It's not just like some new product or technology appeared. It's transformational."
McCorkle, a former president of Indianapolis-based ExactTarget and former CEO of Salesforce Marketing Cloud, is now CEO and co-founder of collaboration platform MetaImpact, which launched out of Indianapolis-based venture studio High Alpha in 2018.
AI, of course, is not new. What is new, McCorkle said, is that the technology has advanced to the point that it's much more accessible to both companies and individuals.
As recently as two years ago, he said, his company would have had to hire data scientists and AI experts if it wanted to use the technology in a significant way, and the results they could have achieved didn't seem quite worth the effort. "What's different is, now the science of AI has produced frameworks that are available to all of us that are very, very capable."
An early adopter
Some companies, such as Indianapolis-based Demandwell, have already made big changes to their business in response to generative AI, which burst into the public consciousness last fall with Open AI's release of its ChatGPT tool.
Demandwell is a marketing-tech startup that offers search engine optimization, or SEO, services that help customers improve their visibility in online search results. The company currently has seven employees, along with a freelance group of about five to 10 people, depending on work demands.
One of Demandwell services is producing marketing copy for its clients—items like blog posts and other content clients can use on their websites. Until early this year, Demandwell's freelancers wrote all the copy. But starting in February, the company brought AI into the process.
Now the freelancers are creating a sort of "order form" for the AI to fulfill, then editing the AI-produced copy to make sure it contains the proper content and keywords, said Demandwell CEO and co-founder Mitch Causey.
The use of AI is generating 61% more copy for Demandwell's clients, Causey said, and in the world of SEO, having more content is one way a company can improve its search results.
That advantage has made AI table stakes for the SEO industry in general, Causey said. "If you're not doing more than you were before, all of your competitors probably are, and they're going to start beating you—even if you were winning before."
Demandwell recently cut its staff from 16 to seven. Causey said the job cuts were not because of AI but in response to the continuing challenge of finding venture funding in a down market. Amid uncertainty about when investors might again loosen their purse strings, Causey said, Demandwell decided to cut staff to preserve its existing cash as long as possible.
But Causey said AI is making it easier for his company to weather the staff cuts because the technology allows remaining staffers to be more productive.
AI risk varies
In part because the technology continues to advance, no one yet has the definitive answer on how AI will affect the workforce. But recent studies offer some insights into what's already happening and what might happen in the future.
In July, the nonpartisan Pew Research Center released a report that found 19% of American workers are in jobs considered most vulnerable to AI, or most likely to have the important activities of their jobs either replaced or assisted by AI.
That Pew Research report—"Which U.S. Workers are More Exposed to AI on Their Jobs?"—was based on responses from just over 11,000 Americans surveyed last December.
The study gave examples of the vulnerability of 60 jobs—20 each that were considered to have high, medium or low exposure to AI. The "high exposure" jobs included tax preparers, law clerks and industrial designers, while the "low exposure" jobs included barbers, firefighters and child care workers. The "medium exposure" jobs included CEOs, veterinarians and human resources managers.
Workers with higher earnings and more education are more likely to hold jobs with the most risk of being affected by AI, the report said.
Among those with at least a bachelor's degree, 27% hold jobs considered most at risk, and 7% hold jobs considered least at risk. In contrast, half the workers with less than a high-school education held jobs considered least at risk, and only 3% held jobs considered most at risk.
Workers in jobs most exposed to AI earned an average of $33 per hour; those in least-exposed jobs earned an average of $20 per hour.
The Pew Research report's authors said they did not attempt to determine whether exposure to AI will lead to job losses, saying "the answer to this is unclear" because "AI could be used either to replace or complement what workers do."
Retraining, not replacing
New York-based consulting firm McKinsey & Co. does attempt to tackle the question of workforce impact in a report of its own. "The State of AI in 2023: Generative AI's Breakout Year," released in August, is based on an online survey of nearly 1,700 participants representing different regions of the world, industries and company sizes.
About 79% of respondents said they'd had at least some exposure to generative AI, either inside or outside of work, and 22% said they were regularly using it in their own work. Respondents working in the tech sector and those in North America were most likely to report using the technology.
Among respondents who said their organization had adopted the use of generative AI for at least one business function, the most common functions were marketing and sales (14%), product development and/or service development (13%) and service operations (10%).
When asked how they think AI will affect their organization's workforce over the next three years, respondents said they expect more retraining than job cuts.
A full 38% of respondents said they expect more than 20% of their organization's employees to be reskilled. When asked how their organization's employee count might change because of AI use, 30% said they expect current numbers to increase or decrease no more than 2%. One quarter predicted staff reductions of 3% to 10%.
About 18% of respondents said they anticipate reductions of 11% or more, while 15% said they think AI will increase their organization's employee count. The remaining 12% of respondents said they didn't know how AI will impact head counts.
Indiana impact
The Indianapolis-based Central Indiana Corporate Partnership also is working to gather information about how Hoosier companies are using AI. That effort is being led by two of the CICP's industry initiatives—TechPoint, which focuses on Indiana's tech industry, and Conexus Indiana, which focuses on advanced manufacturing and logistics.
The survey aims to uncover how Hoosier companies are using AI, particularly in the CICP's focus industries of technology, advanced manufacturing, logistics, life sciences and agbiosciences. The survey was released earlier this week. TechPoint CEO Ting Gootee said the goal is to receive at least 250 responses by the end of October.
The survey will also ask whether respondents have a plan for adopting AI, even if they haven't yet started using the technology, and about the hiring and training companies are doing to get their workforce up to speed.
"Our general hunch is, AI adoption has been happening in big corporations, and it has been happening in some of the startup products and service offerings," Gootee said. "I think the wild card, and part of the reason we want to do this, is to figure it out for the rest—the small- and medium-size business, where they are."
Survey results should help identify how Indiana's AI adoption rate compares with national averages and uncover opportunities to help more companies embrace the technology, Gootee said.
'A whole new dimension'
Gootee, and others, say they're excited by the possibilities of AI because of its potential to catapult business productivity, wages and economic development in Indiana.
Tech entrepreneur and investor Scott
, managing partner at High Alpha, said the venture studio's portfolio companies have long used AI in the business-to-business software platforms they have created.
But generative AI, Dorsey said, "does open up a whole new dimension of opportunities" to either incorporate the technology into existing High Alpha portfolio companies or invest in brand-new ideas.
As a venture studio, High Alpha continually develops new business ideas and finds entrepreneurs to build a company around those ideas. Currently, several of the firm's ideas are explicitly AI-focused.
One such idea, for instance, is a software platform that would use generative AI to process, summarize and analyze public documents such as city council meeting transcripts, uncovering policy insights that could be useful for researchers, lobbyists and public relations professionals. Another idea involves creating a marketplace for proprietary data that can be used to train AI tools.
High Alpha doesn't just invest in its own startups. Through an entity called High Alpha Capital, it also invests in early-stage software companies founded by others. On the High Alpha Capital side, Dorsey said, "we're seeing an enormous amount of incoming deal flow for regenerative AI ideas." Those ideas are for the use of AI in a range of industries, he said, including health care, compliance, sales and marketing.
For the most part, Dorsey said, these ideas are "focused on how to make workers more efficient, how to automate the more mundane and repetitive tasks that workers perform, and much less focus on actually replacing jobs, other than looking at parts of our economy or slices of employment in our economy where there's just an incredible shortage of workers."
As an example, Dorsey said, some investment opportunities have involved AI applications that could help ease the ongoing nursing shortage by making nurses more productive.
Amid the optimism, though, it's also true that no one yet knows how AI will impact the workforce—and broader society.
"Anybody who says they have a crystal ball and knows what's going to happen isn't paying attention," Trinkle said. "There's so many different lenses and angles on the evolution of the workforce driven by AI, that how you frame it depends on what trends you pay attention to and how you think they'll all balance out."
McCorkle expressed optimism, with a caveat. "I put an optimistic lens to it, because historically [technological advances] have benefited society. … We're just going to have to, as a society, adapt and manage, and to some extent, set parameters. I don't know how this will unfold, but there are pessimistic views that we should listen to."
Causey, the Demandwell CEO, also expressed cautious optimism. He said his company is continuing to find ways that AI can be helpful, and he doesn't believe AI will ever make humans obsolete.
At the same time, Causey said, Demandwell is "doing everything we can" to stay ahead of the curve.
"If all we are is a widget-maker, any widget-maker out there, you know that the future is not looking so bright," Causey said. "But someone's got to design the widget, and someone's got to talk to customers and know what customers care about and then influence the widgets. So it's like that higher-order thinking that is really what we continue to lean into."•
Please enable JavaScript to view this content.