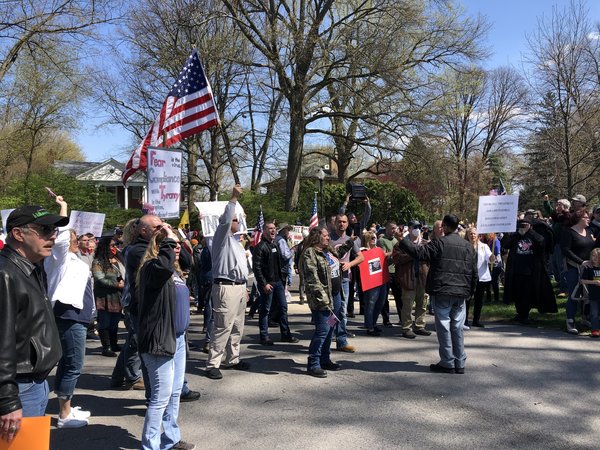 Hundreds of Hoosiers gathered outside Gov. Eric Holcomb's home on Saturday afternoon to demand that the state be open for business now, despite the ongoing coronavirus pandemic—not next month, as he has suggested.
Indiana has been under a stay-at-home order since March 25, and on Friday Holcomb said he plans to issue a new executive order on Monday that extends the directive until May 1, with some restrictions starting to be eased.
As of Saturday, Indiana has more than 10,600 positive cases of COVID-19 and has had 545 deaths.
Andy Lyons—who helped organize the protest through a Facebook group called "Protest Government Overreach! Indiana Governor's mansion!"—said the gathering was about standing up for freedom. He described Holcomb as acting like "a tyrant."
"His cure is going to end up being far, far worse than this virus is, because it's going to hit every segment of the population," Lyons said. "This has got to stop. It's insanity."
He estimated the protest attracted about 500 people. They lined the sidewalk outside the Governor's Residence near Meridian and 46th streets and drove by in vehicles.
"I want people to have liberty to make decisions for themselves without government saying you can do this or you can't do that," Lyons said.
The protest was similar to others this week in such states as Michigan and Minnesota.
Those attending the Indianapolis protest held signs like "Fauci was wrong," "Will not comply," and "Freedom > fear." They also waved American flags and chanted such phrases as "Open Indiana," "Everyone is essential" and "Freedom."
A steady stream of cars, trucks and motorcycles slowly passed by honking horns, and an RV with "Are We Russia?" written on the windshield and a sign in the window that said "I need a haircut" lapped around the block, regularly eliciting cheers as it passed by.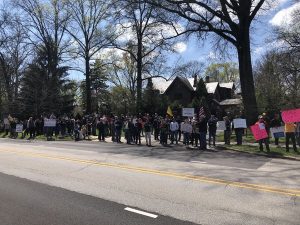 Group members emphasized they want to see Holcomb reopen the economy immediately.
"Like 20 minutes from now," Lyons said. "I would like for him to say, 'You know, I was wrong. Everybody go back.'"
Some said they didn't think Holcomb ever should have ordered non-essential businesses to close.
"There's a lot of people that like the Constitutional right to assemble, to travel, to work, and we're being told to stay at home," said Jason Arp, who is from Fort Wayne.
"That's really negatively affecting a lot of households, a lot of people are losing their jobs and their businesses."
Kristine Hunsley, who is from northern Indiana, said she was particularly upset that Holcomb suggested that churches not congregate, even on Easter Sunday. She said she found a church to attend, but she was not able to receive Holy Communion.
She said she thinks Holcomb's actions defy "everything that our Constitution and our founding fathers stood for."
"He's infringing on my ability to practice my faith," Hunsley said.
Most protesters didn't wear face masks, gloves or other protective gear and stood within six feet of one another.
Lyons said that if any protesters get sick from the event, it was their decision to attend, so they can handle the consequences.
"If I get sick and die, that was my choice, and that's the way it should be," Lyons said. "Anybody else here that gets sick because they wanted to exercise their First Amendment rights, they live with the consequences."
Some protesters said the protest might not affect Holcomb's decision-making, but others suggested he could be voted out of office if he doesn't listen.
"Whether it has an impact on his decisions or not, he knows we were here," Lyons said. "He knows there are people around this country that are fed up with tyranny."
Please enable JavaScript to view this content.