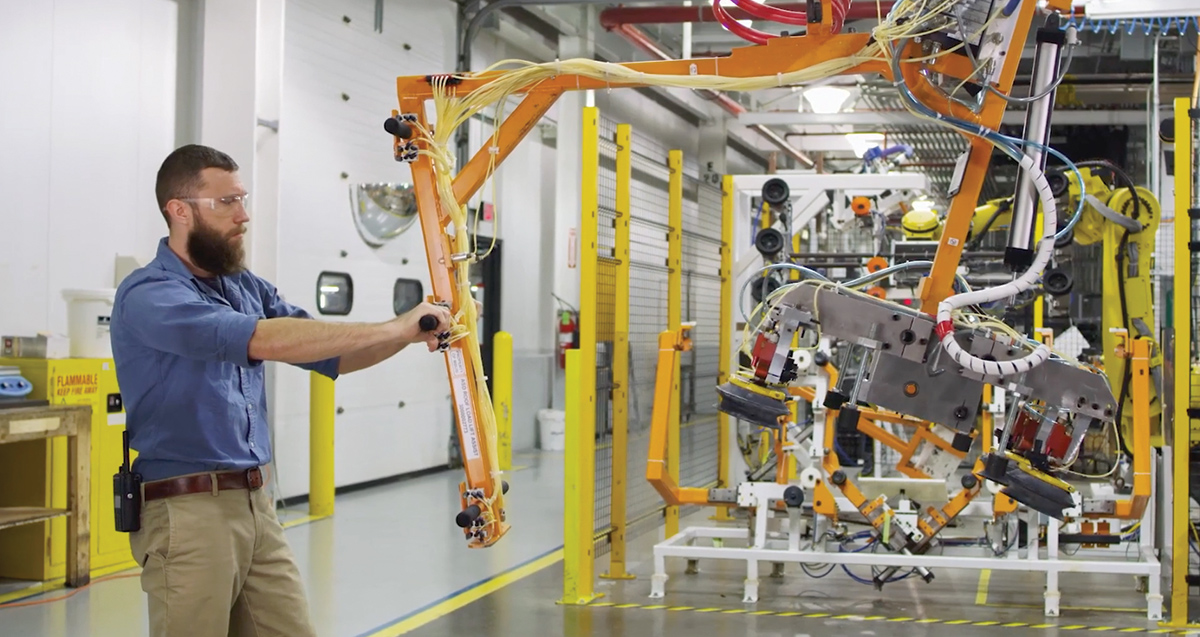 Indiana is working to protect and grow its position as a leader in auto production by making the most of the industry's transition to electric vehicles.
Using tax incentives for automakers to expand electric vehicle production, a new state EV commission and membership in a new five-state regional network promoting EV infrastructure, Gov. Eric Holcomb's administration is making moves to add more electric vehicle manufacturing to across the state.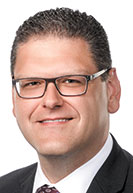 "Future mobility is squarely within the strike zone of industries that have been important to the history of Indiana, and industries that are going to be important to the future," Dave Roberts, executive vice president of entrepreneurship and innovation at the Indiana Economic Development Corp., told IBJ. "We want to be absolutely strong in this to pursue any of these opportunities as hard as we can."
Roberts said targeting opportunities in the electric vehicle manufacturing industry is a top priority of the IEDC and its new leader, Secretary of Commerce Brad Chambers, as states throughout the Midwest and South scramble to compete for electric-vehicle manufacturing plants and component factories.
Eyes are particularly on Indiana now because it's on the short list of possible sites for a $1.3 billion Toyota electric battery plant the company plans to build near one of its U.S. assembly plants.
Only time will tell how well-positioned the state is to compete for the plant and other opportunities in the EV industry. But with a state economy heavily reliant on the auto industry, the outcome will be critical.
President Joe Biden has set a goal to have half the vehicles sold in the United States be electric or hybrid by 2030—and automotive manufacturers in Indiana and across the nation are following his lead.
Stellantis announced plans in October to invest $229 million to retool its Kokomo plants to produce electric and hybrid vehicle transmissions. More than 660 employees in the area will be retrained and retained with the move to produce the electric transmissions. A company goal is to have electric vehicles make up 40% of sales by 2030.
The IEDC said it would offer London-based Stellantis up to $19.5 million in conditional tax credits and $300,000 in training grants in return for the investment.
In Princeton, Toyota Motor Manufacturing Indiana announced in April that it will invest more than $800 million to add two electric vehicles to its production line at its Princeton facility and create 1,400 jobs by the end of 2023. The IEDC plans to offer Toyota up to $14 million in conditional tax credits in return for the investment and new jobs filled.
"Anytime there's a point of disruption in an industry, there's an opportunity to take advantage of it and grow," Roberts said.
Another startup in the up-and-coming EV industry is suburban Detroit-based Electric Last Mile Inc., which just started rolling out its electric delivery vans at its new plant in Mishawaka in October. The plant was formerly home to a production facility for Hummers.
For the moment, vans arrive in Indiana from factories in China complete with chassis, frames, battery packs and wheels, and workers in Mishawaka add the steering wheel and other electrical components, according to Bloomberg News. But the company has said it plans to buy more parts from U.S. suppliers and do more assembly in Mishawaka.
ELMS expects to create up to 960 jobs building 100,000 vehicles per year by the end of 2024. If it holds up that end of the bargain, the IEDC will grant $10 million in conditional tax credits.
Roberts said the IEDC is looking into other opportunities to attract companies like ELMS to Indiana.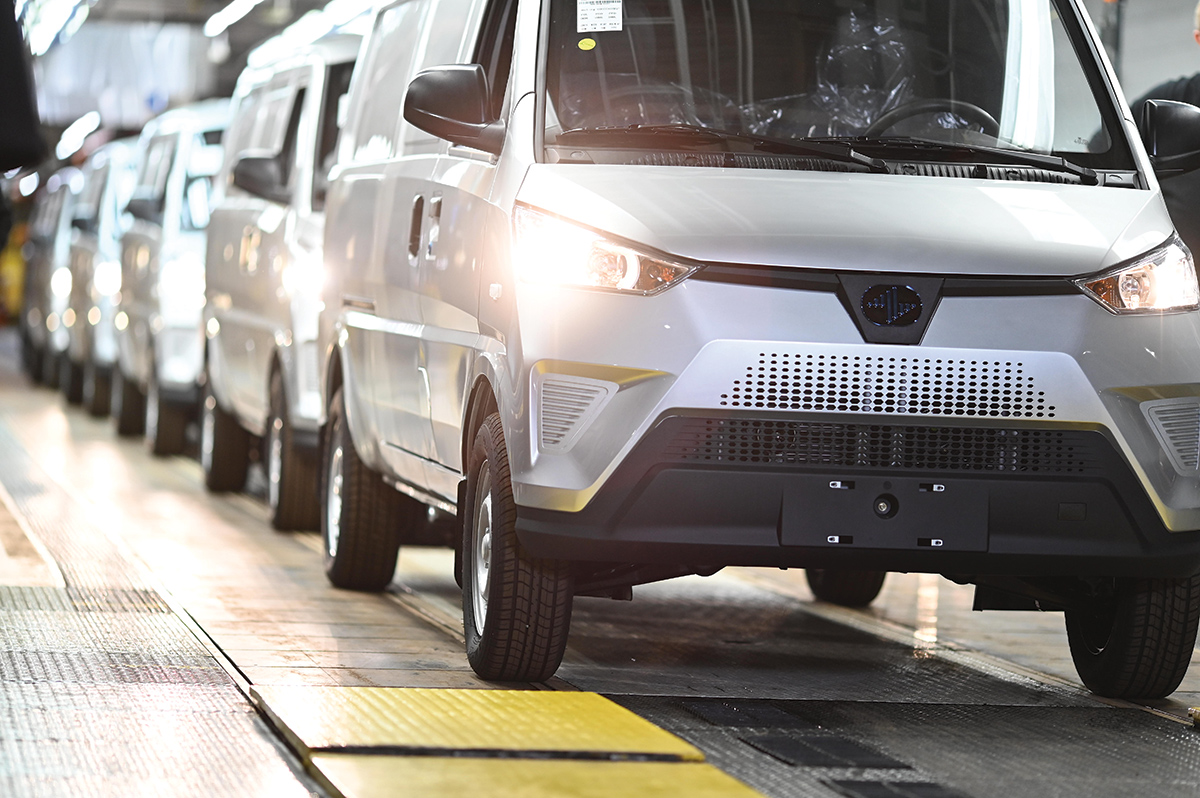 Infrastructure moves
The state also is working to make Indiana an attractive and convenient place to drive electric vehicles.
Gov. Eric Holcomb joined the governors of Illinois, Michigan, Minnesota and Wisconsin in October to sign a memorandum of understanding to create REV Midwest, or the Regional Electric Vehicle Coalition.
A focus is to make it easier for drivers to find charging stations for their electric vehicles along key corridors in the Midwest. It also will work to promote clean energy and mobility manufacturing, leverage the states' automotive industry electrification leadership, grow the region's share of electric vehicle production, and elevate access to tools required to equip the workforce.
The creation of the five-state cooperative comes as Congress continues talks to consider a $1 trillion infrastructure plan that would provide billions of dollars to states to build an electric-vehicle charging infrastructure.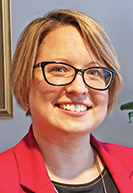 Holcomb is the only Republican among the five governors who joined the coalition.
Kerri Garvin, director of the not-for-profit Greater Indiana Clean Cities, said Indiana's willingness to cooperate with other states could be a huge selling point when the federal government begins awarding EV infrastructure grants.
"We are recognizing that this is significant. And we're a team player, and we want to be in this game," Garvin said.
Indiana currently has about 24 direct-current fast-charging stations, which are most ideal for traveling, and 215 level 2 chargers. By 2023, the state will add 61 fast chargers to its network with money from a settlement with Volkswagen that resulted from the company manufacturing and installing defective emissions-control devices in hundreds of thousands of diesel-powered vehicles.
"I do think the more things that Indiana does that shows that we are tracking these trends, we're aware of them, shows we want to be competitive," Roberts said.
The Legislature is jumping in on supporting EV in Indiana, too. Republican Rep. Mike Karickhoff of Kokomo authored a bill approved on a bipartisan vote to create the Electric Vehicle Commission to explore how Indiana's automakers and its workforce can adapt to the evolving electric vehicle market. Holcomb supported the commission and signed the bill into law.
The commission has 10 members, including representatives from Toyota, GM and Stellantis. It will be tasked with several responsibilities, ranging from identifying opportunities for research and development within the EV product industry to looking at the inventory of workers in the automotive industry and determining workforce-training needs to transition to EV production.
"This is about having a responsible public policy to meet whatever the market demands, and to have the infrastructure in place to provide the power to make sure that we maintain the advanced manufacturing position across all sectors," Karickhoff told IBJ.
Paul Mitchell, president of Energy Systems Network, is also a commission member. While Indiana has made moves to support EV in the past, he said this commission marks the first time different branches of government are working together on a single strategy.
"We've got the General Assembly and the executive-branch IEDC really prioritizing this at a level that isn't a sort of a niche industry that we need to be working on, but instead viewing it as a mainstream strategy for the state," Mitchell said.
Toyota battery plant
One big prize hanging in the balance is Toyota's plans announced last month to invest $1.3 billion to build a new U.S. electric battery plant. The plant would be near one of its assembly plants in Indiana, Missouri, Kentucky, Alabama or Texas. Toyota's plant in Princeton makes more than 400,000 vehicles a year and employs more than 7,000 people in Gibson County and across southwestern Indiana.
It is ideal to have a battery plant next to an assembly plant, Mitchell said, because battery packs need to be added quickly to a car, for safety and cost reasons.
With Indiana on the short list, he said, the state already has an advantage to "aggressively compete" for the plant.
"Toyota has already made huge investments here and they wouldn't be continuing to make huge investments here if they didn't feel we were fit," Mitchell said.
Even if Indiana is not chosen for the battery factory, it is in a place to obtain other automotive battery plants in the future near existing production facilities because of proximity, Mitchell said.
Toyota Motor Manufacturing Indiana owns 480 acres of mostly unused developable land just south of the Princeton plant.
Tami Muckerheide, director of the Gibson County Economic Development Corp. in Princeton, said she understood that land was for a possible future expansion, but she has not heard anything from Toyota about building the battery factory there.
But such a facility would add to development of the area with tax dollars, and expand Toyota's community involvement, Muckerheide said.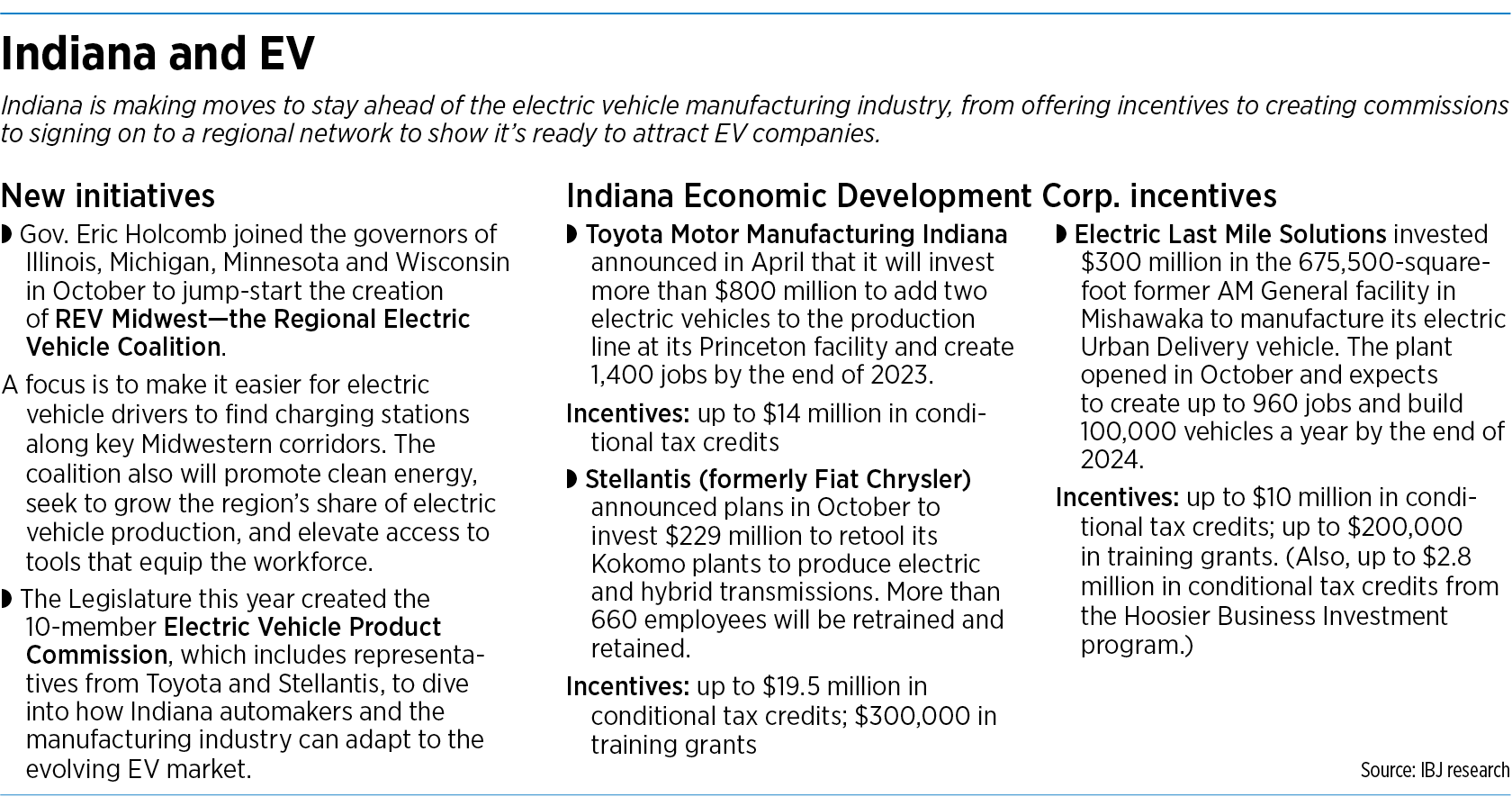 In general, Indiana is in a good position to compete in the EV industry because it already ranks second only to Michigan in overall auto-related manufacturing employment.
According to the IEDC, Indiana's automotive companies employ more than 116,000 Hoosiers and contribute more than $15 billion to the state's gross domestic product each year.
But the competition for new auto manufacturing plants is becoming stiffer as more states try to land them, Mitchell said.
Indiana used to compete only with other heavy automotive-industry heartland states such as Illinois, Ohio, Michigan and Kentucky. Now, more Southern states, like South Carolina, Alabama and Mississippi, are home to automakers like Toyota, Honda and BMW. And states such as Texas and California also are in the mix, with Tesla plants based there.
Indiana still starts from "a position of strength," Mitchell said, because of the state's robust supply chain in the automotive industry beyond just passenger cars.
"We really do pretty much everything, with a broad mix of different vehicle platforms from RVs to heavy-duty with Cummins to passenger cars with Toyota, Honda to pickup trucks to core components like you have in Kokomo. All of those industries are going through electrification," he said.
The IEDC's Roberts declined to comment on the prospects of Indiana's getting the Toyota battery plant because economic negotiations are confidential.
Generally, though, he said, Indiana's history in auto manufacturing and the state's efforts to show it is willing to change with evolving tech like EV, are helpful factors.
"All these things stack up to show that Indiana understands where the future of mobility is going," Roberts said. "We want to be an active participant in the adoption, but you know, also the manufacturing."•
Please enable JavaScript to view this content.