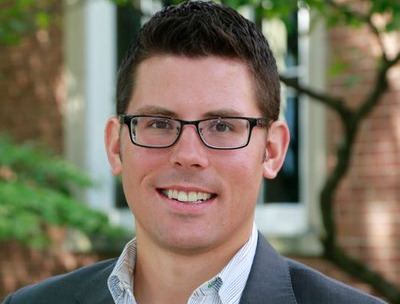 The Greater Indianapolis Chamber of Commerce has hired Matt Mindrum as CEO, it announced Monday.
Mindrum, who has spent his career in marketing positions at Indianapolis Motor Speedway, Eli Lilly and Co. and Butler University, is set to begin his new job with the Indy Chamber on Dec. 1.
Mindrum will succeed Michael Huber, who stepped down in September 2022 after nearly 10 years as CEO of the Indy Chamber to become Indiana University's vice president for university relations. Indy Chamber launched a CEO search for a successor in March with consulting firm Korn Ferry. Moira Carlstedt, former head of the Indianapolis Neighborhood Housing Partnership, has served as interim CEO.
"What gets me excited is, 'How can we work together with our partners to really raise Indy's profile, tell a better story about who we are, what we are and just attract talent and business in a way we've never been able to before?" Mindrum told IBJ.
Unlike Huber, who had decades of experience in government including serving as deputy mayor for former Mayor Greg Ballard, Mindrum brings a private-sector perspective to the role.
From 2016 to 2020, Mindrum was vice president of marketing and communications for IMS. He worked in that same role at Butler University from 2013 to 2016. His career began as a sales representative for Eli Lilly and Co., where he worked in various marketing positions from 2007 to 2013.
Most recently, he worked remotely for Denver-based DaVita Kidney Care as vice president for growth and strategy.
He's hoping that experience will help him improve upon what his predecessor has built.
"I think Michael [Huber] would probably be the first one to tell you that he's not necessarily a brand guy," Mindrum said. "So if there's one place where I think we can do even more, even better, that's one that I'm really focused on."
Mindrum will manage an approximately $10 million operating budget and 55 total staff members, according to the job description.
Melissa Proffitt, chair of the Indy Chamber board and a partner at law firm Ice Miller, said Mindrum brings a complex skillset that includes a data-driven approach and a focus on storytelling.
She added that Mindrum is familiar with other new leaders, such as incoming Indiana Chamber of Commerce CEO Vanessa Green Sinders, which will help foster collaboration.
Mindrum was selected by an 11-member selection committee (Nate Feltman, IBJ Media co-owner and publisher, was a member). More than 250 people from around the country sent in applications, Proffitt said.
After Korn Ferry narrowed the applicant pool, the selection committee conducted interviews in the summer. The selection of Mindrum, a board member at the Indy Chamber, was an "enthusiastic, unanimous decision," Proffitt told IBJ.
His hiring comes at a time when downtown Indianapolis is at a crossroads when it comes to office real estate. Mindrum said the Indy Chamber hopes to play a big role in that situation. One way, he said, is through the creation of an economic enhancement district. The Indiana Legislature this year passed a framework for the tax district, which would fund cleanliness and public safety efforts in the Mile Square.
"We think [the economic enhancement district] is a huge opportunity," Mindrum said. "We need to be investing in downtown and cleanliness and public safety and amenities, and that is one tool that we hope will allow us to do that even more effectively."
Also on the horizon is a "unique and tremendous" opportunity in growth and change created by IUPUI's split into separate Indiana University and Purdue University operations, Mindrum said.
"When you look at the fastest-growing Midwest metros, we're sort of neck-and-neck with Columbus, Ohio," Mindrum said. "And when you think about the one thing Columbus, Ohio, has that we don't, it is a flagship university."
Mindrum is a graduate of Indiana University's Jacobs School of Music and has an MBA from Harvard Business School. He serves on several community and not-for-profit boards and is an alumnus of the Stanley K. Lacy Executive Leadership Series.
Please enable JavaScript to view this content.