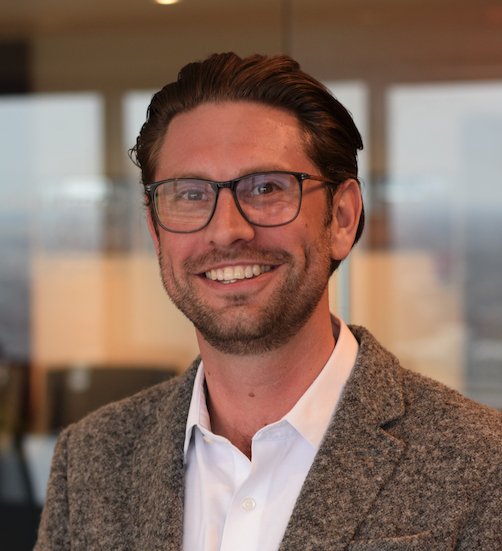 The chief operating officer for the Indy Chamber of Commerce is leaving his position to join a commercial real estate developer working to recruit businesses to a high-tech research district planned in Boone County.
Ian Nicolini, who has served as Indy Chamber's chief operating officer since October 2020, has accepted a position as vice president of development for Indianapolis-based Pure Development, where his primary focus will be recruiting businesses, coordinating infrastructure projects and working with local officials on the LEAP Innovation District north of Lebanon.
"It's a really exciting company to go work for—they're doing projects all over the country," Nicolini told IBJ. "They're a homegrown Indianapolis firm, and helping them grow, and helping our clients and communities realize their vision, is really exciting for me."
The Indiana Economic Development Corp. is looking to purchase roughly 10,000 acres in rural Boone County to create the LEAP Lebanon Innovation and Research District, with LEAP being short for Limitless Exploration/Advanced Pace. The long-term goal is to connect the Boone County tech hub with Purdue University in West Lafayette, as well as schools, researchers and institutions in Indianapolis.
In May, Indianapolis-based pharmaceutical giant Eli Lilly and Co. announced plans to invest $2.1 billion to open two manufacturing sites in the district. The state plans to surround the Lilly facilities with suppliers and other tech-driven firms, while the southern area of the development would have headquarters, research and development facilities and advanced manufacturing.
The Indiana Department of Transportation also plans to construct a new interchange at I-65 and West County Road 300 North.
Nicolini will begin his new role at Pure Development in October. Prior to becoming COO for Indy Chamber, he was the organization's vice president for economic development. Before joining the Chamber, he was town manager of Speedway and served as adjunct professor at IUPUI and IU-Northwest. He was profiled in IBJ's 2019 Forty Under 40 issue.
"Ian's unique and proven experience will be a tremendous for our LEAP team," Pure Development co-founder Chris Seger said in written remarks. "In addition, as we continue to grow our urban development offerings, Ian's deep economic and civic experience will strengthen our partnerships with the communities to ensure we are aligned in vision as we continue to grow our urban development offerings."
Founded in 2010 and headquartered in Indianapolis, Pure Development is a commercial real estate developer focused on office, industrial and manufacturing build-to-suit projects, speculative distribution buildings and urban mixed-use projects.
Please enable JavaScript to view this content.