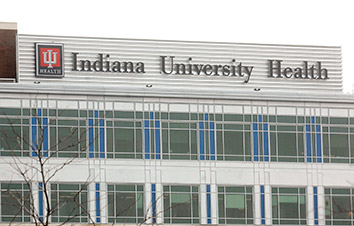 With Indiana's law banning most abortions set to take effect Sept. 15, Indiana University Health, the state's largest hospital system, has set up a "rapid-response team" to help its doctors seeking guidance on whether they can legally perform an abortion to protect the health of the mother and other situations.
"We know this is new territory for many of our providers," Dr. David Ingram, IU Health's chief medical executive, said during a press conference Thursday. "And that has increased, certainly, the anxiety around whether they are making the right decisions."
He said the rapid-response team would be available around the clock and consist of three people: a doctor or other clinical specialist, a lawyer and a member of an ethics team.
Last year, IU Health performed 53 abortions, or less than 1% of the 8,414 total abortions performed in Indiana, according to figures from the Indiana Department of Health.
The vast majority of abortions in Indiana were performed in seven freestanding clinics owned by Planned Parenthood and three independent operators. Under the new law, abortions can be performed only in hospitals or outpatient centers owned by hospitals, meaning all abortion clinics will lose their licenses.
"We are going to continue to provide abortion care, legal abortion care, in our state, through our system for our patients who need it," said Dr. Caroline Rouse, an obstetrician-gynecologist and medical director of maternity services at IU Health. "We know that abortion is safe. It is evidence-based. We will continue to provide that care within the parameters of the new law."
Indiana's Republican-dominated Legislature approved the tighter abortion restrictions on Aug. 5, making it the first state to do so since the U.S. Supreme Court eliminated federal abortion protections by overturning Roe v. Wade in June.
The Indiana law includes some narrow exceptions: allowing abortions in cases of rape and incest before 10 weeks post-fertilization; to protect the life and physical health of the mother; and if a fetus is diagnosed with a lethal anomaly.
Any doctors found to have performed an illegal abortion would be stripped of their state medical licenses and could face felony criminal charges punishable by up to six years in prison.
IU Health officials said they set up an "incident command structure" to consider dozens of possible issues arising from the new law, in which 60 of its senior leaders took part.
Ingram and Rouse said that in cases where doctors can't legally provide an abortion, they can refer patients to states where an abortion is legal.
Last year, IU Health doctors performed 39 abortions at Methodist Hospital, 19 at Riley Hospital for Children (which includes maternity care), three at University Hospital and one at West Hospital in Avon.
Please enable JavaScript to view this content.