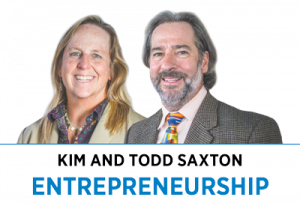 One conversation we have seen over the years argues about whether entrepreneurship is a process of discovery or creation. The basic question is whether there are undiscovered mountains that a founder discovers and decides to climb or that founders are actually building the mountain as they are climbing it.
After a couple of decades working with startups, we truly believe it is the latter: Entrepreneurs are actively creating the opportunity they want to exploit. Why is it important to recognize that entrepreneurs create their own opportunities?
Well, let's start with what a discovery process looks like. Think about mining for gold, using a metal detector on the beach or discovering an unknown land. The opportunity is there. It just needs to be found. In fact, the very language of a startup team as "co-founders" reinforces this paradigm.
We sometimes get these questions from our students: "I want to be an entrepreneur and stop working for someone else. What company should I start? Where should I look?" First, as we have said elsewhere, even successful entrepreneurs are still working for others—their customers, team members, investors and other stakeholders. And as seasoned entrepreneurs would attest, a successful startup is not lying in hiding like an undiscovered diamond in a secret shaft. Instead, they would say that to launch their ventures, they had to see an unsolved problem, figure out a novel solution and then start the process of establishing product/market fit.
The reality is that the entrepreneurial journey is not even a process of solo creation but rather is one of co-creation. Certainly, this involves startups and their customers. But it also includes other members of the ecosystem—like investors, mentors, accelerator programs and even competitors.
At the beginning, there really isn't much clarity about what the company should, or even could, offer. It might take years to understand what market needs absolutely have to be met—that is, what job will the startup be hired for? By meeting those needs, even more needs will emerge, ones that never could have been envisioned in the beginning. So the co-creation process of taking a formless lump of clay and turning it into an identifiable form is an endless dance among the startup, its customers and others.
Let's look at what Airbnb has created. The idea all started when Joe Gebbia and Brian Chesney had an "aha" moment. There was a local convention, and all the hotel rooms were sold out. So they offered attendees an air mattress on their living room floor. After all, the rent was due, and they could use a little cash.
The seeds of Airbnb were sown, but there was a lot more growing to do. They started out as an event-based partial lodging option. Over time, they moved from renting out a room to renting a whole house. Along the way, Airbnb executives learned that part of the job they were hired for was to help their hosts better market their properties by taking the right pictures, describing the space, and understanding what their customers (the guests) were looking for.
All these changes happened through co-creation. Airbnb Experiences was launched when renters let Airbnb know they wanted ways to find out more about this new location and nearby amenities. Now, Airbnb has launched Rooms (and more than 50 new features), in part getting back to its roots and offering travelers the feeling that they are home. These rooms are co-created by the hosts marketing themselves as a guide for travelers. And it is worth noting that Airbnb is one of the few startup unicorns that has not only maintained but increased its market value since its IPO.
In a similar approach, Instacart had to make big changes when it realized what shoppers needed to be successful. TaskRabbit entered a partnership with Ikea once a common use of Taskers emerged, namely to assemble Ikea furniture. This led to Ikea's acquisition of the venture.
Locally, ExactTarget shifted from simply email marketing software to marketing automation as its customers wanted to be able to look across their marketing efforts, and technologies across sales and marketing could be integrated. Once a startup puts a product offering in customers' hands, it starts co-creating as both sides learn how needs have shifted. Again, these startups did not discover existing opportunities. Instead, by offering an initial product, they helped create opportunities.
What does this mean for businesses and "founders" today? First, if you want to be a successful entrepreneur, you can put the metal detector back in the closet—heck, even take it to Goodwill. Yes, you still need to scan the external environment to understand the opportunities, emerging threats and competitive landscape. But that is not where innovation is going to come from. And the more disruptive the venture, the greater the need for co-creation.
So stop looking for the next big thing, and go create it!•
__________
Kim Saxton is a clinical professor of marketing at IU Kelley School of Business at IUPUI. Todd Saxton is an associate professor of strategy and entrepreneurship at IU Kelley School of Business at IUPUI. They are co-authors of "The Titanic Effect: Successfully Navigating the Uncertainties that Sink Most Startups."
Please enable JavaScript to view this content.