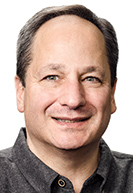 A "blank-check" company headed by Indianapolis businessman Robert Laikin has closed its previously announced combination with Energy Vault Inc., a California company that builds massive towers to store and release renewable energy.
Laikin's company, Novus Capital Corp. II, said shareholders approved the combination at a special meeting on Thursday. The transaction will close on Friday.
The combined companies will be renamed Energy Vault Holdings Inc. and will trade under the ticker NRGV on the New York Stock Exchange, beginning Monday.
Novus Capital Corp. II announced in September it would merge with Energy Vault in a deal that would take the 4-year-old company public. The transaction gives Energy Vault an immediate cash infusion of $355 million.
Laikin's group last year launched Novus Capital Corp. II, a special purpose acquisition company, or SPAC, to target companies in the technology and sustainability space.
It considered more than 150 companies to take public, in industries ranging from mobile phones and voting machines to helicopters and space infrastructure.
In the end, it closed a deal with Energy Vault, based in the Los Angeles area, which is developing a technology that uses a system of cables and software to raise and lower huge blocks of composite material in towers 40 stories high. The systems capture energy from wind and solar farms, then release it onto the grid when energy demand is high. The company has not yet built any of the storage towers.
What Energy Vault aims to do is help solar farms and wind farms store potential energy for use when the wind is not blowing and the sun is not shining. In the process, it wants to remove a huge barrier to the wider use of renewable energy.
The company is headed by CEO Robert Piconi, a graduate of the University of Notre Dame and Northwestern  University's Kellogg School of Management.
Please enable JavaScript to view this content.