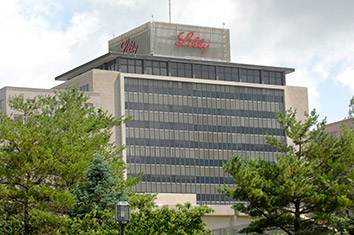 Indianapolis-based drug maker Eli Lilly and Co. announced Friday that it has agreed to pay up to $1.93 billion to acquire Boston-based biopharmaceutical company Versanis Bio, which focuses on the development of treatments for cardiometabolic diseases, including those related to obesity.
Lilly shares were up 3.3% in late-morning trading, to $448.86 each, after the announcement. Lilly said the deal is subject to customary closing conditions, but did not say when it expected it to close.
Under the agreement, Versanis will receive an undisclosed upfront payment and additional payments if it fulfills certain development and sales milestones that would bring the acquisition total to $1.93 billion.
Versanis' lead asset is bimagrumab, a human monoclonal antibody developed that is already being used to treat sporadic inclusion body myositis, an inflammatory muscle disease. Bimagrumab is currently being reviewed in a mid-stage clinical study to treat adults who are overweight or obese.
Bimagrumab is being tested both alone and in combination with a Novo Nordisk therapy called Wegovy. Lilly said the drug combination "has the potential to further reduce fat mass while preserving muscle mass and may lead to better outcomes for people living with obesity and obesity-related complications."
Versanis was founded in 2021 by biotech investment firm Aditum Bio, which started the company specifically to develop bimagrumab after the firm licensed the drug from Novartis.
Drugmakers are tapping into a huge market for weight-loss-related drugs, with as many as four in 10 American adults experiencing obesity.
Lilly is already seeing major sales for its diabetes drug Mounjaro and is seeking permission to market the drug to patients without diabetes for weight loss. Doctors are already prescribing the drug off-label to treat obesity. Mounjaro brought in $568.5 million in revenue in the first three months of 2023.
"Lilly is committed to investigating potential new medicines to fight cardiometabolic diseases, including obesity, a chronic disease that affects over 100 million Americans," Ruth Gimeno, Lilly's group vice president for diabetes, obesity and cardiometabolic research, said in written remarks. "By unifying the knowledge and expertise in incretin biology at Lilly with the deep understanding of activin biology at Versanis, we aim to harness the potential benefits of such combinations for patients."
Please enable JavaScript to view this content.