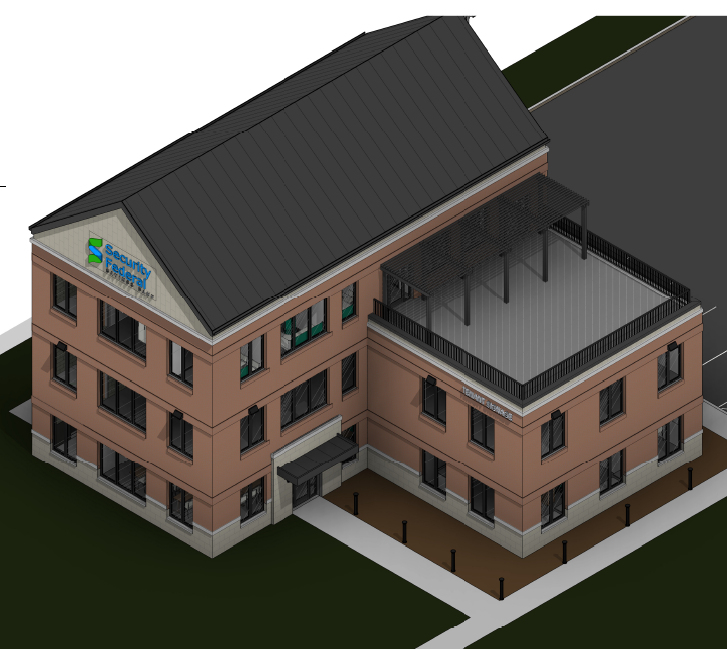 Logansport-based Security Federal Savings Bank expects to begin construction this week on a Zionsville branch at 10880 N. Michigan Road—the bank's first retail location in the Indianapolis market.
The three-story, 9,650-square-foot building will be built on a 1.47-acre parcel of previously undeveloped land. The bank anticipates having the branch open for business in September 2024, said Chief Operating Officer Jon-Myckle Price.
The location has a Zionsville mailing address, but is within Carmel's Michigan Road Corridor Overlay District.
Security Federal  first established a physical market presence in the area last year when it opened a loan production office at 12 W. Main St. in Carmel. Banks frequently test the waters in a new market by opening loan offices. Based on the results of that Carmel office, Price said, the bank decided to move forward with plans for a full retail branch.
If the new branch proves successful, Price said, additional branches in this market could follow.
"This is our real first foray into central Indiana, and then who knows what the future holds," he said. "It (the new branch) could be a great hub for us in the future."
Price said Security Federal had been eyeing the Indianapolis market for the past several years, driven in part by the fact that some of the bank's existing customers had been either expanding or relocating into the market. "So this was kind of a natural progression for us as that segment continued to grow," he said.
The bank plans to put its retail branch on the ground floor and use the third floor for bank offices, leasing out the second floor to outside tenants, Price said. The facility will also feature a 1,200-square-foot rooftop patio for bank and tenant use, plus an 850-square-foot community space.
"This is something we really hope is utilized by the community and any business partners we have," Price said.
Security Federal's lease on its Carmel loan production office, at 12 W. Main St., runs until 2025. Price said the bank will decide at that time whether to renew its lease for that location or whether to fold the loan production staff into the new office.
Established in 1934, Security Federal has seven branch locations: two each in Logansport and Kokomo, and one each in Delphi, Lafayette and West Lafayette. The bank has about $375 million in assets and about 85 employees.
Security Federal is a mutual savings bank—one owned by its depositors rather than shareholders. It's one of 13 such banks in Indiana and 426 nationwide, according to Federal Deposit Insurance Corp. statistics.
Annette Russell serves as Security Federal's CEO.
Please enable JavaScript to view this content.