After spending two decades in Washington, D.C., working for politicians, interest groups and one of the world's largest telecommunications companies, Vanessa Green Sinders was ready to settle down, and Indiana was a natural fit.
Ever since the Massachusetts native met her husband, Paul, who grew up in Clay County, the pair had made frequent trips to the Hoosier state, and Indiana quickly became like a second home.
While life in the Midwest has been a change of pace, Sinders has no intention of slowing down.
"What has always gotten me up in the morning—and what really kind of speaks to my core—is engaging with people, supporting and helping the organization I'm a part of and my community, and driving positive change," Sinders said. "And the opportunity to be president and CEO of the Indiana Chamber provides all of that for me."
After a six-month search process in which Carmel-based executive search firm Medallion Partners was tapped to find and vet more than 100 candidates, the 43-year-old Sinders was named the first female president in the 100-year history of the Indiana Chamber of Commerce. She will succeed Kevin Brinegar, who will retire in early January 2024 after serving as CEO for more than 20 years.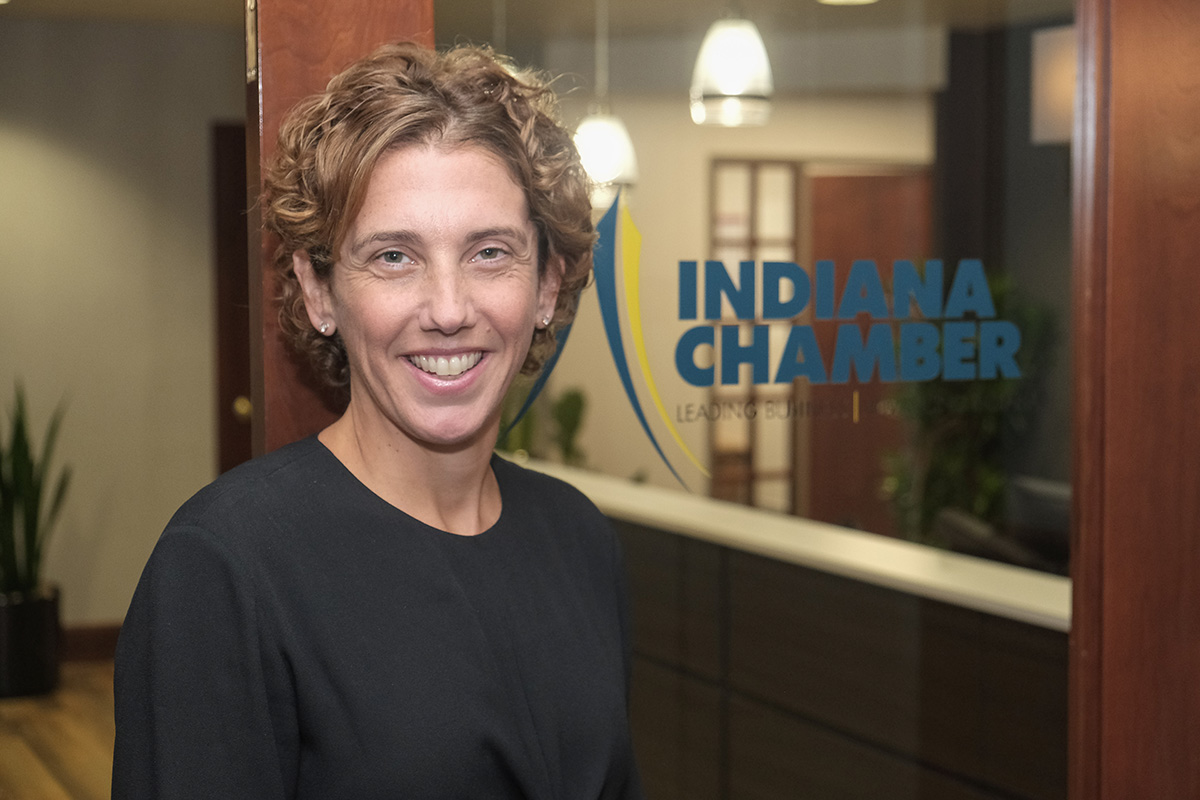 Prior to joining the state's largest business advocacy organization in 1992, Brinegar was a fiscal analyst at the Indiana Statehouse for more than a decade, where he built relationships with lawmakers and policymakers from both political parties. He was named the chamber's CEO in 2002.
Unlike her predecessor, Sinders will need to build those same connections from the ground up, having just moved to the Meridian Kessler neighborhood last year with her husband and their two school-age sons.
Some of her supporters say her outsider status works in her favor.
"I don't know what kinds of perceptions are out there, but I think the more that she gets around the state of Indiana and starts to meet business leaders, she's so relatable and personable … I have no doubt people will just be like, 'No wonder they recommended her,'" said Kristin Marcuccilli, president of Fort Wayne-based STAR Financial Bank and a member of the chamber's CEO search committee.
Sinders stood out during the interview process for her energy, poise and optimism, said John Thompson, who led the search committee and serves as chairman and CEO of four Indianapolis-based companies.
"I wouldn't be committing any confidentiality violations if I tell you that in the final meeting to select the candidate, that meeting might have lasted an hour, but within 15 minutes, we unanimously approved Vanessa Green Sinders," Thompson said. "The remaining 45 minutes was to talk about the process and the next steps."
A wealth of experience
Before she moved to Indiana, Sinders was senior vice president for government affairs at telecom giant Charter Communications—a Fortune 100 company—where she was charged with directing the organization's strategic policy and political engagement with Congress and the White House while managing the group's internal and external government affairs staff.
She previously worked for four years as senior vice president and department head for government affairs at the American Hotel & Lodging Association, where she led the organization's advocacy efforts.
Earlier in her career, she worked for high-profile politicians on Capitol Hill, including Scott Brown, a former U.S. senator and ambassador to New Zealand and Samoa. She began working as Brown's legislative director in 2010 before being promoted to chief of staff the following year.
"I stole her from Sen. Judd Greg in New Hampshire in 2010," recalls Brown, who keeps in touch with Sinders. "She is truly a special woman. Smart, dedicated, meticulous, personable."
When Brown won the U.S. Senate seat that became vacant following the death of longtime statesman Ted Kennedy, "every day was a crisis, a new challenge," Brown said. "I had staff in D.C. and three offices in Massachusetts that she had to be responsible for. She's one of the best I've ever worked with."
After Brown lost reelection in 2012, Sinders landed a job as chief of staff for the "Campaign to Fix the Debt," a nonpartisan coalition advocating for better fiscal policy, where she directed a 45-person staff.
After moving to Indiana, she founded Green Sinders Consulting, a firm offering strategic advice, project and crisis management, and leadership coaching services to clients.
The Dartmouth College graduate stood out as a candidate to lead the chamber for her experience in both the public, private and not-for-profit sectors, said Sue Ellspermann, president of Ivy Tech Community College.
"She has led large industry associations, elevating service to members. She has crafted and moved legislative agendas, and she has done all this work through collaboration," Ellspermann said. "Vanessa will be the visionary, collaborative leader the Indiana Chamber and Indiana needs."
Looking forward
Last month, the chamber published "Indiana Prosperity 2035 – A Vision for Economic Acceleration," which it called a "comprehensive new playbook for the state."
Among the key pillars of the plan were bolstering Indiana's talent pipeline by improving K-12 outcomes and elevating Indiana's college-going rate.
While Indiana ranks as one of the best states to locate and operate a business, more progress is needed to make significant progress on workforce and education goals, according to the report, which also emphasizes the importance of improving quality of place rankings to attract and retain talent.
"There's a lot of things that we need to do moving forward to make sure Indiana is positioned well, whether it's economic development, talent, attraction, retention and just having a voice in the public policy process," said Larry Gigerich, executive managing director at Fishers-based Ginovus and a member of the chamber's search committee.
At the urging of groups including the chamber, state lawmakers passed bills in the most recent legislative session to reverse the state's declining college attainment rate.
High school juniors and seniors who are eligible for the 21st Century Scholars program are now automatically enrolled in the program, and high school seniors are required to fill out the Free Application for Federal Student Aid, or FAFSA. Starting next year, a new program will allow eligible high school students to receive up to $5,000 in state funding for career scholarship accounts to "shop" for work-based learning experiences to help them earn a post-secondary credential before graduation.
"I think every business wakes up in the morning thinking about its workforce and talent and how to attract, retain, support that workforce," Sinders said. "So I look forward to building on the great work that is already underway at the chamber. …
"When I think about my vision for the chamber, it is to build on that strong track record and for the chamber to be the convener across the state, working with our partners to create the best environment to attract, retain and support our future businesses and our Hoosier talent and workforce."
Sinders starts at the Indiana Chamber as president and CEO-elect on Oct. 16 and will assume the full role on Jan. 5 following Brinegar's retirement.•
Please enable JavaScript to view this content.