Playwright Charles Smith conceived a provocative plot for his new work, "The Reclamation of Madison Hemings," which is set to premiere next week at the Indiana Repertory Theatre.
Thomas Jefferson's son, who grew up enslaved on the president's Virginia plantation, returns to Monticello after the Civil War to collect artifacts from his youth.
The story is fiction. But it's based on history and historical figures, including Madison Hemings' mother, Sally Hemings, who was also enslaved at Monticello. She was a largely ignored figure in Black history until the Thomas Jefferson Foundation acknowledged in 1998 that DNA evidence indicated Jefferson was the father of her six children, with four surviving to adulthood.
The contradictory aspects of Jefferson's life—as author of the "all men are created equal" preamble of the Declaration of Independence and as the owner of more than 600 enslaved people—provide a significant subtext to "The Reclamation of Madison Hemings."
The world premiere is scheduled for March 23 at the IRT, 140 W. Washington St. It's a two-character production, featuring portrayals of Madison Hemings and another man formerly enslaved at Monticello, Israel Gillette Jefferson.
Smith, who was originally commissioned by Chicago's Goodman Theatre to write "The Reclamation of Madison Hemings," said the road trip he imagined for Madison and Israel is set in 1866 but it's not entirely in the past.
"From my point of view, the only reason to set a play in the 1860s is to talk about what's happening today," said Smith, who teaches playwriting at the University of Ohio.
Smith and David Alan Anderson, one of the play's two actors, said the story resonates in modern society, especially as teaching Black history in schools has become divisive and Black Americans increasingly research where their ancestors were enslaved.
"When it comes to identifying who we are, we have to look at where we come from," Smith said. "And not only where we come from, but who we come from."
Ophelia Wellington, founding director of Indianapolis-based Freetown Village, which bills itself as a Black history museum without walls, said plays such as "The Reclamation of Madison Hemings" have universal appeal.
"A lot of people don't know these stories," Wellington said. "We know what we know, and we think what we know is all there is to know until someone introduces you to something else. It's an awakening."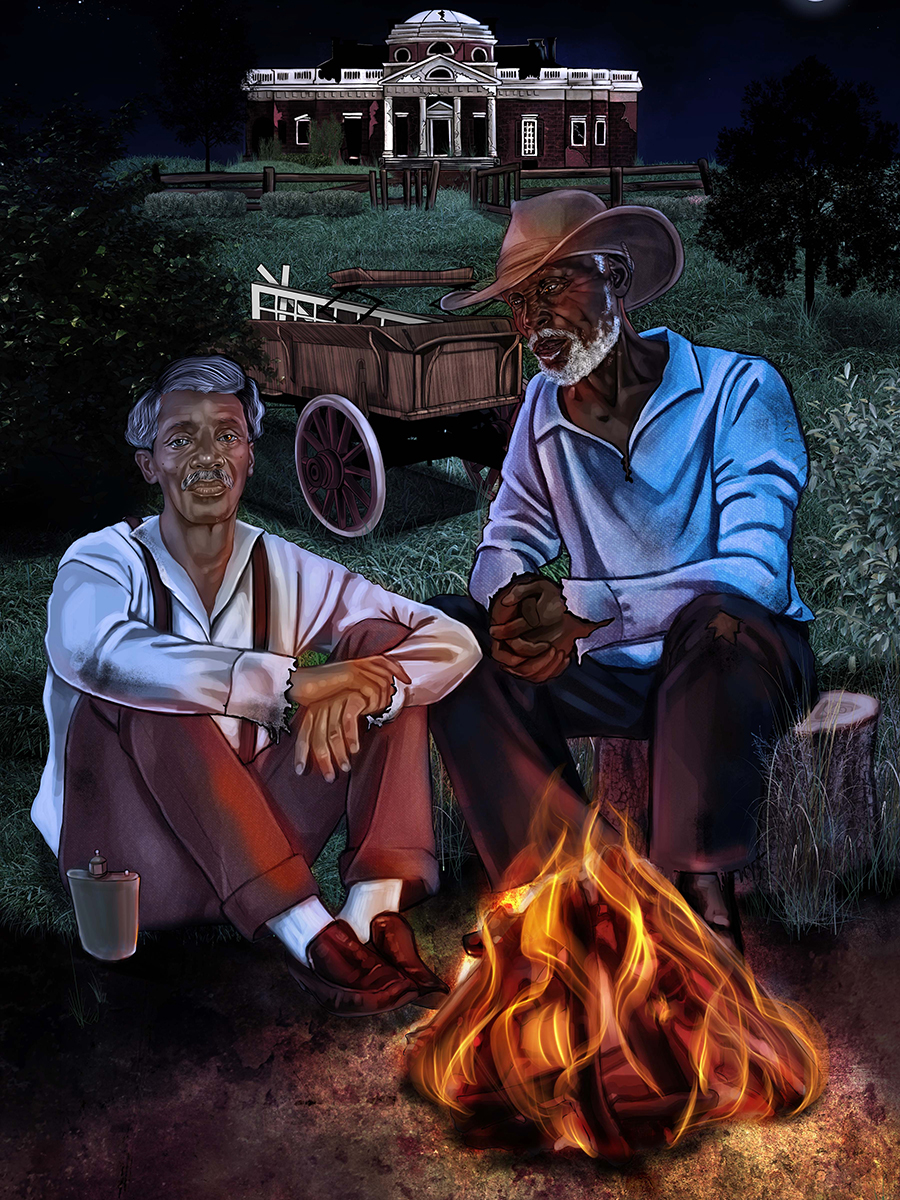 Remembered, at last
Anderson said people too often see slavery as a monolithic atrocity without thinking about the individuals who were enslaved.
"What's beautiful about what Charles wrote is that he takes this name, Sally Hemings, that our culture has tried to cancel, and we give her a soul," Anderson said. "We give her heart. We give her caring. We see her son. She's not just a myth."
Smith said he found inspiration for paying tribute to enslaved individuals by visiting Whitney Plantation Museum near New Orleans, where names of former slaves are listed on granite walls, and the National Memorial for Peace and Justice in Montgomery, Alabama, where steel monuments display the names of 4,400 people publicly murdered by mobs in the United States.
During past visits to Monticello, Smith saw a contrasting view of the enslaved.
"I started to discover that all of these people who had been enslaved and who had lived and died there, their names and their lives had been just sort of pushed to the side," Smith said. "They were ignored."
In 1993, Monticello launched an oral history project titled "Getting Word" to preserve the legacy of Black families at the plantation. But it didn't devote an exhibit to Sally Hemings until 2018—183 years after her death.
The site of Hemings' grave remains unknown, but playwright Smith offers his theory of a resting place in "The Reclamation of Madison Hemings."
Smith, who grew up in Chicago, sought out the grave of his great-great-grandfather, a man who had been enslaved in Tennessee before fighting in the Civil War. He was buried in Centralia, Kansas.
"It was a spectacular moment, finding his grave after searching for it for years," Smith said. "The only reason I was able to find it was because he had a headstone. The only reason he had a headstone was because he was a Civil War veteran.
"I'd like to think that man—who was enslaved at one point in time, who fought in the Civil War and who ended up buying his own home and having his own land—would look at me and smile and be proud."
A way forward
In the play, directed by Chicago-based Ron OJ Parson, Madison arrives at Monticello with an idea to pack a wagon with doors, fireplace mantels, parts of a staircase and other items from the house.
Philadelphia-based actor Brian Anthony Wilson, who appeared as Detective Vernon Holley on all five seasons of acclaimed HBO series "The Wire," portrays Madison.
"He's a gentle soul with a powerful presence," said Anderson, who portrays Israel Gillette Jefferson. "He's going to make a very striking presence onstage as Madison Hemings."
Israel executed household tasks inside Monticello as a young man. In the play, he hopes to reunite with his brother at Thomas Jefferson's former home.
Madison and Israel bicker throughout the play, "like friends, like family, like spouses, like brothers," said Anderson, who's acted in dozens of IRT productions since 1990.
That's in part because of the different ways in which they view Thomas Jefferson.
"They gained or lost things because of him, for different reasons—even though they were the same thing to him. They were owned by him," Anderson said. "When you add that layer to all of the other layers, it makes for some interesting discussions."
The play didn't premiere at the Goodman in Smith's hometown of Chicago because of scheduling conflicts. Actor Stephen McKinley Henderson, who would have portrayed Madison, had overseas commitments to promote the film "Dune," which led to the play's being available for the Indiana Repertory Theatre. Smith has a long-running relationship with the IRT, thanks to commissioned plays he wrote in 1998, 2002 and 2011.
Anderson said "The Reclamation of Madison Hemings" reminds him of the West African word "sankofa," which can be translated as "go back and retrieve."
"My understanding of the word has always been, going back to reclaim something in order to move forward," Anderson said. "In our current climate, there's huge resistance to that."
The teaching of Black history, for instance, is being scrutinized by lawmakers across the country.
Thirty-nine states introduced more than 160 bills in the past year that would limit what schools can teach about race, politics, American history, sexual orientation and gender identity, according to PEN America, a not-for-profit that advocates for freedom of expression. In late February, the Indiana Senate killed a bill that sought to restrict how teachers teach about race and racism.
"The argument for transparency is so loud, yet you don't want to go back to tell all the truths," Anderson said. "One group says, 'We don't want to take all of that.' The other group says, 'No, we need all of that so we can move forward.'"
On March 25-27, Freetown Village will present a one-character play that focuses on a Black schoolteacher in Indiana who's allowed to vote for the first time in 1920. "Sign of the Times" will be staged at the District Theatre, 627 Massachusetts Ave.
"As Americans, we have similar drives, ambitions, experiences and exposures," Wellington said. "When we tell our stories in Freetown Village, we're specifically talking about African Americans, but it's an American story."
'All of its wolfness'
During their visit to Monticello in the play, Madison and Israel talk about the outcome of the Civil War and the abolition of slavery. Israel says any belief that white Americans will treat Black Americans differently because they are free is as mistaken as "thinking you can turn a wolf into a dog."
He warns that surface niceties can disappear in an instant, and that oppression will "come roaring back with all of its wolfness."
It's a wariness that persists today among Black Americans, Anderson said.
"Even when you feel that you've crossed a threshold in a certain situation with certain people, it comes back to bite you," Anderson said.
Consider the power dynamic between Thomas Jefferson, a Founding Father, and Sally Hemings, an enslaved teenager.
"There are so many different narratives about Thomas Jefferson and Sally Hemings," Smith said. "There was a play not that long ago that looked at the 'romance' between them, saying they were lovers."
In 2017, the play "Thomas and Sally" debuted at Marin Theatre Company in Mill Valley, California. The production was criticized as being "ignorant and unethical" and "deplorable" by Facebook commenters.
Jefferson was in his 40s and Hemings was 14 when she traveled to Paris to be a maid in his home. After returning to Virginia at age 16, Hemings gave birth to her first child fathered by Jefferson.
"Are we really going to call that a romance? If it were today, he would be arrested," Smith said.
Janet Allen, artistic director and CEO of the Indiana Repertory Theatre, said sexual exploitation by slave owners is part of troublesome U.S. history that deserves examination.
"These horrific things that have happened in American culture because we are a culture based on slavery are just profound and constantly coming back at us in ways that I think white people ignore," Allen said. "I don't think we are asked to think deeply about these things."
"The Reclamation of Madison Hemings" will be presented at the IRT through April 16. Visit irtlive.com for more information.•
Please enable JavaScript to view this content.