Katara McCarty is no techie.
The 48-year-old Indianapolis resident admits her two daughters, both in their 20s, often help her navigate new technology.
But she didn't let her lack of tech savvy stop her from developing a groundbreaking app—called Exhale—that she thinks will have a significant impact on Black women, its target audience.
Its goal is to help Black women cope with new stresses like the pandemic, ongoing struggles like racial injustice and everyday problems of working and parenting.
"Other [well-being] apps are white spaces—written, voiced and produced by white people," McCarty said. "This app speaks to the path of women of color."
McCarty is used to overcoming challenges. Abandoned by her birth mother at the hospital where she was born, McCarty—who is biracial—was raised in Kokomo by two Black women: her adopted mother and grandmother.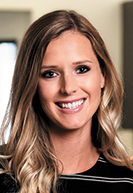 She attended Indiana University in Kokomo for a time. Then, McCarty became pregnant and dropped out of school to take a full-time job and raise her daughter, Bria, now 27.
After extricating herself from an abusive relationship, McCarty made a nice life for herself and daughter and, a few years later, married her now-husband, Ryan, and had another daughter, Brenna, now 22.
That could have been a happily-ever-after ending for most people.
But not McCarty, who sought more and bigger challenges in her quest to help others.
In 2000, she and her husband co-founded God's House, a non-denominational Christian church in Marion that grew to more than 600 members. The couple simultaneously co-founded Ceelelo School in Zambia, for children in that African country who otherwise would not have access to primary education.
Following their success in Zambia, McCarty co-founded and directed the Center for Success, a community center for children with limited resources in Marion, where Ryan had taken an executive position with Carmel-based Round Room LLC, an umbrella organization that runs one of the nation's largest Verizon retail operations.
Ryan McCarty later helped the company's co-owner and CEO, Scott Moorehead, launch Culture of Good, a business consultancy focused on charitable work and giving employees a purpose bigger than themselves.
The couple lived in Marion for 18 years until they moved—for work reasons—to Indianapolis nearly five years ago.
For two years, until 2018, Katara McCarty worked as director of culture for Carmel-based TCC, an operation under the Round Room umbrella.
Before that, she founded Katara Enterprises, and began working as a motivational speaker, life and organizational coach, author and podcast host with a growing following.
That could have been another happily-ever-after ending for McCarty and her family.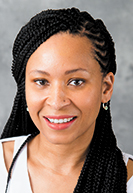 But then the pandemic struck. And soon after, civil unrest erupted over a bevy of social-justice issues directly affecting Black people.
McCarty admits she was stressed.
"It was just really heavy on me, my family and my community," she said.
"I was doing what I could to check in on my stress, but I was feeling hopeless and like I didn't know what to do."
Far-reaching pain
Research increasingly shows that racial and ethnic minorities are disproportionately affected by COVID-19 in the United States.
According to recent data from the Centers for Disease Control and Prevention, COVID-19 hospitalization rates among non-Hispanic Black people and Hispanic or Latino people were 4.7 times higher than the rate of non-Hispanic white people.
"COVID was hitting Black and brown communities harder, and I knew why," she said. "We essentially have a pre-existing condition."
Stress and hardship often lead to illness, McCarty said, and Black people's stress was even higher than usual due to several high-profile killings of unarmed Black people—some at the hands of police—and the resulting pleas for an end to systemic racism, protests and civil unrest that have gripped the nation this summer.
"I wanted to do something," McCarty said. "I laid awake at night. I just kept asking myself, 'What can I do?'"
Then a thought hit McCarty like a bolt of lightning.
"There's a lot of anxiety and stress about what's going on. And my business helps with this," McCarty recalled thinking.

Even though Katara Enterprises' business had been devastated by the pandemic and its revenue cut in half this year, she sought ways to use her expertise to help.
If she couldn't speak to people personally during the pandemic, she thought, there must be another way to reach them with a calming, reassuring message.
"It came to me, what I could do not just for myself but for Black and brown women, who are often among the most marginalized," she said. "There's something about being a Black woman. We're facing racism and sexism and misogyny. We're at that intersection of all of those things.
"We have to manage stress, manage anxiety and get trauma out of our bodies."
McCarty decided in April to develop the Exhale app, which she thinks is the first well-being app designed "for black, indigenous women of color and by black, indigenous women of color."
She makes no apologies for her app's exclusivity.
"I made this exclusive on purpose so I could create brave spaces … where we can show up as our full, authentic selves. It's not a perfect space. We can show up and make mistakes. That gives us all room to grow."
After months of long workdays, Exhale launched Aug. 25 and already has dozens of downloads. McCarty is confident it will gain a national following.
The app features meditations, daily affirmations, coaching talks, breath work and guided visualizations. Not only are all the app's images and voices of Black women, but its content is specifically tailored to tackle challenges faced by Black women.
McCarty is offering the app free until Sept. 30, at which point she will offer monthly and yearly subscriptions for many of the features. While daily affirmation and breath work will continue to be free, other features will be unlocked for $4.99 a month or $50 annually.
'Just figure it out'
While the creation of Exhale didn't require a large cash investment, McCarty said considerable sweat equity went into its launch.
"In the church world, you're bootstrapped. You don't have a lot of money," McCarty said. "For years, my husband and I created our own fliers, our own websites. We just sit down at the dining room table and figure it out. We've gotten good at it.
"We stumbled through. There were moments where we were just laughing because we didn't know what we were doing. We just have that spirit about us. Once you feel a strong pull to do something, that this is the right thing to do, you just figure it out."
Currently, the app has 10 meditations, four coaching talks, daily affirmations, four breath-work techniques and four guided visualizations. The app will have a new affirmation every day, and McCarty said she will update other features regularly as well.
The Exhale app became a bit of a family project, though McCarty led the way. With help from her husband, she developed the concept. Her daughter Brenna took and edited the photos and helped with design. McCarty and both her daughters did the voice work and narration.
A third-party company helped with the technological aspects.
Texas-based Gruene Records, which helps McCarty produce her Red Lips & Eye Rolls podcast, agreed to produce all the app's meditations at no charge. Indianapolis-based Dittoe Public Relations agreed to handle promotional and marketing work for free.
"Offering our services to Katara pro bono was a no-brainer," said Megan Custodio, Dittoe vice president and partner. "Her passion for cultivating spaces where individuals can thrive, especially women of color, is infectious. … We believe in what Katara is doing, and more importantly, we believe in Katara."
Dittoe hired McCarty in 2018 for ongoing coaching aimed at improving team effectiveness and business performance.
"I have been at Dittoe PR for over 14 years and have seen our greatest evolution happen during the time we have been coached by Katara," Custodio said. "Working with her has energized our team, created a more cohesive system and boosted morale."
'Spaces of joy'
Marlo David, director of Purdue University's African American Studies Research Center and an associate professor of English and women's, gender and sexuality studies, predicted a sizable demand for the Exhale app.
"I think the sky is the limit," said David, who started using the app when it launched. "I know from the women of color in my circle, we're always talking about this topic and looking for wellness spaces that are, at the least, diverse if not tailored specifically for women of color."
David said the need for McCarty's Exhale app has never been greater.
"Black people are resilient, but we've seen a lot of suffering," she said. "My husband has experienced [prior] violence at the hands of the police. And I have three sons; the two oldest are adults, and so I worry every day and wonder if they're going to be all right."
David said the stress is so bad, at times she can no longer tune into the daily news.
"We've cried, we've watched images and just cried. We want to stay connected to the headlines, but I've had to tell my husband, 'I just can't look at that right now,'" said David, who was a journalist working stints at the San Jose Mercury News and Orlando Sentinel before becoming a professor. "It's extremely overwhelming at times."
Adding to that, David's uncle recently died after battling COVID-19.
"Finding spaces of joy are essential to surviving this moment," she said, "and that's what Katara's app is all about."•
Please enable JavaScript to view this content.